Persistent rumors about a major European bank facing solvency issues kept investors nervous all week, prompting the Federal Reserve to contact U.S. branches of foreign banks regarding capital and risk exposure. On Thursday, European shares suffered their biggest one day decline in almost three years. For the week, the NASDAQ 100 dropped 6.3%, the S&P 500 dropped 4.5% and the Dow Jones Industrials dropped 3.8%. Here's a snapshot how all U.S. markets performed for the week:
The U.S. Dollar continues to exhibit signs of stability in a flight to safety.
The British Pound was the strongest of the European currencies despite soft economic signs and England's important role as a banking center.
The U.S. 10-Year continues to surge higher, bringing the yield to close to 2.00%. the historical lowest yield was 1.65%, set during the Great Depression.
Municipal bonds held up well for the week.
Crude oil is down around the lowest levels in six months. Gasoline prices probably won't be far behind now that summer is almost over. Lower expectations for economic growth has caused oil to correct. However, in the U.S., we are still consuming 23 barrels of oil per yer, per person. In China, the number is only 2 barrels of oil per year, per person.
This week, Erik Davidson, deputy CIO for Wells Fargo Private Bank, called gold – a bubble poised to burst. We shall see.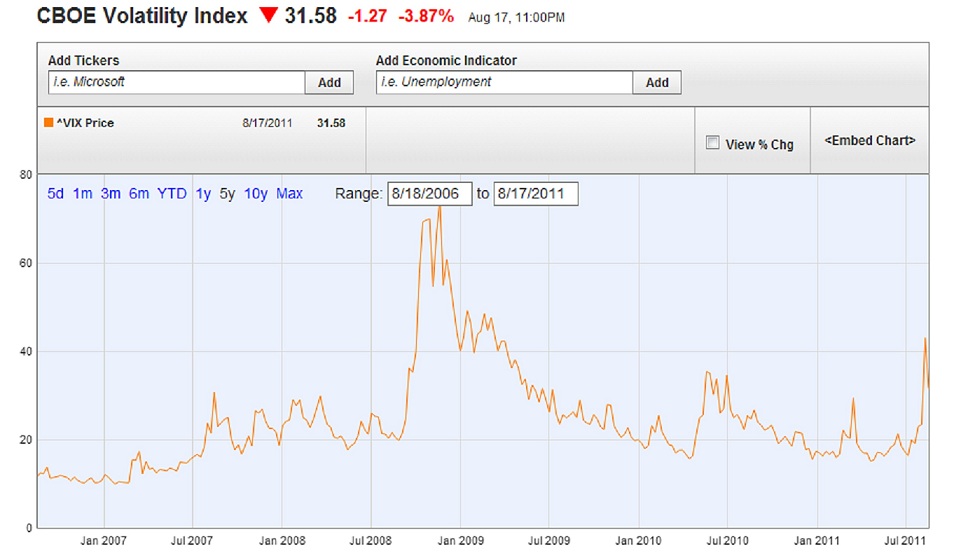 Volatility spiked as fear returned to the markets. On Wednesday, market volatility, as measured by the VIX Index, hit more than 40 after having hit a year-plus high of 47 on Monday. It might not come as a surprise that investors pulled out over $40 billion from mutual funds. For perspective, I chose to go back five years.
S&P 500 sector relative performance for the week.
The worst performers were small -cap stocks in the U.S.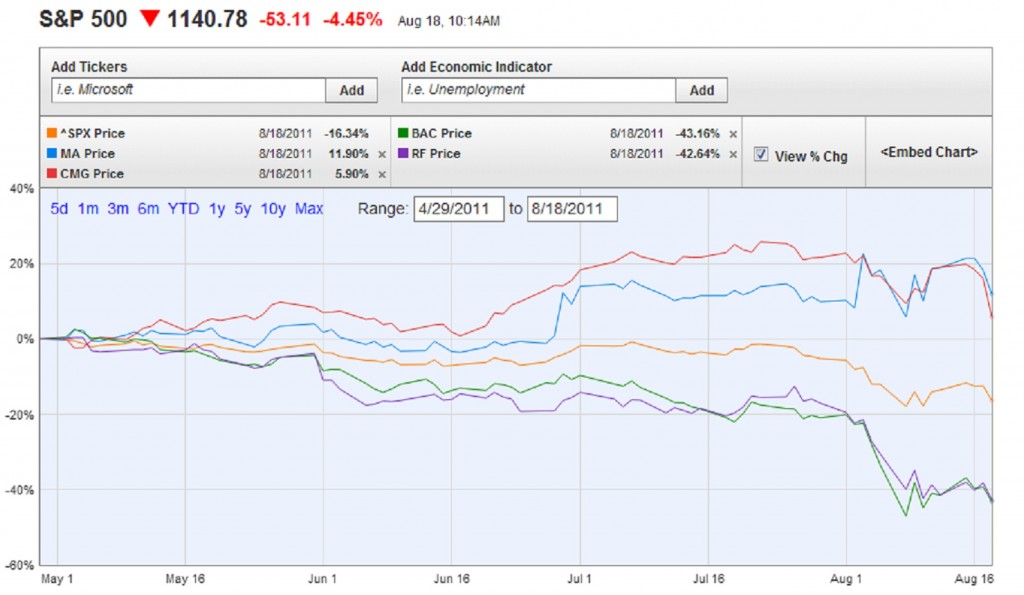 In a departure from our customary analysis, I would like to highlight a few U.S. stocks that caught our eye this week. The S&P 500 hit the year high on April 29, 2011. Since then, the best performing stocks in the S&P 500 have been Chipolte Mexican Grill (CMG) and Mastercard (MA). Conversely, among the worst performers in the S&P 500 are Bank of America (BAC) and Regions Financial (RF).
A flatter yield curve is often a leading indicator of a recession. A flatter yield curve also puts additional pressure on bank lending.  One of our favorite ways to participate is the  iPath® US Treasury Flattener Exchange Traded Note. It is linked inversely to the performance of the Barclays Capital US Treasury 2Y/10Y Yield Curve Index™.  To accomplish this objective, the performance of the index tracks the returns of a notional investment in a weighted "long" position in relation to 2-year Treasury futures contracts and a weighted "short" position in relation to 10-year Treasury futures contracts, as traded on the Chicago Board of Trade.
 Most oversold ETFs (relative to their 50-Day Moving Average)
iShares MSCI Germany Index – 19% below 50-day MA
iShares MSCI Italy Index – 18% below 50-day MA
iShares Russell 2000 (small-cap) – 15% below 50-day MA
Financial Select Sector SPDR – 15% below 50-day MA
Powershares Clean Energy – 15% below 50-Day MA
If you'd like to receive this free weekly update by email, click here.