There was not much unexpected in the factory order data, in fact it was right in line with what we have seen for nearly a year. Orders ticked up slightly, but not outside of expected volatility. The six-month average of Y/Y growth in shipments ex transportation was stuck for a second straight month at close to zero; and fell 0.4% M/M.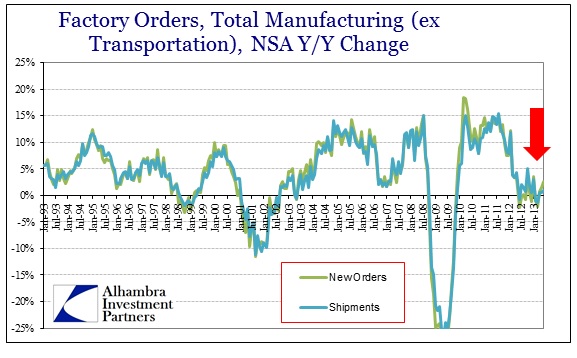 Since I have raised the issue of stall speed this week, nearly every data point has shown something along those lines, including factory orders.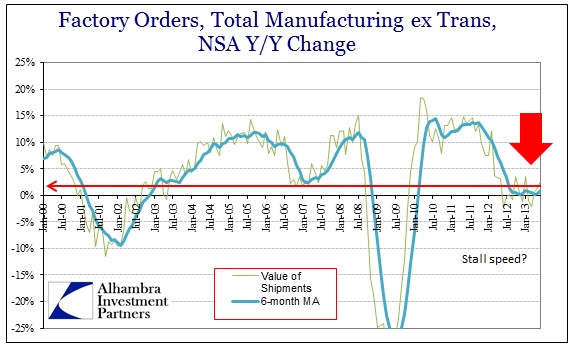 Factory orders have been close to zero for eleven consecutive months, making it hard to see this as a "false positive" or near miss. There is a clear depression and slowdown in the data across the economic spectrum around the first few months of 2012. And it has remained that way.
The one exception to this now-familiar pattern is the Establishment Survey. Job growth measured in this series has been the one indication that the economy might not be so bad (and the one most used to gauge the economy), yet it sticks out noticeably in comparison to everything else.
Along with almost every other economic account, there was clear deceleration in the first months of 2012. After summer 2012, however, job growth was estimated to re-accelerate in an obvious deviation with everything else.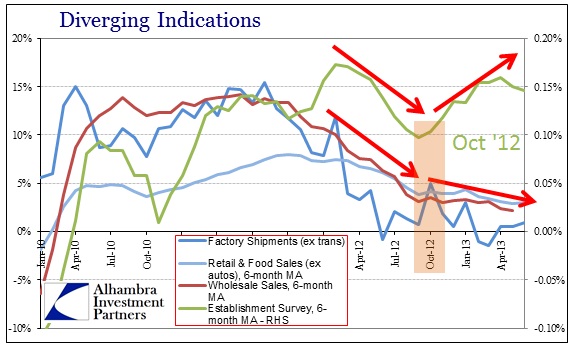 The timing of this divergence is the exact same timeframe where the Establishment Survey also moved away from the Household Survey. As I pointed out this morning, since October 2012 the two employment estimations could not be more different. Again, it seems more likely that the Establishment Survey is nothing more than statistical noise, particularly given the coincident timing and the agreement among so many other disparate indications.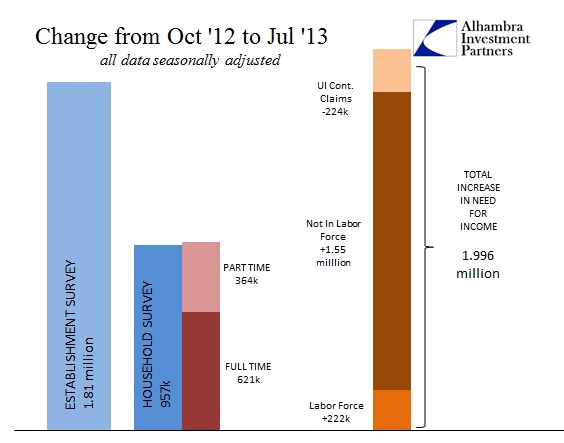 It is possible that employment growth is lagging each and every other weak measure we have seen, and that the Establishment Survey will eventually "catch down" to the rest. But I think the statistical weaknesses in the data analysis are far more likely explanations, particularly given that the Household Survey has been heading that way for nine months already.
As this interpretation is confirmed by more and more data points, the employment optimism for muddling through looks more and more like a mirage.
Click here to sign up for our free weekly e-newsletter.
"Wealth preservation and accumulation through thoughtful investing."
For information on Alhambra Investment Partners' money management services and global portfolio approach to capital preservation, contact us at: jhudak@4kb.d43.myftpupload.com or 561-686-6844 . You can also book an appointment for a free, no-obligation consultation using our contact form.