Durable goods orders declined for the third consecutive month in April, meaning with January's flat reading that new orders for this important segment of consumer "demand" has been consistently shrinking in all of 2015 so far. New orders for capital goods have been negative year-over-year in all four months. With the pace of shipments just now starting to decelerate, it would appear that without a surge in new orders very soon economic production will have to adjust much lower in the near future.
While all that mostly continues the trends from late last year, the benchmark revisions that began in retail sales have been applied here. That has resulted in a significantly smaller "recovery" than even the insufficient version that had been estimated prior. But while the benchmark changes in retail sales left in place the same patterns for growth rates the revisions in durable goods altered to a significant degree the aftermath of the 2012 slowdown, especially for capital goods.
In these new benchmarked figures, that slowdown came a little later than first thought and lingered for all of 2013. That is a significant modification where prior benchmark estimates were much more optimistic about the QE-effect.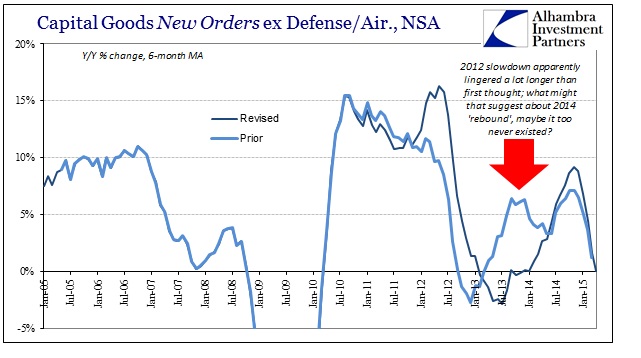 Capital goods orders were largely negative throughout the entire year in 2013 where prior benchmark assumptions showed a quick and nearly sufficient rebound in capital spending by businesses. That is the problem with so many of these major revisions, especially in these trend-cycle components that are overstating the recovery even in its low-grade existence. Since 2013's capex "rebound" never occurred (again, likely due to a trend-cycle estimate that was far too biased toward QE3 and QE4 actually doing something positive) it raises serious questions about what the Census Bureau is estimating about 2014 and even the contraction of 2015.
The downgrade to the apparent size of the US economy is not trivial, either. In durable goods, actually, this downward benchmark revision is even more severe than what occurred in retail sales overall. In terms of actual durable goods shipments, the US economy from 2012 forward is about 4% smaller than previously thought – and that previously thought was already bad to begin with. That means the 2012 slowdown has been much deeper and longer, which suggests another reason as to why economists ignoring it completely have been so mistaken about their annual predictions for a growth take-off.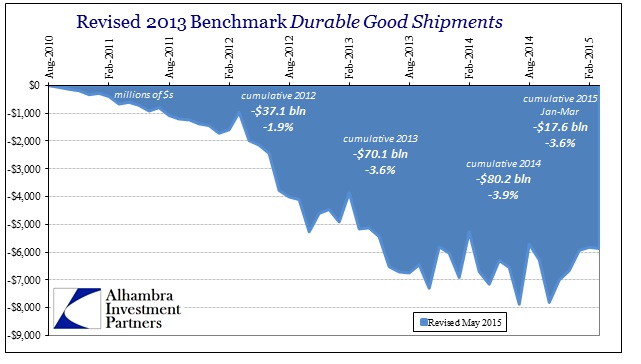 For 2014, the cumulative downward revision was a little over $80 billion. The total economic contribution of "demand" here was degraded from $2.04 trillion to $1.964 trillion, or a 3.9% diminishment in economic activity just in 2014. In terms of growth rates, total durable goods shipments in 2014 were still 5% above 2013, but that is due more to the decrease in recalculated base than any actual upward shift in activity. In 2013, year-over-year growth has been revised from +1.71% to -0.2%. That means that not only is the whole economy smaller overall, there was very little gain in 2013 where it was once believed to have been almost completely undeterred by the slowdown more broadly.
Given the benchmark changes in retail sales, none of these changes are a surprise except perhaps the degree to which they were carried out in 2013. What that accomplishes is an after-the-fact agreement that the recovery got much worse after 2012, not better, and it further highlights the now-enormous dichotomy between spending and employment figures. Just as the rebound in 2013 disappeared, there is little to suggest that the 2014 version was anything other than a statistical mirage. Why would companies suddenly start hiring at a multi-decade high suddenly in 2014 when 2013 was really rather atrocious? There is no reason for it, and the productivity estimates argue further against just such a business renaissance.
The cumulative impact on the economic assessment is much more straight-forward, as if the upturn in the recovery that economists keep talking about is more and more being revealed as biased statistics alone, mostly in trend-cycle which would be highly suggestive from QE. That explains, to a good degree, both the problem with the disparity in the recovery to this point versus the narrative about it, and why the economy in 2015 might be so fragile as to turn decidedly lower rather quickly where it was thought almost impossible.