With every piece of "unexpected" weak data from China, the calls for more "stimulus" grow louder and more desperate. And still the PBOC sits on the sidelines with only minor adjustments. The latest of those has been what amounts to a muni swap, with banks eligible to pledge municipal government debt as collateral in repurchase operations, SLF's, MLF's and even the relatively new PSL (the acronyms are almost unimportant as they all amount to the same type of liquidity scheme). The intent is not to boost banking, "money supply" or any of the broader kinds of monetarism that had been projected in the past, only to offer limited ability to channel some monetary favor into fiscal projects (as muni borrowers are expected to swap high yield bonds obligations for those with much more comfortable terms).
Reform continues, instead, through the PBOC's restraint where it has proved it will only act in very narrow and what it has determined as useful conduits. The resolve to do so seems only to strengthen despite what is clearly a looming economic crisis, one that gets closer with every data release.
China's inflation in May came in lower than expected, offering more evidence that Asia's largest economy is stalling and suggesting more easing may be on the way.

"We haven't really seen any stabilization for growth in China yet," Johanna Chua, head of Asia economics and market analysis at Citigroup, told CNBC. "Even though lending rates are coming down, they need to come down lower to support growth."
China may well be beyond the point of "stalling", landing hard already in the actual recessionary category. Still, that remains no reason to expect "more easing may be on the way" but rather its opposite. While the PBOC's economics forecasting team recognized the difficulties here, they only proceeded to cut their economic assessments (in the form of the highly pliable GDP figure) from 7.1% to 7.0%. They did lower inflation estimates for CY2015 to 1.4% from 2.2%, which is as much reality if still somewhat optimistic about H2.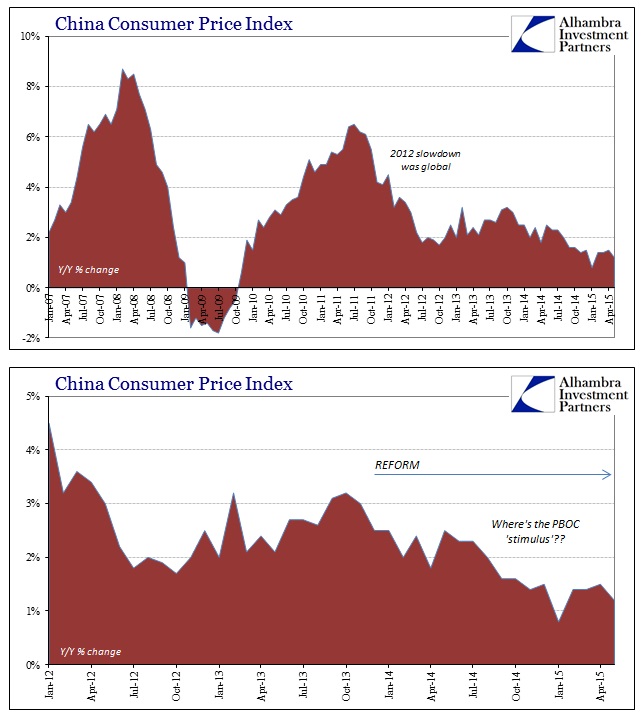 We already know the sordid state of external "demand", the once primary export sector which no longer provides enough emphasis to arrange all economic and monetary orientation – the entire point of monetary reform in the first place. While outwardly officials suggest that China will instead reposition its economy toward more internal channels, that may be just more hopeful projection.
Vehicle sales in China fell for a second straight month in May, the first such consecutive drop since late 2011, highlighting the weakness in the world's second biggest economy.

Passenger and commercial vehicle sales in China totaled 1.9 million vehicles last month, falling 0.4 percent year-on-year and following on a 0.5 percent fall in April, the China Association of Automobile Manufacturers (CAAM) said at a Beijing news briefing on Wednesday.
That "demand" problem is beginning to ripple outward through the rest of the global trade network, to where even European businesses, once very much counting on China to deliver what the US clearly cannot, are giving up now. That is an all-too-familiar format for 2015 all over the global economy.
Fifty-eight percent of European companies were still optimistic about growth prospects in China, though the number represents a 10 percentage point decline over the 2014 survey. Companies planning to expand their China business has [SIC] dropped by 30 percentage points since 2013, to 56 percent from 86 percent.

"This is really a paradigm shift in the economy, and companies and are holding back investment because of uncertainty in the market place," Chamber President Joerg Wuttke told Reuters.

The chamber said disappointment is palpable with a perceived lack of progress on China's vowed market reforms, which would potentially unlock opportunities for the foreign business community in many state-dominated industries.
I'm not so sure about that last part, "vowed market reforms", as the European Union Chamber of Commerce in China may be simply hoping for what orthodox economists are pleading – opening up politically to foreign goods and companies but also doing so into an economic climate that isn't so resembling of the Great Recession. The problem from that perspective is not just the economic gloom, receiving long-hoped for access into nothing more than a mess, but that the actual reform agenda and market introductions are leading the slowdown – that much should be clear by now, but it simply cannot be understood where orthodoxy dominates. It makes for an odd comparison where the "free" market world hopes that the communist giant will fall back into command and bubble infatuation where China clearly wishes instead to clean up after realizing the futility and dangers from the last time.
The Chinese reticence to fall back inline with orthodox central banking is having very real effects beyond China. The ECB may be doing QE to whatever it may cost its financial system in the short and intermediate terms, but the Chinese lack of deliverance threatens to undermine that closed-system effort for the opposite intentions.
European companies are growing more pessimistic as China's economy slows, a European business lobby said on Wednesday, with many firms preparing for lay-offs in the face of weaker economic growth and slow market reforms.
There is some inverse symmetry to the affair, sordid as it may be, where the ECB takes on increasing central planning through QE in hopes, partially, of making European goods more desirable to Chinese buyers only to find that the PBOC has become far less enamored with monetary central planning and thus leaving Chinese buyers with much less ability than either ever hoped for. To the Europeans, that may well be a disaster, at the very vital margins, beyond QE's command; to China it represents progress.