I honestly don't know where to begin:
U.S. retail sales surged in May as households boosted purchases of automobiles and a range of other goods even as they paid a bit more for gasoline, the latest sign economic growth is finally gathering steam.

The Commerce Department said on Thursday retail sales increased 1.2 percent last month after an upwardly revised 0.2 percent gain in April.
If you can find anything in that first paragraph as holding true, then numbers no longer have any meaning. The "gathering steam" is not steam at all but the thick, black smoke of household conflagration that has not only failed to arrest but gets worse with every passing month (and revision).  The revisions to April were almost exclusively in automobiles, which accomplished only moving the order in which the last five months end up on the list of the 20 worst months in the entire series – rearranging the deck chairs on the Consumer Titanic. Overall retail sales in May were estimated at an atrociously low +0.96%, including autos, which is the second worst showing of the entire "cycle" (marginally better than February 2013). April's upward revision took that month from the second worst all the way to the third worst.
Total retail sales have been below 2.5% for four consecutive months. That may sound like no big deal, since there aren't any negative numbers in there, but retail sales in a healthy environment grow steadily between 6% and 9%; to be at less than 1% is a desperate sign of consumer trouble. There were only two periods in the whole series matching these accumulating weak results: the Great Recession and the four months immediately following the dot-com recession.
Auto sales themselves rose "only" 5.6% in May, which is the worst showing since 2014's winter snows. Ex autos, retail sales actually contracted for the first time (with April revisions taking last month very slightly positive at +0.01%) since February 2013 and the 6–month average to its lowest point of the "recovery."
It only gets worse from there, as the word "surge" applies to exactly nothing. Everything in May was below April, which means that this downward rush remains now well past weather, showing consumers remain in recession. While there aren't (yet) negative numbers in the overall retail sales figures, there is a preponderance of them in the rest of the categories:
General Merchandise sales have contracted also for four consecutive months, which has overwhelmed the relatively meager gains in non-store sales. The 6-month average of those combined accounts is down to just 2.34%, which is, again, the worst of the cycle.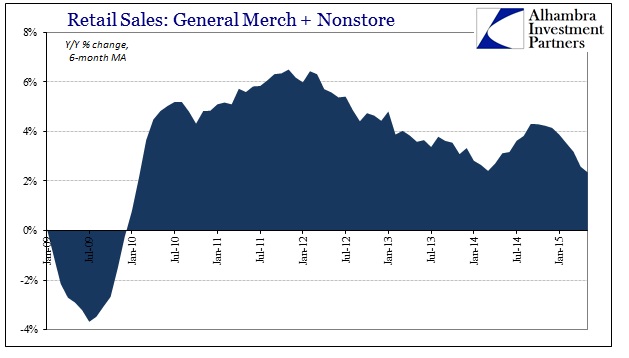 There is a lot about this "cycle" which is totally upside down, but retail sales in May just might represent the apex of the Orwellian transformation; all on the say so of seasonal adjustments. The worst data in years, comparable only to the worst economic experiences in recent history, are now counted as a "surge" in spending and cause for both optimism and doom. The latter based in part because of how the FOMC is supposed to interpret this "surge" and find itself forced to alter its plan for ZIRP. In that respect, what is believed "good" news is thus "bad" news, which brings us back to the original, and proper, interpretation that this is all bad everywhere.
The only way, perhaps in this convoluted age of twisted nonsense, to flip that back around is to compare the recessionary spending of retail sales to the statistical surge in payrolls. The net result there is so bad that it has to count as "good" somewhere for something.