Petroleum sales at the wholesale level grew to a year-to-date high in June. According to the Commerce Dept.'s latest estimates, crude oil sales jumped to $48.6 billion, seasonally-adjusted, from a low in January of just $41.9 billion. Though that seems like good news for a wholesale sector under tremendous inventory pressure, it means that absent that oil price effect wholesale sales ex-petroleum fell by more than $1 billion month-over-month. The general mainstream idea is that this "slump" is oil and oil alone, so that calculation pretty much (once more) reduces the excuse to the same wishful thinking (weather, port strikes, Greece, etc.) as has been exhibited steadily. Inventory continues to rise pretty much everywhere, as the inventory-to-sales ratio jumped yet again to a new and alarming level.
It cannot be overstated that the inventory imbalance, the falloff in wholesale sales, is much, much more than just oil prices and oil sales. This is a widespread imbalance that has taken on a renewed negativity in the past two months where rapid growth "should" have already evolved (according to all non-weather, non-strike expectations).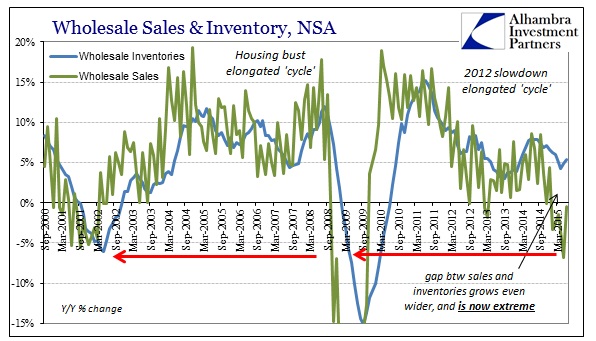 On a year-over-year basis, wholesale sales contracted "only" half of a percent in June, a seeming improvement upon May's revised -6.9%. What matters is the relation of sales to inventory and there what is necessary to avoid protracted weakness and even the full weight of recessionary cutbacks is a renewed alignment between them. Instead, the accumulation of contractionary sales, with and without petroleum, has that gap only growing.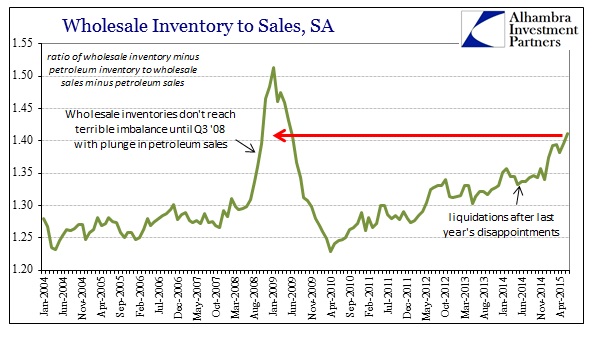 As specified above, there have been gains in the monthly, seasonally-adjusted figures but only in March outside of petroleum advances. In other words, wholesale sales as a broad category are weak which would indicate/confirm the macro presence of the persistent "slump" already.
Like almost every other economic account, petroleum or not, wholesale sales fell into a "hole" starting in January and haven't, despite some here and there upward monthly variation, come close to exiting that depression. Again, the longer this deviation from the growth trend lasts the more likely that production and the whole supply chain will have to adjust far more than they already have (bad news not just for US industry, but especially China and all its downstream suppliers as well as Canada).
As it is, the Atlanta Fed's GDP tracking model expects this inventory rebalancing to start in Q3. GDP growth is currently estimated at just 1% for Q3, as inventory subtracts a significant amount (though the inventory "give back" has been estimated by GDPNow for two quarters running and it has failed to show up so far, only getting worse). Like the PBOC's resolve, at some point something has to break. The longer this continues, and I still believe it is being held to pass only by those continued and increasingly loony recovery extrapolations, the greater and quicker the inevitable downside reversion.