Factory orders gained slightly month-over-month on a seasonally-adjusted basis but collapsed in year-over-year unadjusted terms. The latter was due, only in part, to base effects of the huge surge in July last year for Boeing. Even factoring that somewhat ill-suited comparison, factory activity is still way down and, as other indications, only undergoing a slight pause in the downward trend. Even in the seasonally-adjusted series, factory orders for July registered about the same as March 2012 which isn't in any way a significant improvement no matter how hard one might look for the bright side:
Orders to U.S. factories posted a modest gain in July, helped by the biggest rise in motor vehicles orders in a year and a solid gain in a category that tracks business investment plans.
And:
New orders for U.S. factory goods rose for a second straight month in July on strong demand for automobiles, which could help to keep manufacturing supported as it deals with a strong dollar and softening global demand.
Those narratives are supposed to apply to what is still only a growing economic hole. It does not follow that because it is not immediately getting worse that it must be getting better, as no contraction or crisis follows a straight line. What matters for setting economic direction is the deviation from trend and especially how long and intense that deviation remains. On that score, the extrapolations are not at all favorable (including how, to very little mention, orders for non-durable goods actually fell, seasonally-adjusted, 1.3% in July M/M).
Both articles eventually get to these challenges despite the obvious positive framing at their outset.
The modest increase in factory orders in July suggests that manufacturing is still grappling with a variety of challenges, from falling energy prices to a stronger dollar, which hurts exports.
That is quite a bit understated but actually revealing in its qualified honesty which had been notably absent from earlier months (port strikes, winter storms, oil prices are good for consumers, "strong dollar" is a good sign, etc.). While year-over-year factory orders declined 15.2% that, again, isn't necessarily the true scale of the decline; though it isn't all that far either. To adjust for that base disparity we can use cumulative totals until September's figures are available to average out the two-month 2014 up and down. The three months ended July 2015 are cumulatively 9.3% below the same three months of 2014; the 6-month totals are a similar 7.6% contraction. In other words, factory orders are still down and down severely. The 6-month moving average in the non-seasonally adjusted series is -7.5% which is equivalent to December 2008 and September 2001.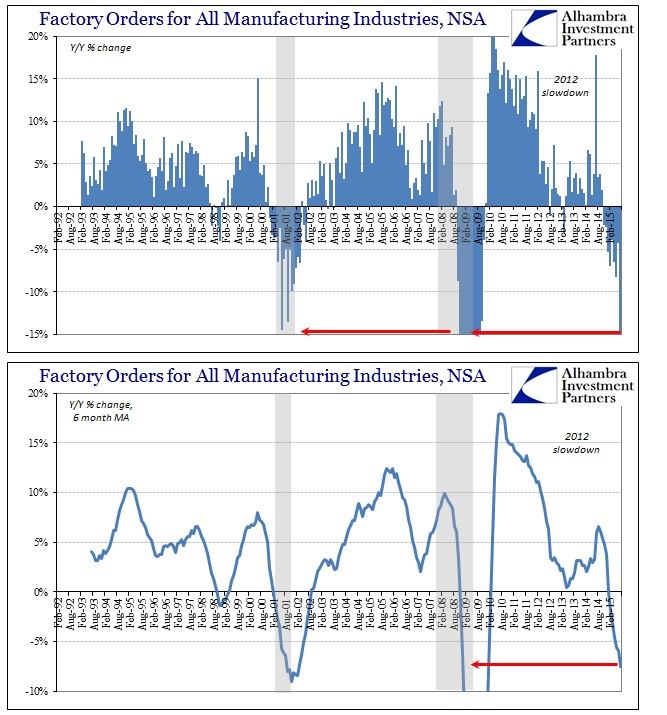 Despite the attempted positivity out of just the short run of two months (which are those between the two "dollar" waves), the CNBC article actually gets around to addressing the real problem with accumulating negative departure.
Inventories of factory goods slipped 0.1 percent after three straight months of gains. That left the inventories-to-shipments ratio at a lofty 1.35, unchanged from June.

That suggests manufacturers might be sitting on a pile of unwanted goods, which could hurt production and weigh on growth in the coming quarters.
I'm not sure why that point doesn't register more strongly and resolutely; factory activity is already contracting at a rather severe and extended rate and still there is enormous inventory to address. The only way that is not a truly and outright recessionary concern is if economic growth, on the consumer side no less, suddenly and sharply corrects highly upward everywhere and all at one. As mentioned repeatedly, the "dollar" as proxy for broad demand is rather emphatic in its rejection of that "hail mary" scenario.