With back-to-school shopping falling apart, the focus turns quickly to the Christmas season once more. That is fully expected, lest anyone dwell too long on the August spending figures and begin to see through the "strong" economy.
August retail sales – as expected – showed the effects of slow mall traffic and comparisons with very strong August results a year ago. The Thomson Reuters Same Store Sales Index actual result for August 2015 showed a decline of -0.5%, missing its final estimate of -0.2%. Excluding drug stores, the index registered a -1.0% comp for August, matching its final estimate.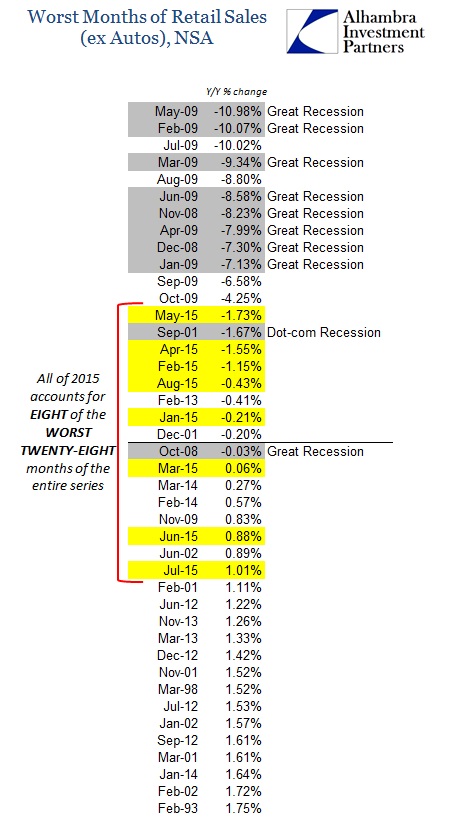 Contracting same store sales across a broad section of the retail universe does not exactly instill confidence about the retail sector, the consumer or even the general economy. That goes perfectly along with the Commerce Department's August figures on overall retail sales, which continued to rank among the worst of the last quarter century. If there is any wonder why China's industrial output remains in 2015 where it was at the bottom of the Great Recession, this is a powerful clue. Retailers are apparently taking that into consideration, and don't appear to be expecting much for Christmas. That, of course, has economists completely confused.
Last week, outplacement firm Challenger, Gray & Christmas said it expects retailers to add roughly 755,000 seasonal hires to their payrolls in the final three months of the year. That level would be flat with last year, when holiday hiring fell short of predictions.

This forecast comes despite a strengthening U.S. economy, and an early forecast from ShopperTrak that holiday sales will rise 2.4 percent this year.
Set aside the fact right at the start that 2.4% is atrocious, the only "strengthening US economy" is the one talked about by economists. By action and deed, all over this country and the rest of the world, the word "strong" just doesn't fit. However, the media continues to pay unearned deference to Janet Yellen and those credentialed parrots that follow the FOMC models rather than the "Main Street" they purportedly serve.
That is exactly what Janet Yellen did at her press conference last week. She made sure to emphasize the "strong" domestic economy before then taking the rest of the time explaining the opposite condition.
You know, I want to emphasize, domestic developments have been strong. We see domestic demand growing at a solid pace, the labor market continuing to improve. Of course, we will watch incoming data to confirm our expectation that that will continue. And we of course will watch global financial and economic developments.
If that were real instead of rational expectations then the FOMC would have acted back in the spring instead of being scared witless by the current economy and its darkening potential. As it was, the FOMC continues to mark down even GDP's long run "potential" which is about as far from strong as one might traverse. It is plain remarkable that media and reporters time and again defer to these economists rather than the very subject they are reporting on; economists run regressions filled with subjectively forced equations while retail businesses have cash ledgers and piles of inventory, yet the former counts more even when they are as far apart as now?
Further, there is the context of comparison to 2014's Christmas retailing. By all honest standards, 2014 was a washout. Economists will again reach for "residual seasonality" and snowstorms to explain Q1, but the conditions were all there inside Christmas. If retailers are using last year's temp hiring as a baseline (which was considerably less than forecast last September) then there is serious downside risk.
Of course, it is employment figures (the Establishment Survey in particular) that provide the emphasis for this divide in the first place. Without realizing the circularity contained within them, economists opt for the unemployment rate while retailers are quite familiar by contrast with its denominator. The disparity about the last few holiday shopping seasons makes that abundantly plain: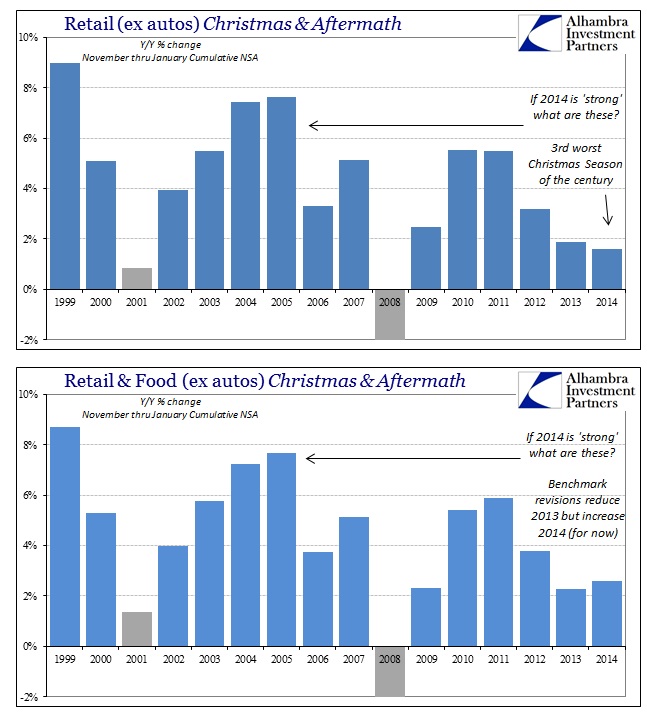 The last time the Establishment Survey was suggesting massive and sustained payroll expansion was 1999. Retail sales grew 9% that holiday season; in 2014 it was barely 1.5%!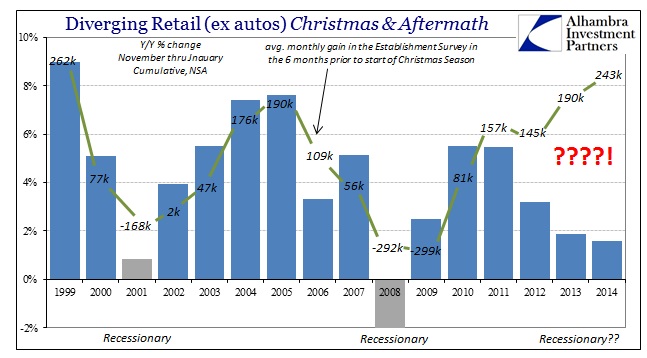 Even non-store retailers, the assumed virtual shopping trend that will rescue the retail economy and prove the consumer strength, were stuck at just 4.5% growth. There was no way in which to suggest last year was "strong" and already this year retailers are looking at further erosion even before this latest financial eruption and the increasing possibility of the perceived end of "transitory."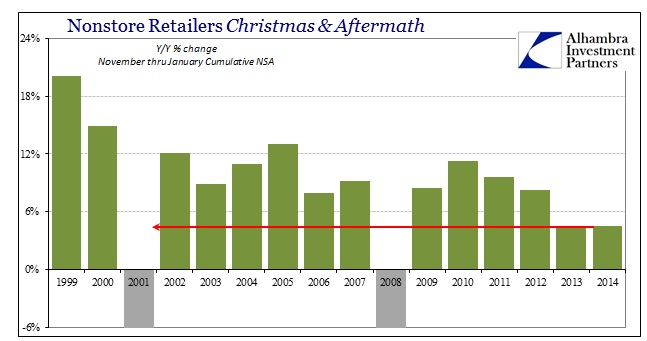 There has been no spending growth, no wage growth (which economists actually admit), the FOMC continually marking down long run GDP (the most charitable view of the economy), for "some" reason China producing far fewer goods and now retailers wary of embracing even last year's labor levels. That all adds up to something, it's just the opposite of "strong."