The risk budgets are again unchanged for this month. For the moderate risk investor, the allocation between risk assets and bonds remains at 40/60. The changes in our indicators this month were not significant enough to warrant a change. Credit spreads stopped narrowing and have recently been widening again, ever so slightly. Valuations, long term momentum and the yield curve have not changes materially since the last update.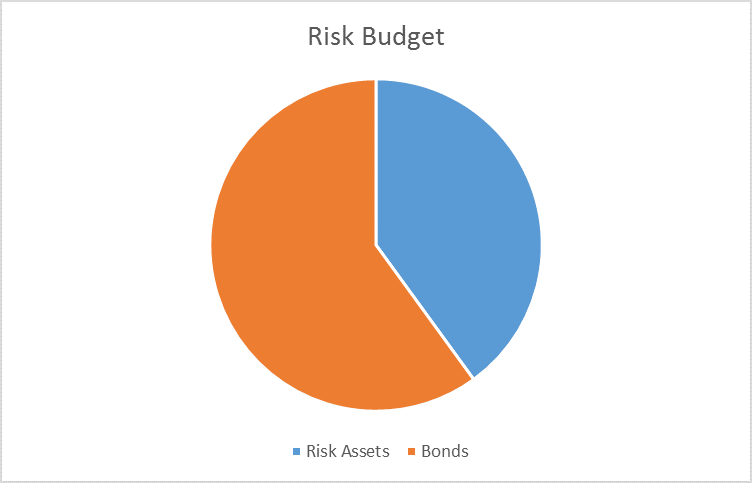 As I noted in the Bi-Weekly Economic Review last week, the economic data has improved somewhat from a surprise perspective but the overall tone of the reports – other than the regional Fed surveys – has been fairly negative. Nevertheless, the firming tone of the reports served to at least stop the dollar from declining further – for now. That dollar stability worked to put a short term cap on oil prices and that had an impact on credit spreads. Spreads had narrowed, as noted in the last GAA update, as oil prices moved higher on hopes, apparently, that the shale industry might avoid the worst case scenario. Now that oil has started to correct, so too have spreads started to widen again. It isn't a big move but it keeps the previous widening trend intact. Stocks have not yet reacted to the resumption of spread widening although the rate of ascent has slowed. Nominal bond prices resumed their uptrend though despite the good mood in stocks.
Indicator Quick Review
Credit spreads: HY Spreads narrowed all the way to 6.65% on 3/21 before starting to widen again. Spreads are currently around 7.15%, about where they were when I wrote last month's update. The direction of spreads was uniform across various ratings.

Valuations: Valuations have worsened since the last update. Shiller P/E is at 26 about 55% over its long term mean. Market cap/GDP is around 116%, a level only exceeded in the dot com bubble. US stocks are not cheap. Foreign markets are cheap but lack momentum as I'll discuss more below.

Momentum: Long term momentum measures for the S&P 500 are still negative.

Yield Curve: The yield curve has stopped flattening and sits in the middle of its historic range.
Credit Spreads
Credit spreads continued to narrow after my last update but have since resumed the previous widening trend. The trend in fact was never broken despite the considerable narrowing of spreads. So, now we wait to see if spreads widen further and what impact that will have on the stock market. I suspect wider spreads will be dependent on further weakness in crude oil prices which is probably dependent, at least to some degree, on a stronger dollar. Oil is still in a downtrend despite its recent rally so it may not take much dollar strength to push it lower.
Spreads have resumed widening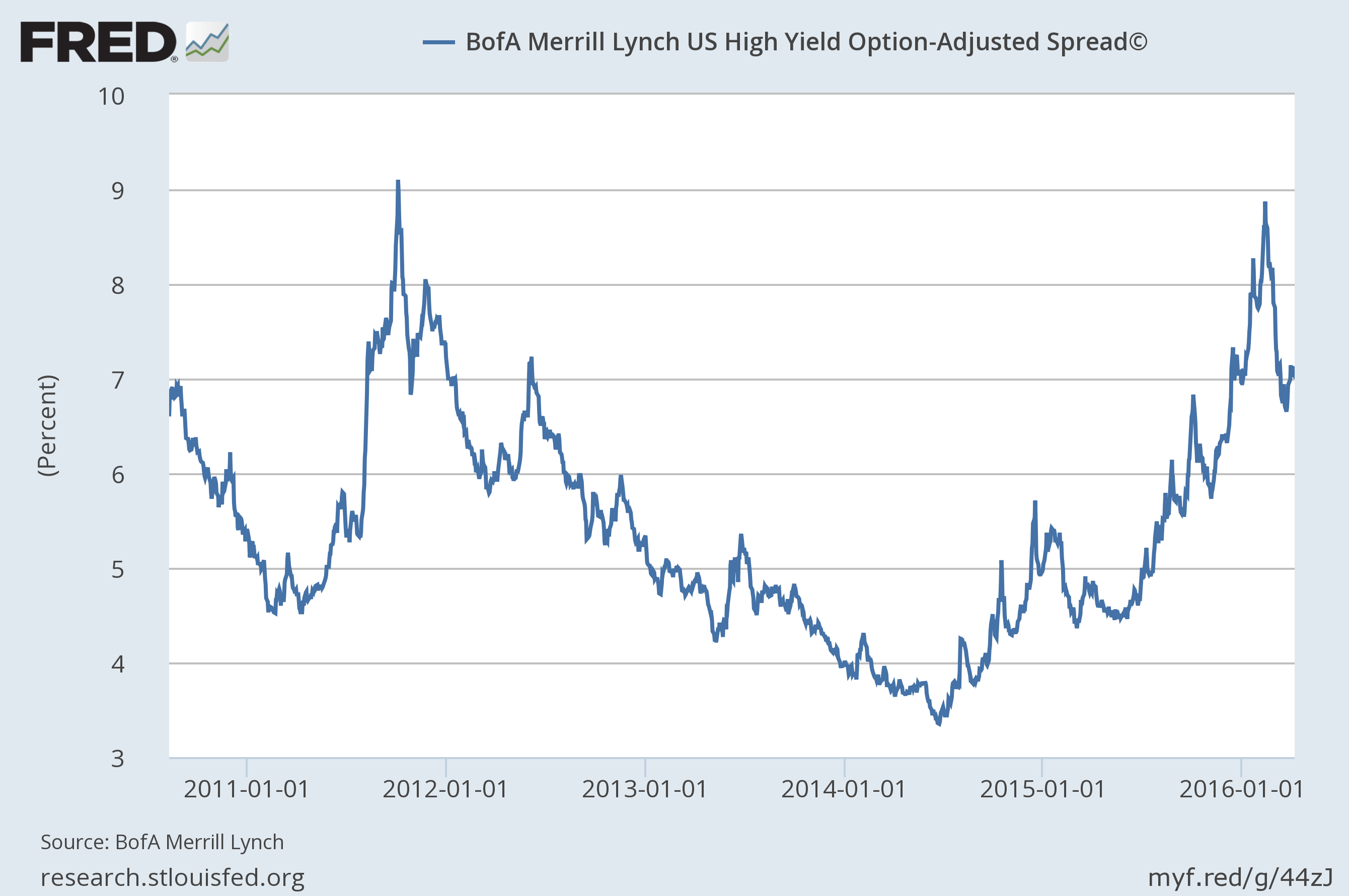 AAA spreads are still at levels that show stress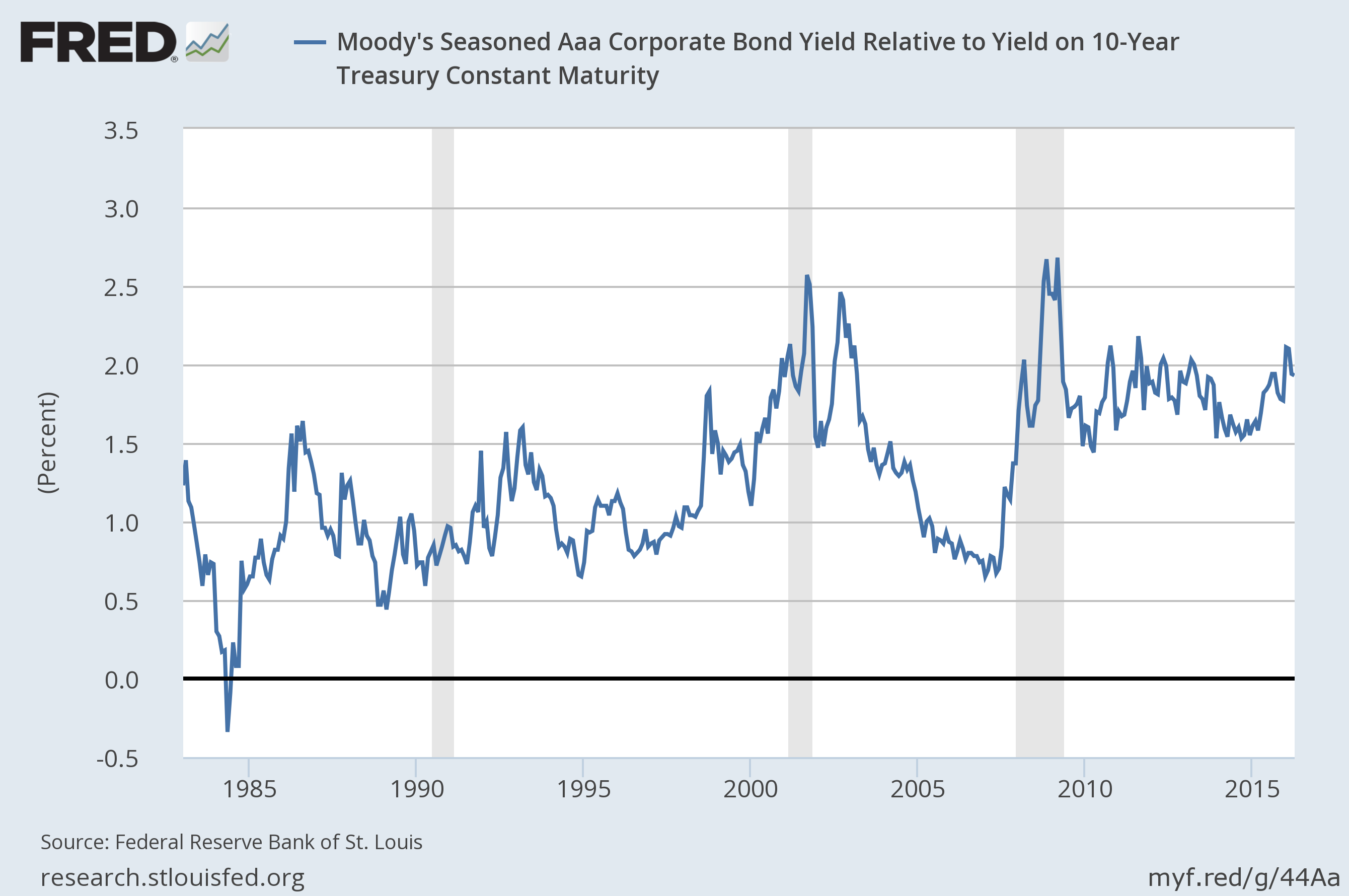 The weaker dollar has helped Latin American stocks but spreads there remain quite wide.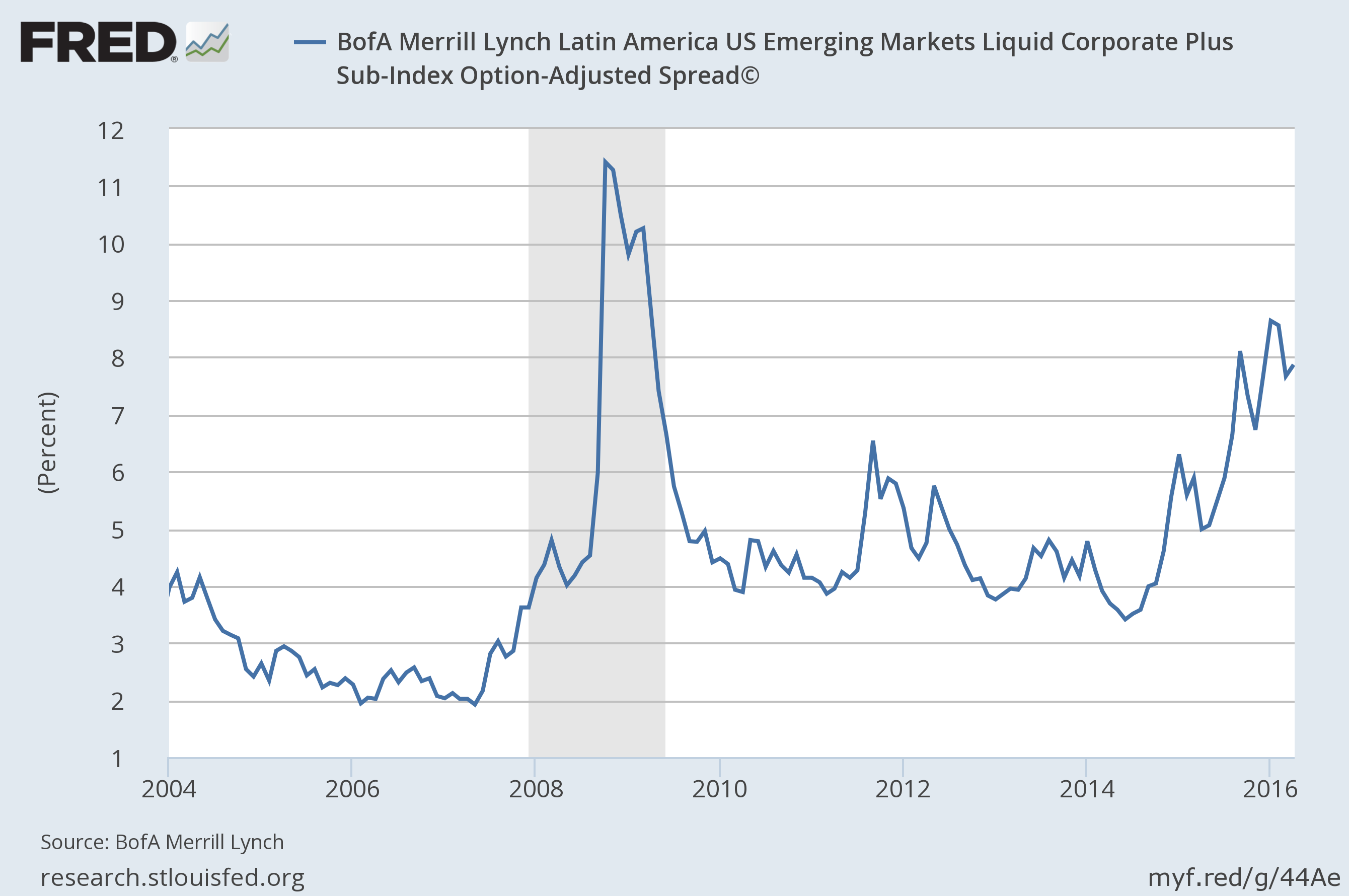 In Asia, on the other hand, the stress appears to have dissipated.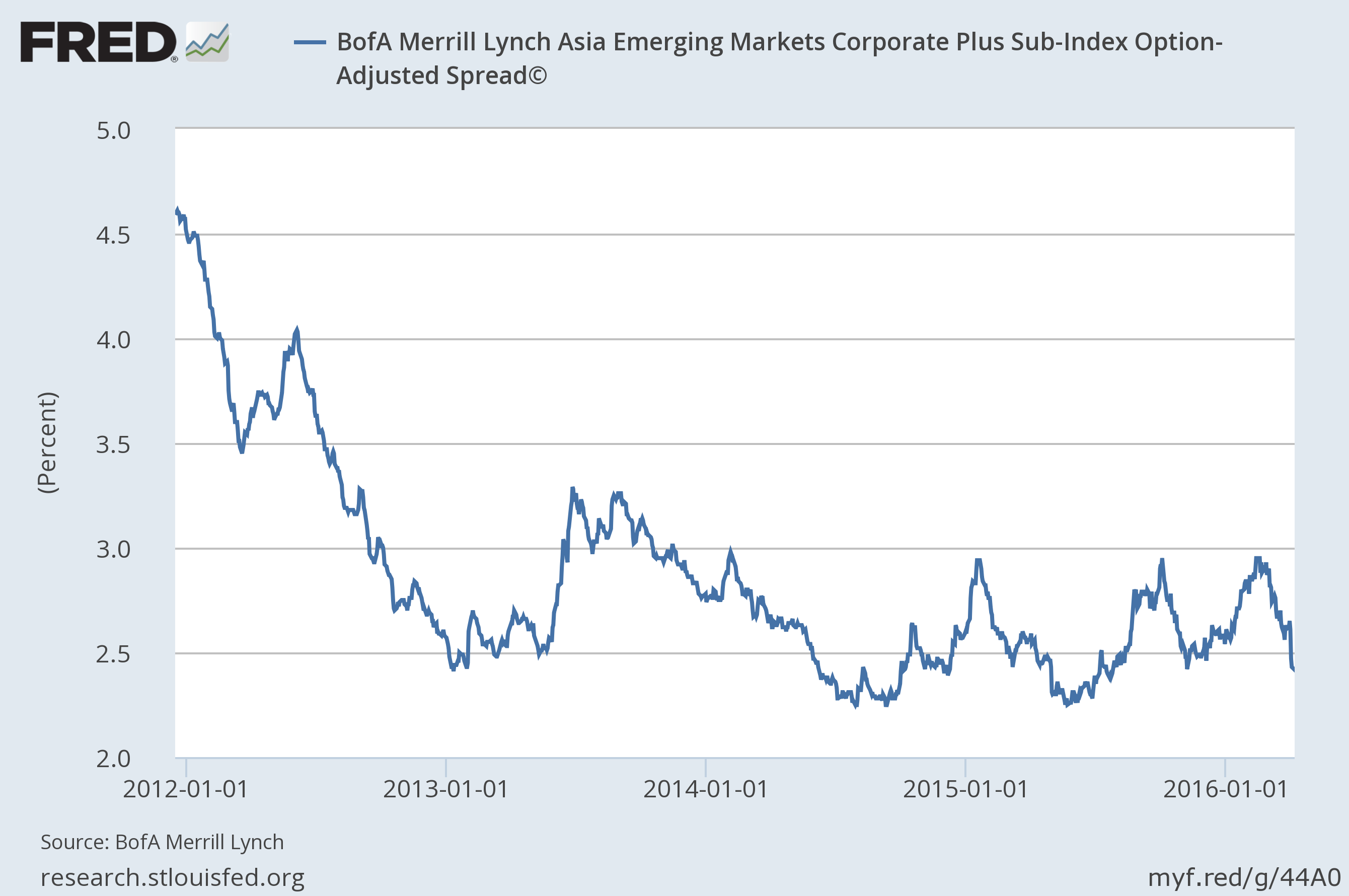 Spreads are generally moving together, across credit ratings and in various geographical regions. HY spreads are widening in the US….and Europe and most everywhere else too. That's what makes that last chart so interesting, that Asian bond spreads seem to have narrowed a lot more than all the others. That may present an opportunity and say something about the state of China. Everyone assumes that China is an accident waiting to happen – or an accident already happening – but if that were true shouldn't Asian corporate bond spreads be blowing out? Maybe not – these aren't Chinese spreads which I can't find – but I have my doubts. Just something to keep in mind right now and probably too early to act upon.
Yield Curve/Bonds
The yield curve has barely budged since the last update, still stuck right in the middle of its historic range. If anything the curve steepened ever so slightly. That would appear to be a result of a dovish Fed and rising inflation expectations.
Yield curve is telling us very little at this point. Not inverted, not flat, just stuck in the middle.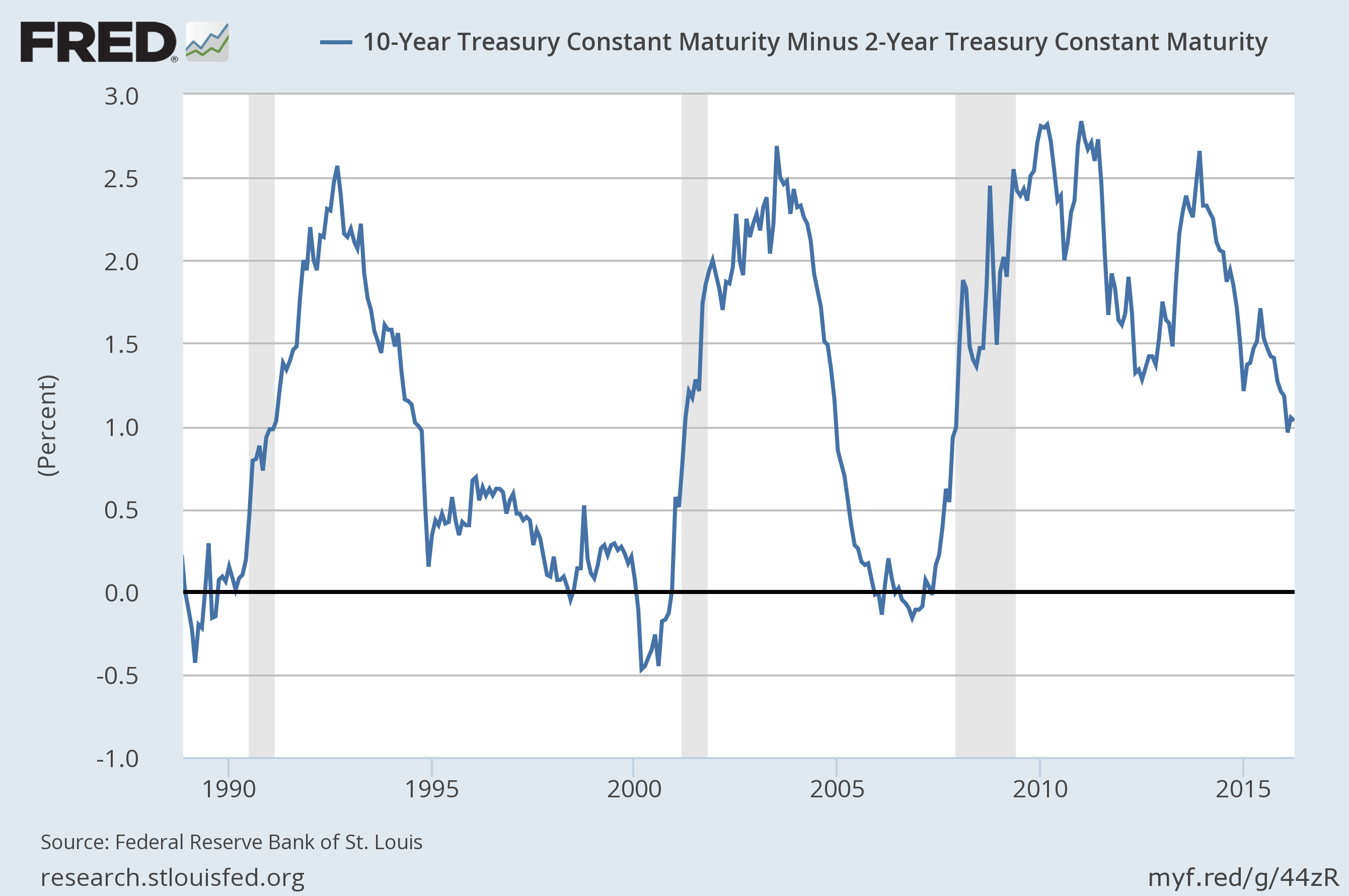 Inflation expectations continue to rise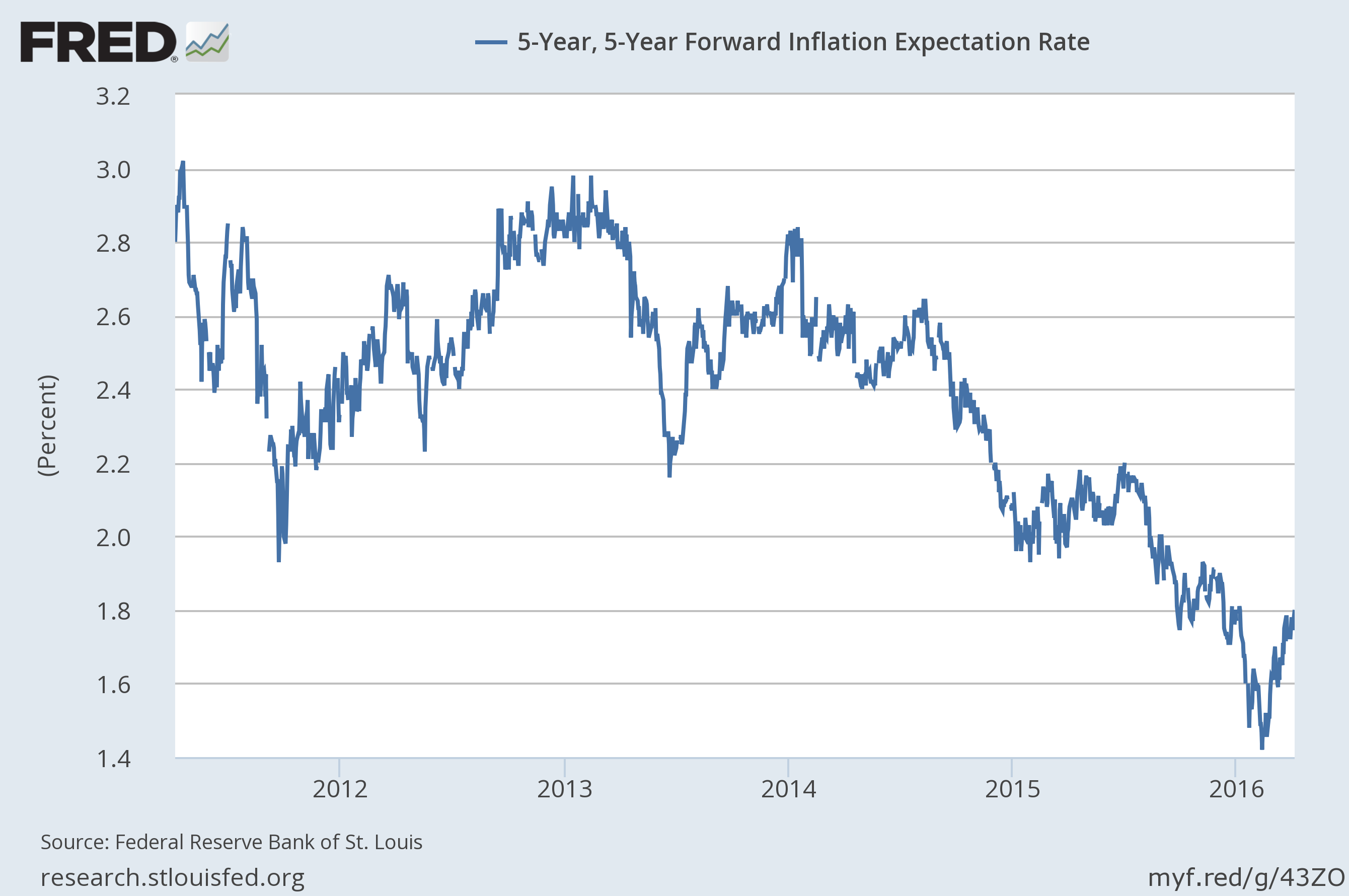 TIPS yields are solidly negative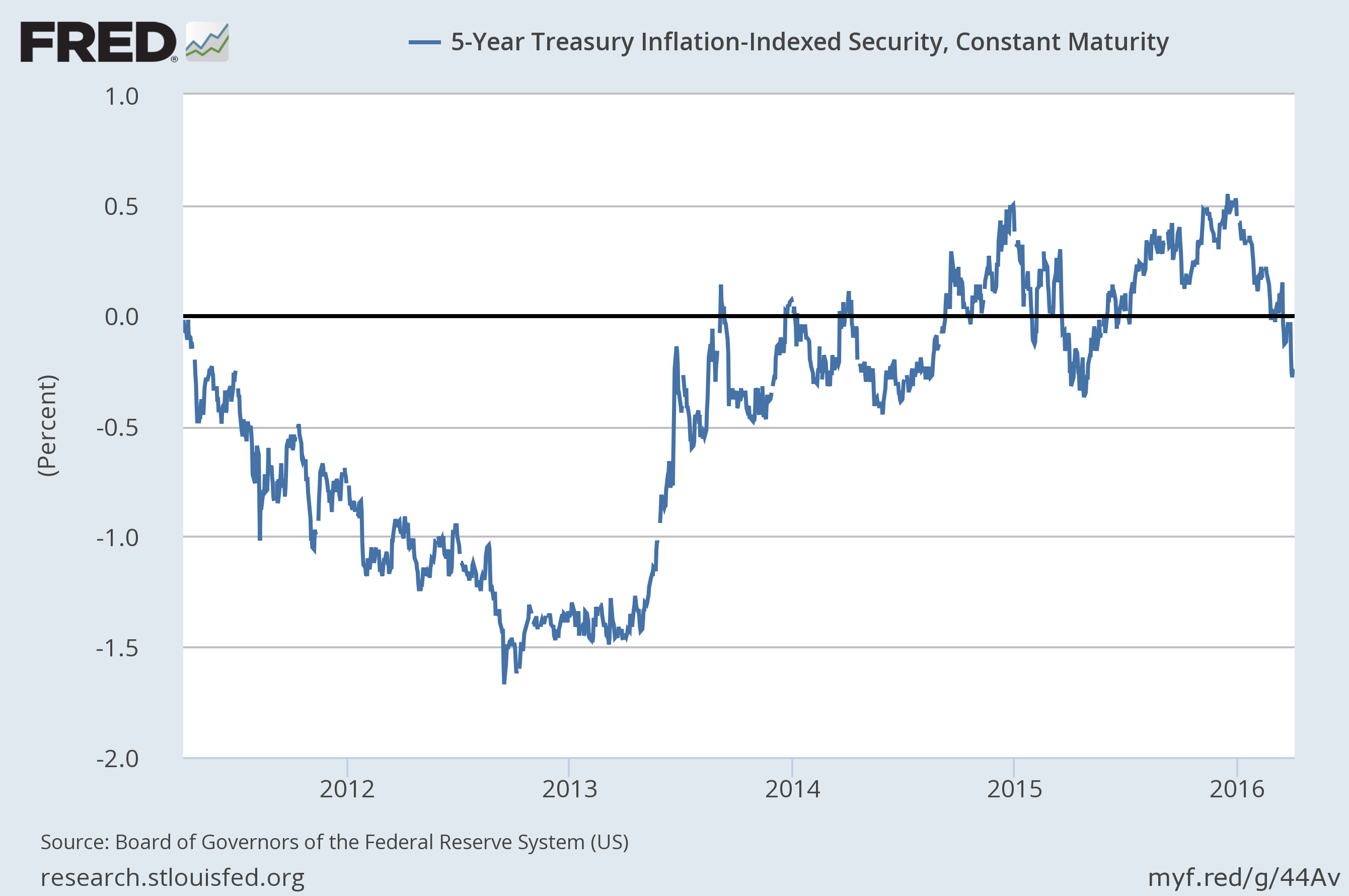 Nominal bond yields continue to fall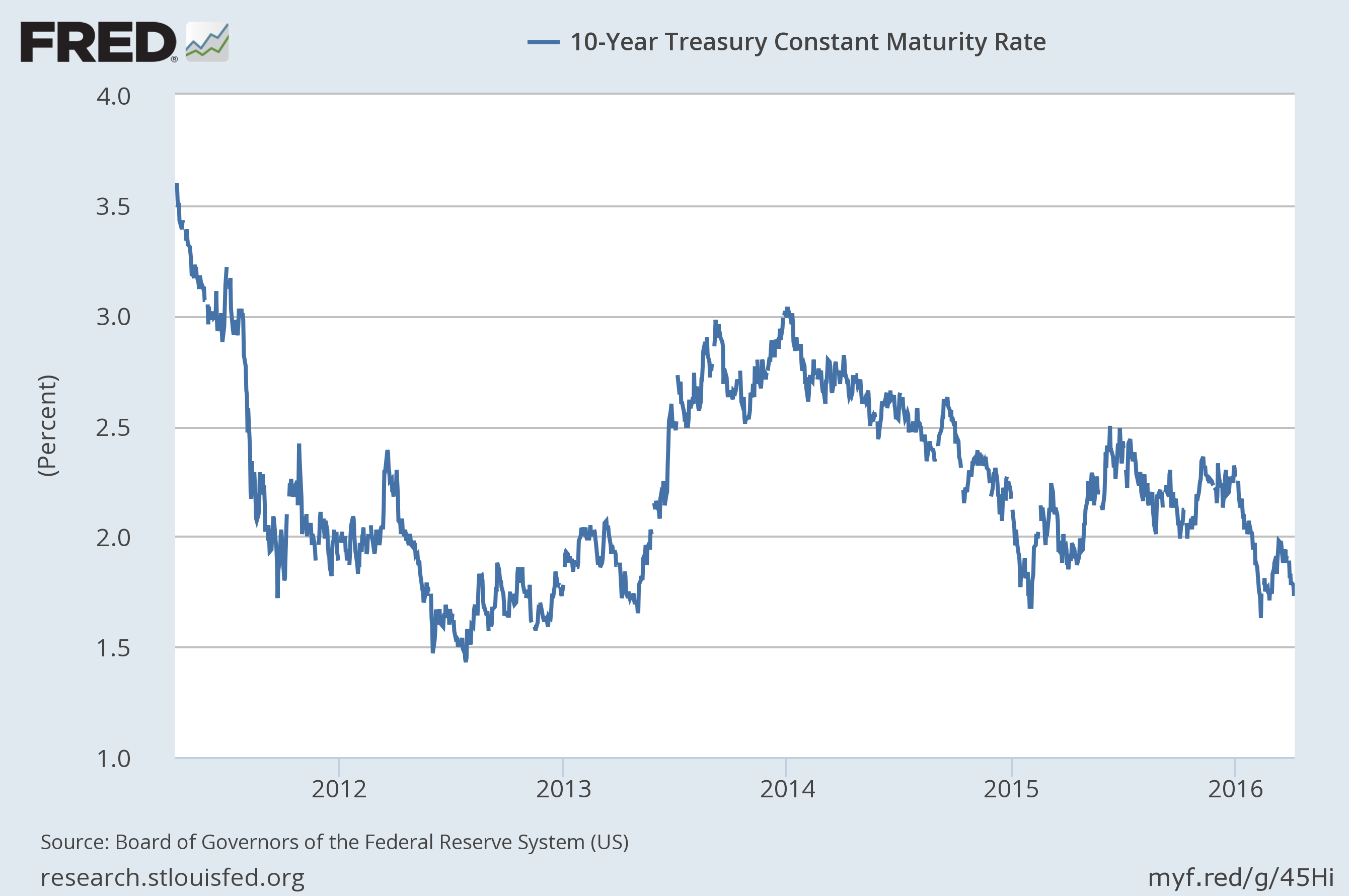 With nominal and real bond yields still falling the market is telling a story of very weak growth – or something worse. Meanwhile, inflation expectations are still rising off the lows, a sort of mini-stagflation taking hold. Now, the bond market isn't always right but given the divergence of opinion between stocks and bonds, a conservative investor has to pay more attention to bonds.
The dollar plays a role here too as a higher dollar is generally deflationary and a weaker dollar the opposite. Recently we've seen the dollar fall to near the bottom of its recent range, pushing up gold and oil prices. General commodity prices moved up but to a lesser degree. It has been my experience that gold and oil are more sensitive to these dollar movements. What is interesting is that as commodity prices and inflation expectations have risen, so have bond prices, something that seems contradictory. For now, the dollar has not really broken down and it may be that there aren't enough believers in a commodity/inflation resurgence to affect bonds. But if the dollar breaks out of the bottom of that range, really starts to fall, I don't think bonds will be able to maintain a rally.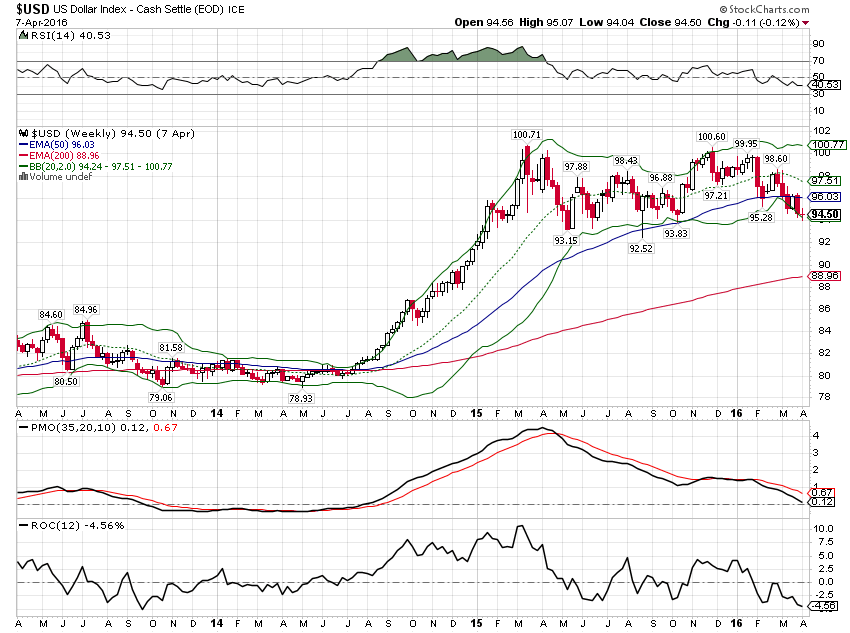 Valuations
Valuations are not improving and if you care at all about forward P/Es, those are getting considerably worse as stock prices rise and earnings estimates sink. I'm actually entertaining the thought that the cutting may have gone too far, that maybe estimates have caught up to reality. We might start to see more upside surprises and more importantly, better guidance. In the meantime. the valuation metrics I use for allocation purposes are all still pretty overvalued. None of them show a US market that is cheap although, as I mentioned last month, there are plenty of foreign markets that are absolutely cheap (meaning not just relative to the US). Unfortunately, momentum is not something one finds right now in foreign markets and maintaining an overweight has been a drag on performance.
Momentum
Momentum may continue to favor US stocks over foreign ones but the long term momentum picture for the S&P 500 remains negative. Short term measures are rolling over and a correction appears imminent. Whether this leg down turns into anything more damaging than the first quarter selloff remains to be seen. Sentiment remains very mixed with bears and bulls about even and neutral the biggest vote getter in the AAII poll. That isn't generally what bear markets are made of but a 20% decline could probably happen no matter the sentiment picture.
Short term momentum is rolling over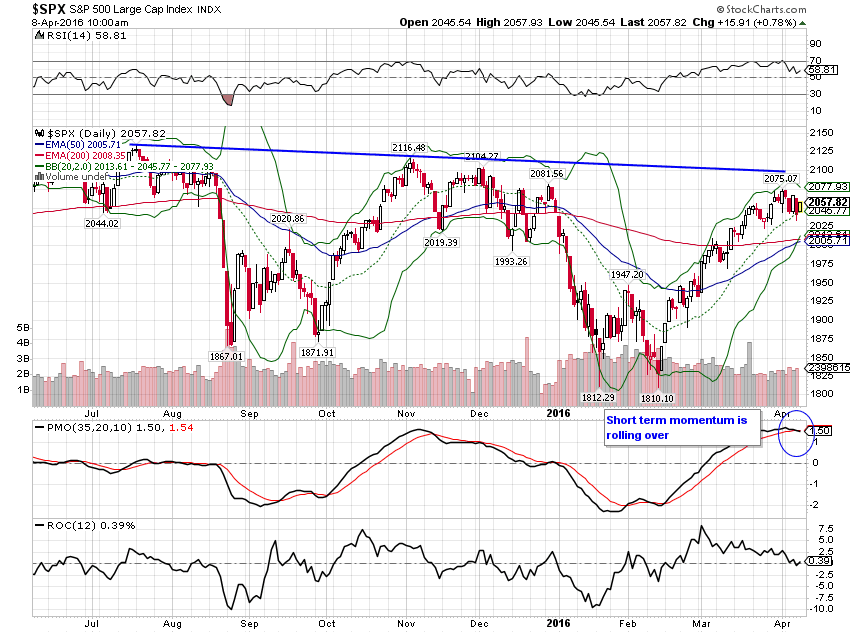 The long term momentum picture hasn't changed; still on a sell signal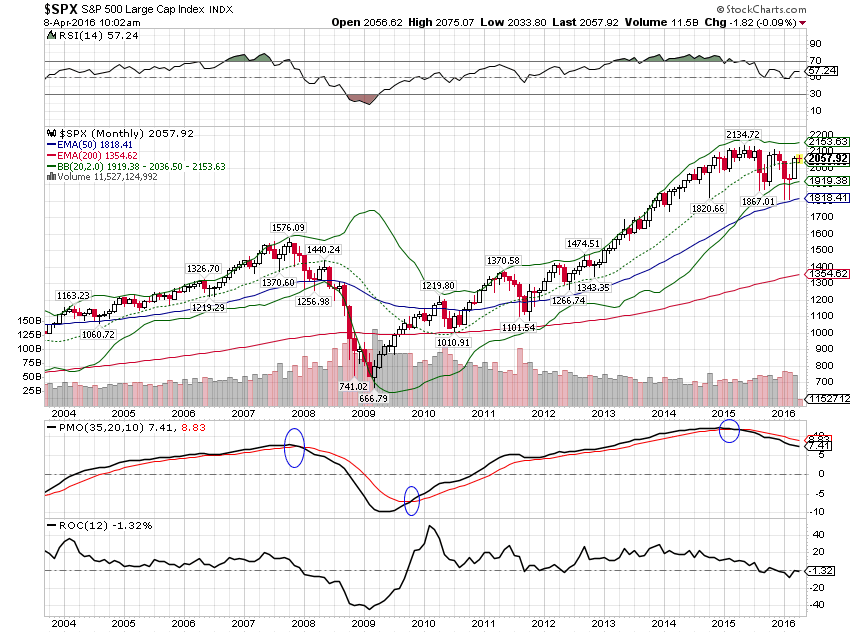 As I said above, foreign markets are cheaper than the US and in some cases just plain cheap. But momentum has yet to shift, something that will probably have to wait until the dollar weakness is more widely recognized and established. Of course, the dollar isn't guaranteed to fall from here but short and intermediate term momentum indicators have already rolled over and long term momentum is on the verge of offering a sell signal.
EAFE continues to underperform the US despite being much cheaper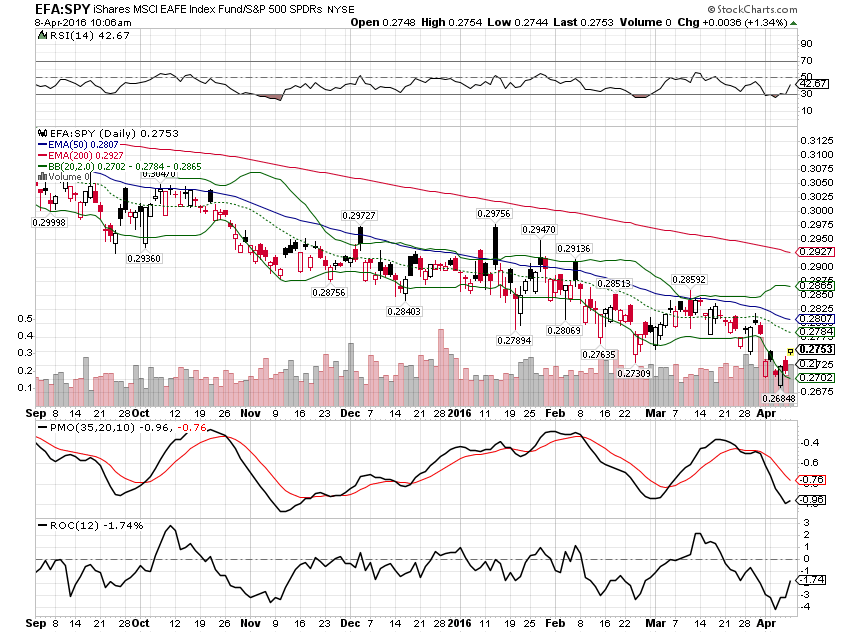 Emerging markets have outperformed this year but the short term trend is struggling and…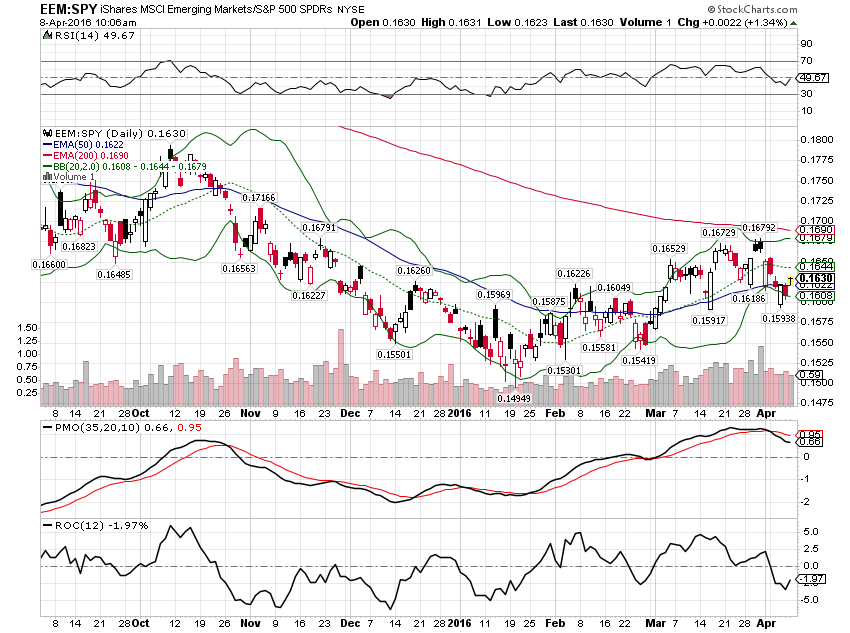 the intermediate term trend hasn't been able to fully change yet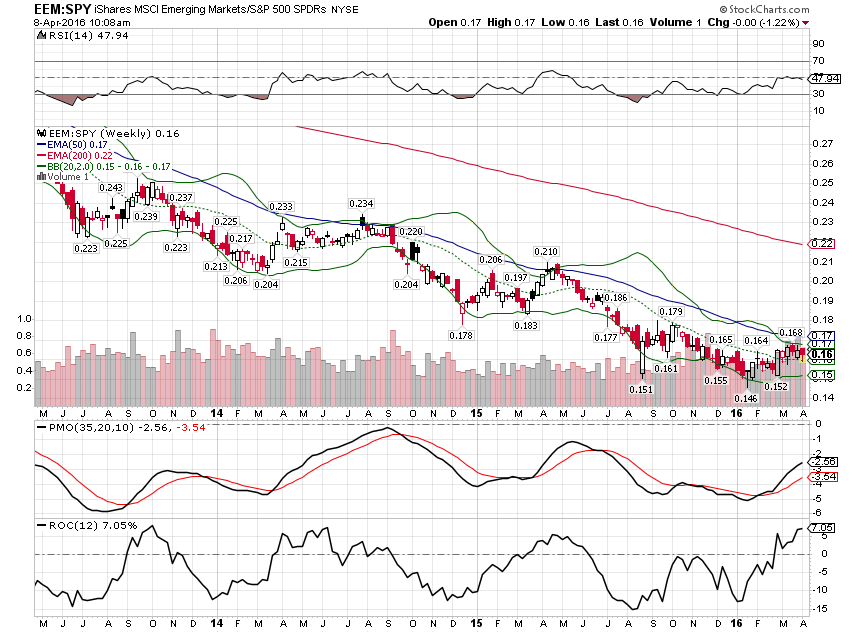 Intermediate term momentum points lower for the dollar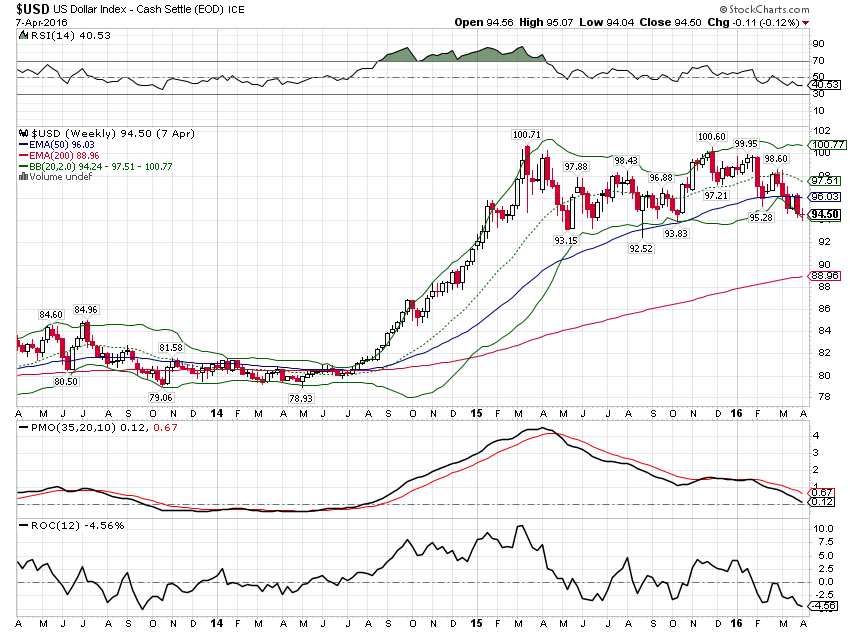 While the longer term indicator is on the verge of offering its own sell signal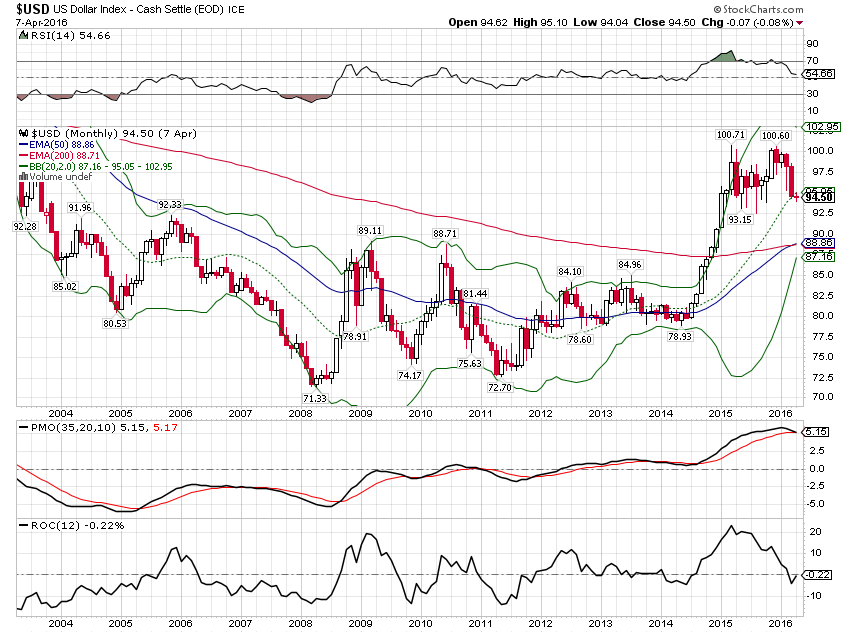 Long term momentum measures continue to favor gold and bonds over stocks (S&P 500) despite the big recent stock rally.
Momentum continues to favor bonds over stocks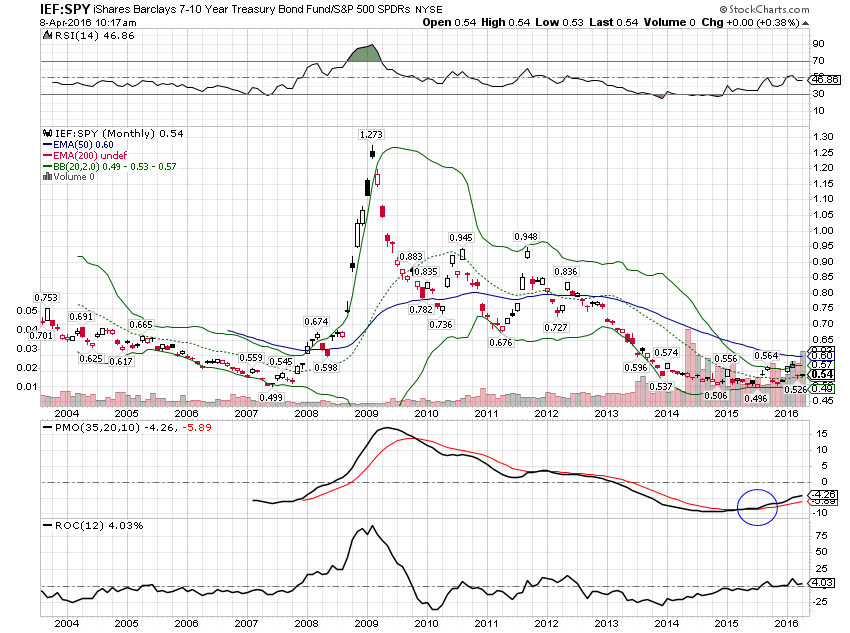 And gold as well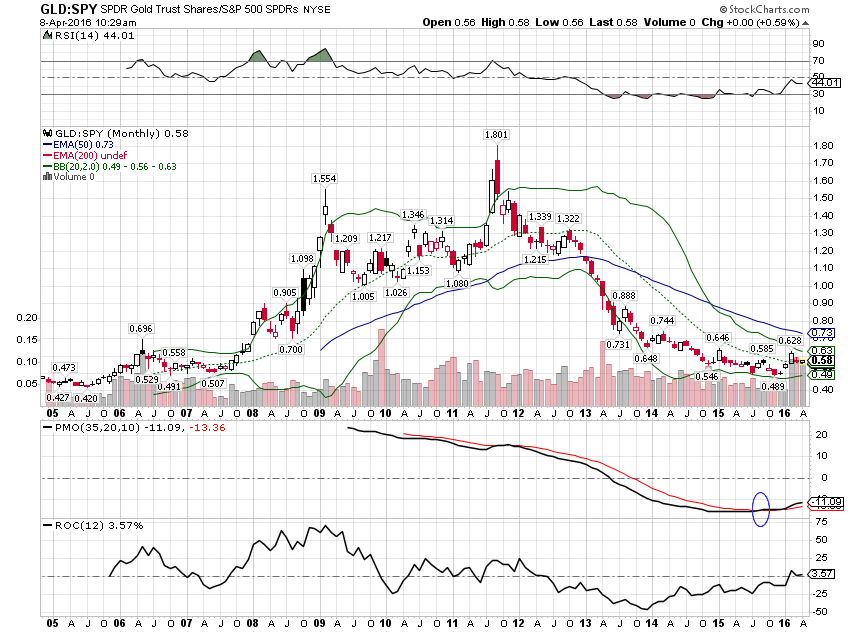 REITs have also recently been outperforming in the US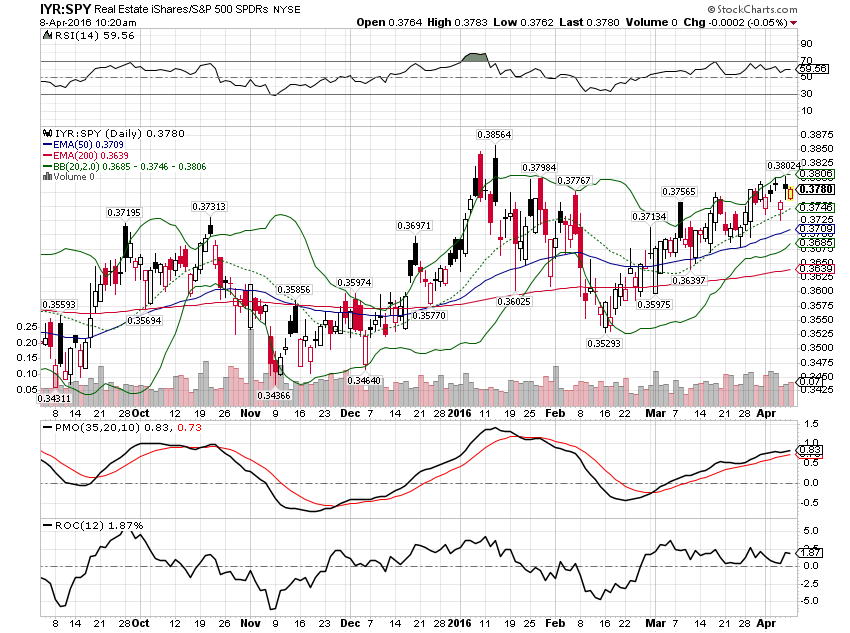 And internationally
The large move up in the Yen forces me to take notice and adjust our Japan position. Long term momentum for DXJ, the yen hedged Japan stock ETF, has turned down versus EAFE and triggered a sell signal. I am skeptical that the Yen strength will be sustained but prudence requires a change. The trend of the unhedged ETF, EWJ, versus EAFE is challenged but intact.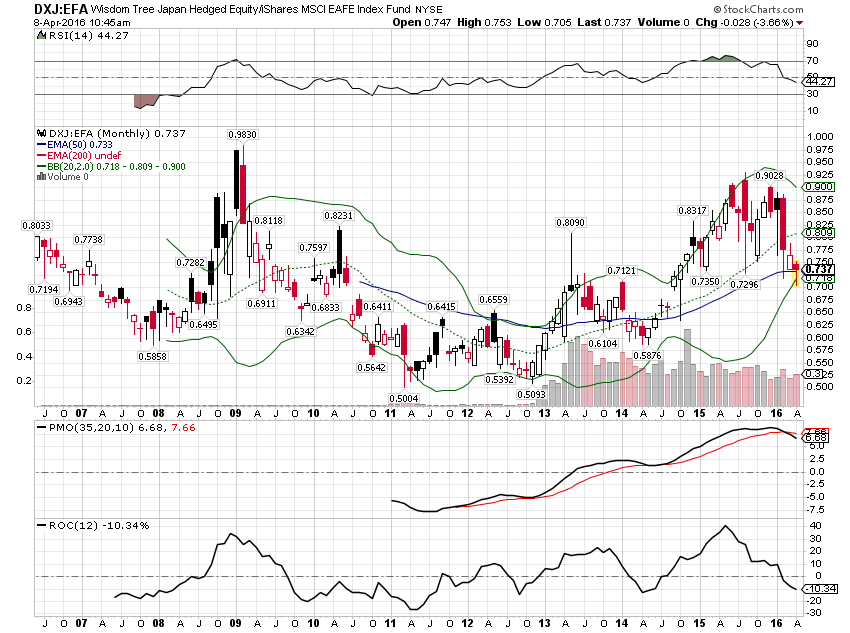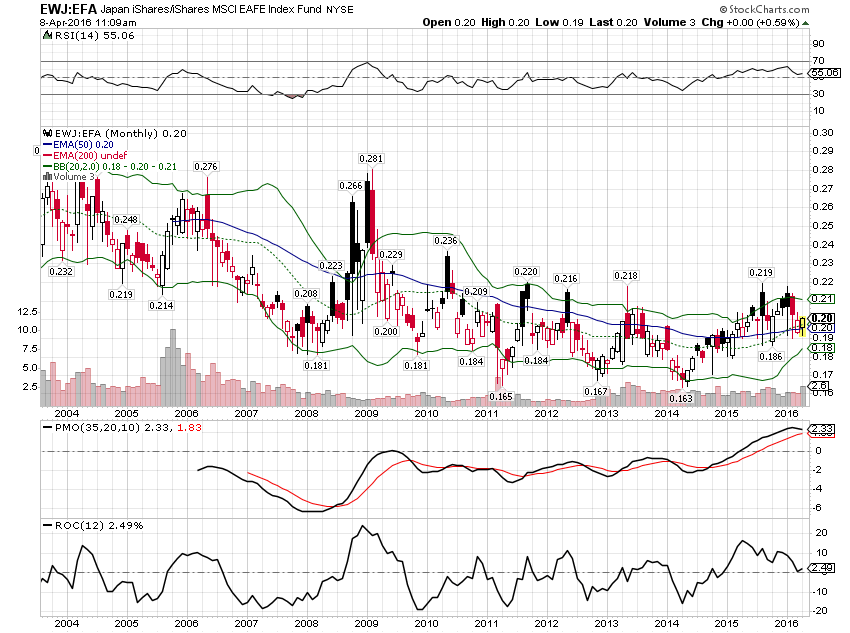 Portfolio Changes
I am making several changes to the Moderate portfolio this month. As mentioned just above, I am liquidating the Yen Hedged Japan ETF. I will maintain the unhedged version for now but I'm beginning to question my entire Japan secular bull market thesis. I still think there are profound changes happening there from a corporate governance standpoint – look at the resignation of the Seven Eleven CEO this past week – but the macro situation continues to deteriorate. I don't know if there is the political will to get the other parts of Abe's reforms done; certainly progress to date has been glacial.
The proceeds from selling the DXJ position will be redeployed in areas that are outperforming. For the moderate portfolio the 3% will be shifted evenly to US REITs, International Real Estate and Gold.
I am also making changes to the bond allocation. Investment grade corporate bonds have had a huge move in the last month as credit fears faded. With stocks near their highs and credit spreads starting to widen again, a reduction in our corporate bond exposure seems appropriate. TIPS have also had a large move up and I am taking some profits. In the near term, a dollar rally from the low end of its recent range seems likely. That should suppress inflation expectations and that will be expressed via the TIPS market. I still believe inflation is a significant risk at some point in this cycle but probably not until the dollar breaks definitively.
Here's the new allocation: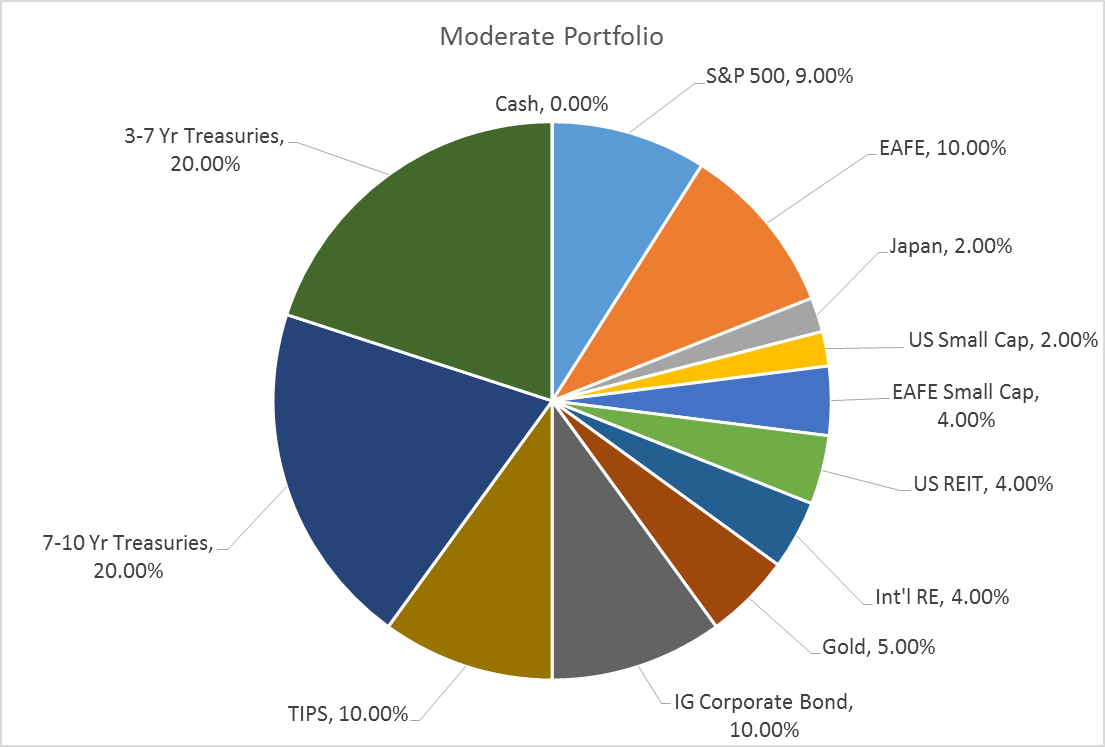 And last month's for comparison purposes: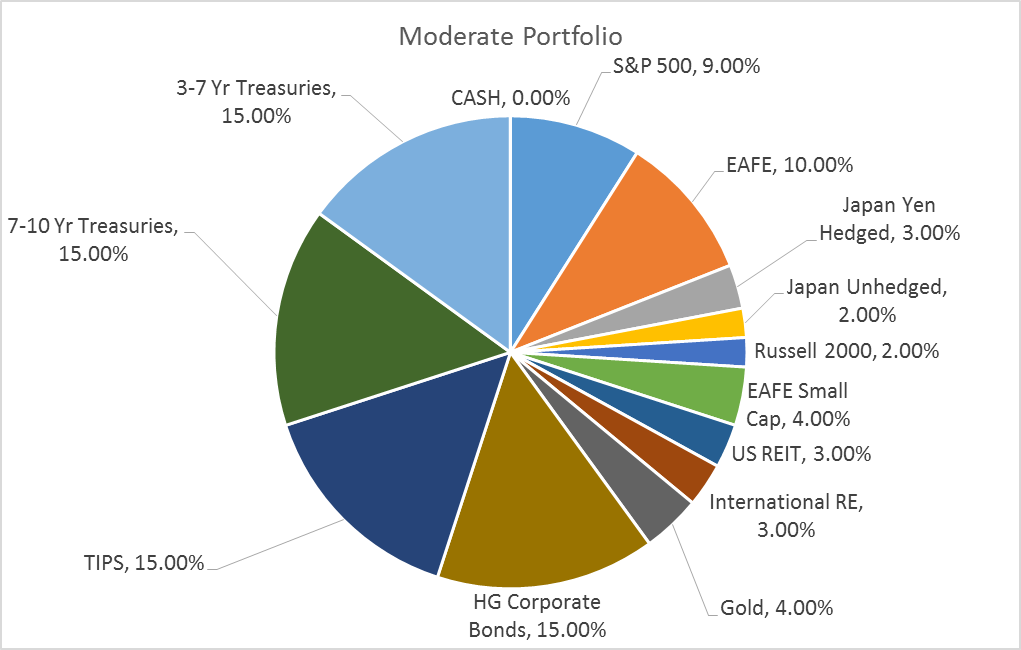 For information about other risk based asset allocations or any of our other tactical models, please contact Joe Calhoun atjyc3@4kb.d43.myftpupload.com or 786-249-3773. You can also book an appointment using our contact form.
Click here to sign up for our free weekly e-newsletter.
"Wealth preservation and accumulation through thoughtful investing."
This material has been distributed for informational purposes only. It is the opinion of the author and should not be considered as investment advice or a recommendation of any particular security, strategy, or investment product. Investments involve risk and you can lose money. Past investing and economic performance is not indicative of future performance. Alhambra Investment Partners, LLC expressly disclaims all liability in respect to actions taken based on all of the information in this writing. If an investor does not understand the risks associated with certain securities, he/she should seek the advice of an independent adviser.