If anyone might wonder why yesterday and today seem far less noteworthy and less perhaps dangerous, the Chinese are once again on holiday. The Mid-Autumn festival began yesterday and extends today. The last money market trading, then, was early Thursday morning with offshore CNH coming back down if only slightly. What commentary there is in relation to CNH continues to suggest only that the Chinese central bank is going after "speculators." I disagree, and it is this back and forth that in my view proves it. As I wrote Wednesday (subscription required):
The behavior in HIBOR in September 2016 is much different [than January]. The overnight rate has been back and forth intermittently rising through each of these five days; the sudden surge to 5.446% on 9/8, falling back a little to 4.71267% the next day, only to rise to 5.5155% on Monday, dropping back all the way to 2.838% yesterday, and now an even stronger surge to 8.16167% this morning. The one-week rate has been similarly inconsistent. It just doesn't strike me as the PBOC's style. As with the 2.05% "line in the sand" (formerly), when the Chinese central bank decides to act it does so with vigor and rigidity; there are no back and forth games with "speculators."
When HIBOR rates (offshore RMB) surged in January it was for only two days and with the O/N shooting to 66% there wasn't ambiguity. And so it was again different yesterday, with both the overnight and one-week rates coming down and keeping up this curious back and forth; O/N to just 7.95% and one-week fractionally less than 9%. The 3-month rate was up by the smallest amount, staying above 5.05% and a new multi-month high.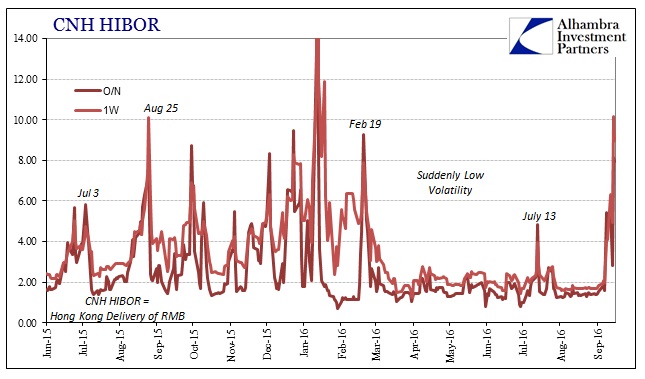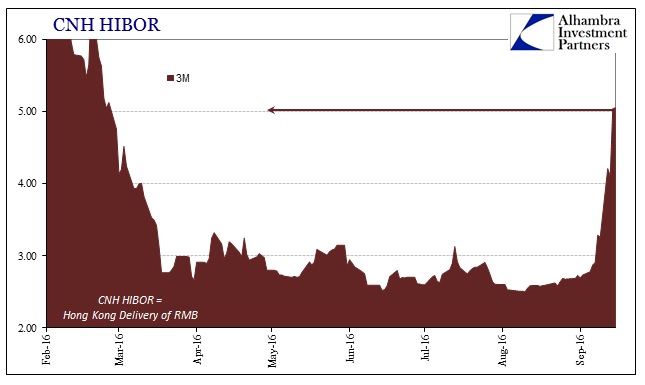 The last indication for onshore was, unfortunately, Wednesday's SHIBOR rate of 2.128%. For frame of reference, in CNY trading that has continued despite the holiday the exchange rate remains in a narrow range bouncing a bit higher off 6.68. That means markets have the weekend to wonder where and how China money opens on Sunday night/Monday morning.