Durable goods continue to suggest a weak economy that only seems to remain in that state. Year-over-year, unadjusted estimates for new orders rose slightly for the first time since May, while seasonally adjusted total orders (including the transportation sector) were fractionally lower at $226.9 billion. That amount was 2% less than January 2016 and 4.3% below August 2014. Once again we find that the seriousness of the slump is not defined by its depth but its length, especially since there aren't any signs that it is letting up even though there is every mainstream reason to expect differently.
U.S. factories reported flat demand for big-ticket goods in August, suggesting the economy continues to be restrained by sluggish business spending.

The Commerce Department said Wednesday orders for durable goods—products such as cars, tractors and refrigerators designed to last longer than three years—were unchanged from a month earlier. When excluding the volatile categories of defense and transportation products, sales declined.
As is usual, the article tries to make this continued weakness out to be a case of "woes in the energy industry" but it is much more than that, an observation obscured by the ongoing contraction's nonconformity to cyclical patterns. Because of that the media is left with nondescript and really misleading analysis, including "though demand remains sluggish more broadly."
There is a world of difference between "sluggish" demand and recognizing more than two years of steady contraction. That is especially true given that the two or three years preceding this contraction phase were already proving to be problematic. It is perhaps a sign of biased deference to orthodox analysis that the first appearance of renewed weakness starting in 2012 was characterized as just waiting for recovery while the current state is now mere "sluggishness."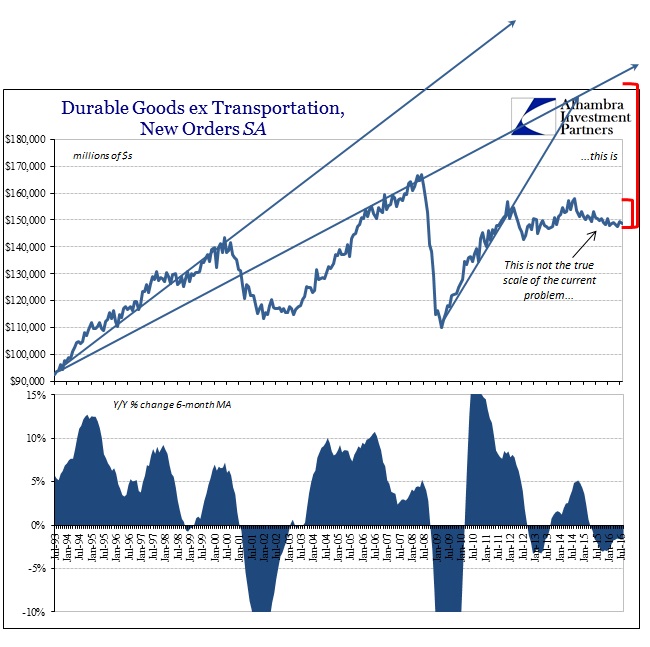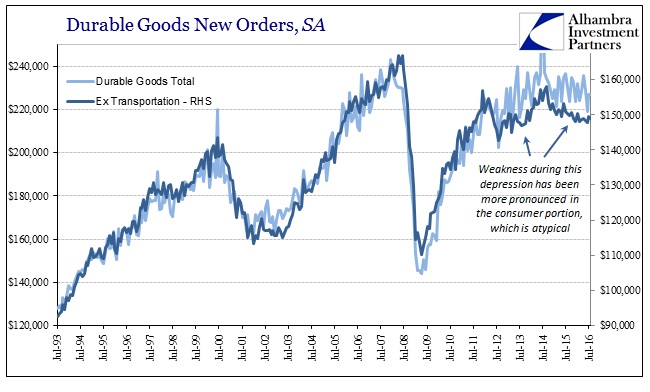 However you might wish to characterize it, there is nothing normal about it starting with very conspicuous weakness in durable goods related to consumer products. Consumers are supposed to be the strength leading the economy out of the darkness and into the recovery that is "full employment." What we find instead is that production related to consumers has never justified that belief and now is moving even more in the opposite direction as if to intentionally emphasize the discrepancy.
With "sluggish" consumer spending being reflected in inventory and the very related "manufacturing recession" we find here, one that doesn't seem to want to end (meaning that it's not very recessionary), the sting of withdrawal from energy is that much more painful. And, it needs to be pointed out, there aren't any other sectors emerging in offsetting potency that a normal, healthy economy would see. Instead, productive investment just stagnated with energy and now declines without it.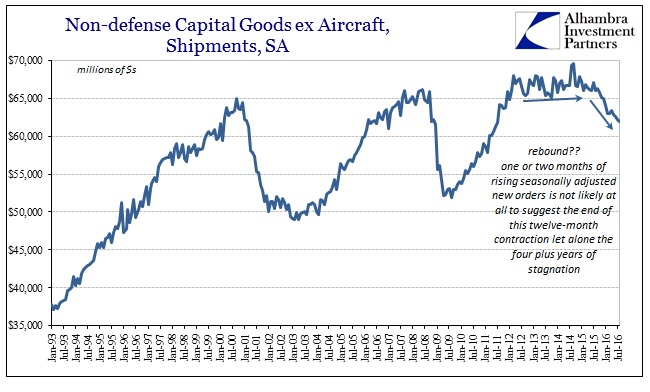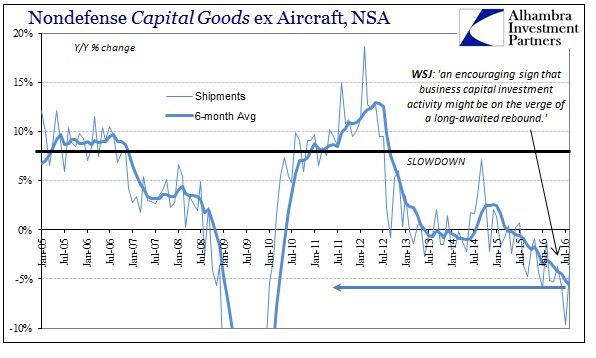 It is absolutely clear from the durable goods component of capital goods that productive investment in the US economy is contracting now after having lagged going all the way back to 2012. Though the trend is quite well established, when for the second straight month in spring the seasonally-adjusted estimate for cap goods shipments and orders rose, it triggered a great deal of commentary extrapolating the small "rebound" into what everyone was expecting economically of this year. Last year was supposed to be a "transitory" anomaly because the unemployment rate as well as economists' unshakable beliefs in "stimulus" meant there was no way 2016 would be a repeat let alone worse.
Yet by virtue of nothing more than the durable goods data we can easily observe why those expectations and interpretations were way off; again, misleading because this isn't mere sluggishness. There is much more to it than that, starting with the nature of manufacturing related to consumer products.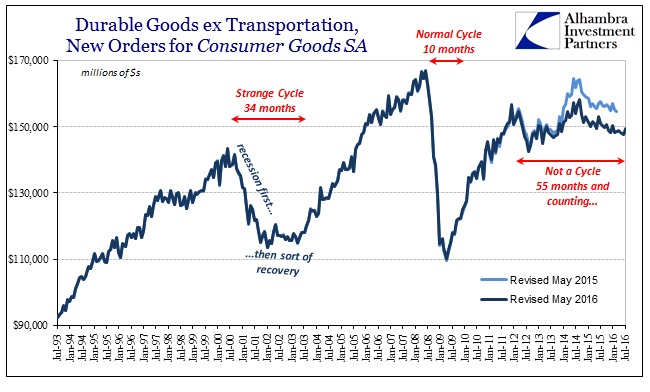 As the WTO reported yesterday, there is unusual weakness in US demand that has become a global problem; so much that the organization along with the IMF felt compelled to issue a "wake-up call" to policymakers.
The World Trade Organization cut its forecast for global trade growth this year by more than a third on Tuesday, reflecting a slowdown in China and falling levels of imports into the United States.
If the US isn't making more goods while also importing less of them, that doesn't indicate "sluggishness" it suggests much deeper and more ominous problems. It extends to those orthodox institutions that are actually willing to see the unfolding disaster but then reacting to it in the same predictably futile manner as always. Everything about this economy is abnormal, meaning it is long past time to stop thinking about it in normal terms.