It seems many were disappointed by the speech delivered by Xi Jinping. China's supreme leader spoke at the Great Hall of the People in Beijing today on the 40th anniversary of his country's first embrace of economic reform. Commentators had been expecting Xi to use the occasion to recommit to liberalization, further opening China to free market forces.
Some others, as we've noted, were hoping China's President would go further and seek especially to soothe rattled nerves by providing some hint as to what authorities might intend to do about the continued economic setbacks. The two factors, liberalization and sustained growth, are hand in hand so the scene was a perfect chance for Xi to rescue what's left of globally synchronized growth.
The disappointment wasn't in outright rejection, more so as commentators have sought to declare Xi's intentions still hidden.
Xi's speech will have "disappointed" both international and local investors, said Tom Rafferty, a China expert at the Economist Intelligence Unit.

"There's a lot of anxiety about near-term economic growth and trade talks with the United States … it was a bit of a missed opportunity for (Xi) to at least offer something in that direction," he said.
I don't think that was the case at all. China's leadership, I believe, has been crystal clear on where they see all these forces pushing the country. Xi's speech was another point of evidence moving in the same consistent direction. As such, on the anniversary of the market reforms that gave birth to modern industrial China it's current Party Chairman chose to talk about…himself.
By repeatedly stressing political continuity, Xi continued the line of thinking and action that's been methodically worked into place since last year's 19th Party Congress. What matters, he said, was that the Party keeps going on regardless of what might happen to anyone else inside China. Charming. They key, Xi declares, is political stability.
We can infer easily from his statement in the same line as the government's past actions that it was this factor, in his current formulation, that saw China through its ups and downs.
It's just that the Chinese haven't seen any downs for a long time. They might want to get ready, for it appears the Communists are preparing.
The first lesson from 40 years of reform, he said, was the need to maintain party leadership "over all tasks."

"It was precisely because we've adhered to the centralized and united leadership of the party that we were able to achieve this great historic transition," Mr. Xi said.
If what matters for China is first political stability to get through any crisis, all the steps toward the authoritarian doctrine Xi's government has taken this year (and last) make perfect sense. What's missing for so many in the West is the idea of economic crisis. It doesn't compute for so much talk of booming economies and global recovery.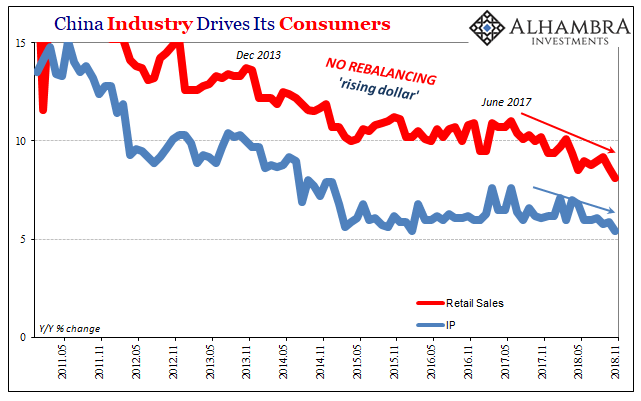 "Of all the anniversaries related to the reforms — 20 years, 25 years, 35 years — this 40th anniversary is perhaps the least optimistic I have seen," said Ding Xueliang, a professor emeritus at the Hong Kong University of Science and Technology who has long studied China's reforms.

"People in very senior positions also have no clear idea of the direction," he added. "Not a single person in the past half year who I talked with in China, not a single person, said he or she is clear about the next stage."
That may be specifically true with respect to the reform agenda. It's more akin to survival mode at this point. Preparing for a dark winter you simply get ready for hibernation of sorts, shutting down non-essentially pieces of the political landscape like reform preserving by emphasizing the top priorities (central leadership) instead. The next stage might not yet be determined on that front, but it is increasingly obvious in the general sense.
The economy is going to get worse, maybe even much worse. To survive, unlike the Soviets in the early nineties, they have been battening down the political hatches all year; prioritizing politics over economics simply because the economics for the first time in forty years has become so unfavorable.
Beyond that, there is just nothing they can do about their predicament, a crisis they might see as inevitable at this late stage. As I wrote last week:
Thus, everything could be just that easy; in the sense China wants the world to fix its reserve currency problem, the hidden eurodollar not dollar, at the same time it also knows Western officials won't (can't) admit there even is such a thing. You can't work together to solve money nobody on the other side of the table will acknowledge exists. Besides, US and European central bankers are now too busy substituting a circus for the boom they were just talking about a minute ago.
Economic even political reform makes sense if the economy allows for it. In that way, the stalled reform agenda is consistent as is the timing (after 2012). It seems perfectly clear what China's leadership intends moving forward. To hold on and survive this next stage intact.