When I write that there are no winners around the world, what I mean is more comprehensive than just the trade wars. On that one narrow account, of course there are winners and losers. The Chinese are big losers, as the Census Bureau numbers plainly show (as well as China's own). But even the winners of the trade wars find themselves wondering where all the spoils are.
They may be winners because of it but somehow they all still end up in the losing column.
Late in 2018, in response to the Trump Administration imposing large tariffs on certain Chinese-made goods, GoPro announced that it was going to shift a large amount of its production out of China.
That was, after all, the whole point; if cheap labor and unfair trade practices had stolen manufacturing jobs from the US, then raising the price on products they now produce was meant, and expected, to level the economic playing field. Bring those jobs back.
And they are coming back, at least to North America. GoPro as well as several other multinationals decided to get out of Asia entirely to avoid the trade wars. But they aren't building new facilities in America, they are (and have already) taking it to Mexico.
In June [2019], we will begin production in Guadalajara, Mexico of our U.S. bound cameras to support sales beginning in the third quarter," said Brian McGee, Executive Vice President and CFO. "We expect most of our U.S. bound cameras will be in production in Mexico in the second half of 2019. As stated previously, our decision to move most of our U.S. bound production to Mexico supports our goal to insulate us against possible tariffs as well as recognize some cost savings and efficiencies.
I'm not sure how anyone would've been surprised by this. As one snarky, mocking Politico article said at the time, the US President seems on a mission to make Mexico great again. And now with USMCA (United States-Mexico-Canada Agreement, the trade pact replacing NAFTA) nearing completion our Southern neighbor in particular stands to win and win big.
But what Politico and everyone else actually did miss is how Mexico doesn't appear to be winning anything. Anecdotally, for sure China's loss has been that country's gain (as well as Vietnam's and other similar places). And yet, where's the growth?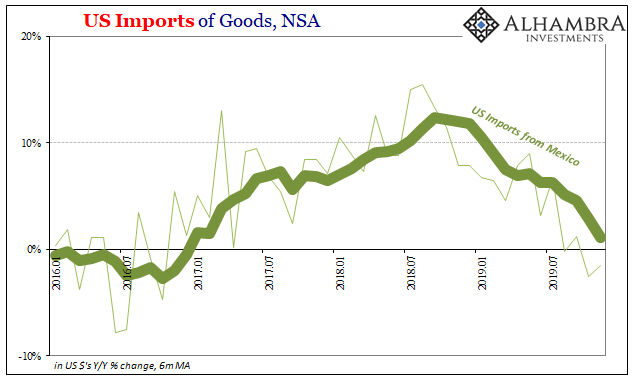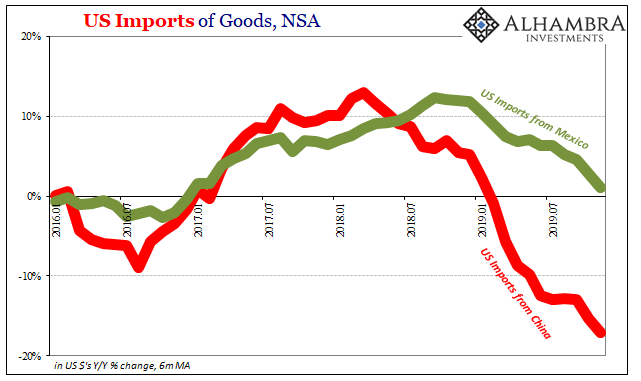 While Mexico may end up a winner in the long run, in the short and intermediate terms it's not turning out the way it was supposed to. All throughout the world's major trade economies, only minus signs.
The world's economic problems in 2019 were traced back to these tariff issues specifically. The "unexpected" downturn has been called the fallout in this China-US trade dispute, linked in the mainstream by grossly misappropriate connections to Smoot-Hawley.
The fact that Mexico (and now Europe) is feeling the same (lack of) heat from the US economy as China shows that the problem isn't US tariffs it is more alarmingly total US demand. Changing prices of imported goods redistributes the production origination of those goods. US demand is erstwhile US demand. Ceteris paribus and all that.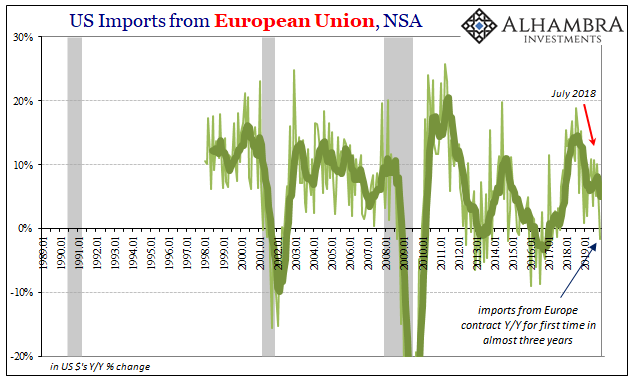 That's not at all what we are finding. Mexico and Europe are picking up China's slack, but still they send fewer goods to the US – and despite currency translations more and more in their favor.
It has been widely stated that these trade wars have taken a little bit off the top of the global economy, a setback attributed (in these statements) to the growing negative "sentiment" associated with, what? It never really made much sense, the idea that businesses are actually forgoing real business opportunities because of pessimistic feelings.
In other words, even those blaming trade wars know that it can't be trade wars alone that have caused what we see in all the data. The globally synchronized downturn is coming from somewhere else entirely, especially as it pertains to US demand.
The latest data shows it is more and more synchronized. Good feelings have pervaded over the last few months of 2019 and the first week of 2020. As Jay Powell says, mid-cycle adjustment for an economy otherwise doing well. Unlike summertime, people are now leaning toward believing him (again).
Yet, the numbers aren't looking at all like there's some turnaround in sight let alone already taking place. Especially in manufacturing and distribution of the goods economy where all this fuss has been centered.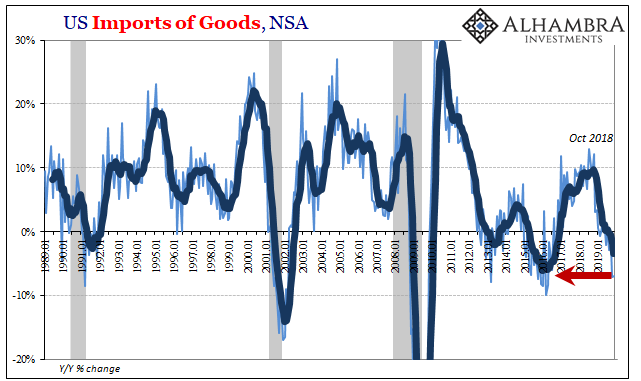 The Census Bureau's update for US trade in November is another reminder that the US economy, apologies to Mr. Powell, cannot be doing well. Demand for any foreign goods regardless of where they are made or what levies are applied is falling sharply. Imports had declined by more than 7% year-over-year (unadjusted) in the all-important month of October, the month that usually overwhelms US ports of entry starting off the Christmas rush.
In November 2019, US imports fell by 7% yet again. The 6-month average is now closing in on the worst parts of Euro$ #3 in 2016.
Here's how it looks in seasonally-adjusted terms, where you get the sense that if anything has changed over the past few months it hasn't been in the good way: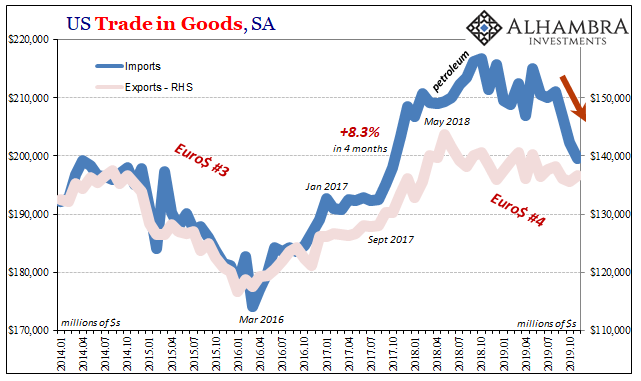 These recent declines have been broad-based, too. US demand for foreign products is falling across all sectors, not just due the lower price and need for overseas petroleum. Of particular note, both capital and consumer goods imports had seen sharp reverses during the eleven months of 2019 figures. The estimate for the latter is the lowest since 2017, and equal to some months of 2015.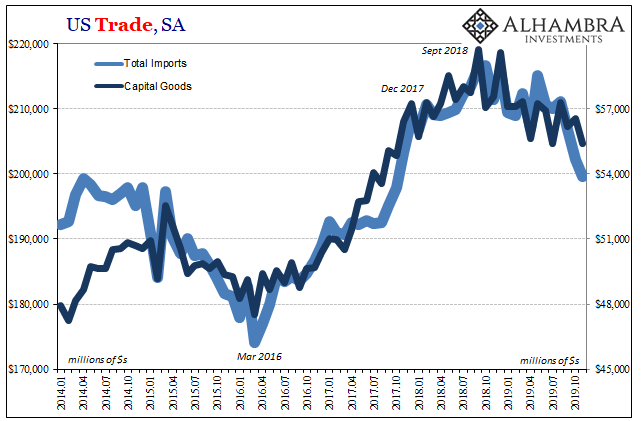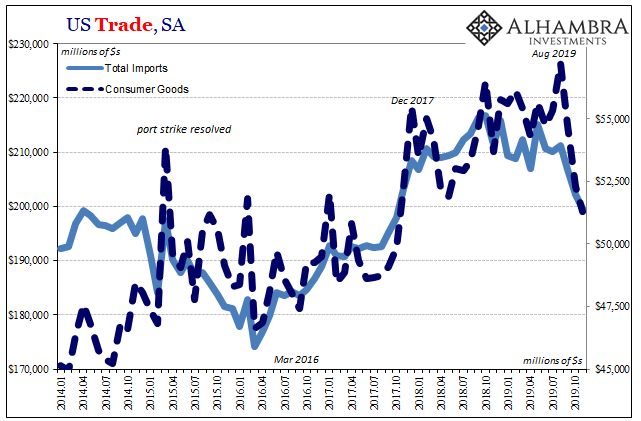 The good news is that the trade disputes may be settling down, and that places like Mexico will be able to enjoy and take advantage of what it has been able to gain – if they can make it that far. Mexico, Europe, Vietnam, whatever, they will all have to grope their way through this Euro$ #4 downturn as best they can hoping that broad-based (and often misguided) economic dissatisfaction and downright political and social anger doesn't turn on them first.
Right now, while some might win trade wars everyone loses on account of the eurodollar. Not only has it been this way throughout 2019, there is evidence in quite a lot of the data the losing is accelerating. And for China, too.