Their experience with COVID has been different in each case. Their response to the outbreak and pandemic hardly uniform. Mexico, for example, has reported 855,000 cases of the coronavirus from which more than 86,000 have died (or were found to have the disease when they died). Japan, on the other hand, just 93,000 cases with only 1,600 fatalities.

We all know the US stats (it is, after all, the home stretch of this highly contentious quadrennial election season).

Some lockdowns, not others. Widespread outbreaks, major differences in testing – and when – as well as spread out over the entire global landscape. Highly dissimilar geography in addition to policies.

Different currency regimes. Central bank and government countermeasures all over the place. No single unifying feature except economic downturn. And, more importantly, the so far lack of brisk upswing.

We've done Germany, India, Mexico, Europe, and the US so far. Now Japan.

Unsurprisingly, the industrial recovery in this other global bellwether is playing out in exactly the same way as everyone else's. Way, way short of the finish line as summer drew to its disappointing close.

According to Japan's Ministry of Economy, Trade, and Industry (METI), Japanese Industrial Production was down about 14% year-over-year in August. That was barely an improvement on -15.5% in July, both unadjusted. Seasonally-adjusted, the index gained only 1% during the month, a suspiciously universal slowing registering in Japan's industrial sector just like everywhere else.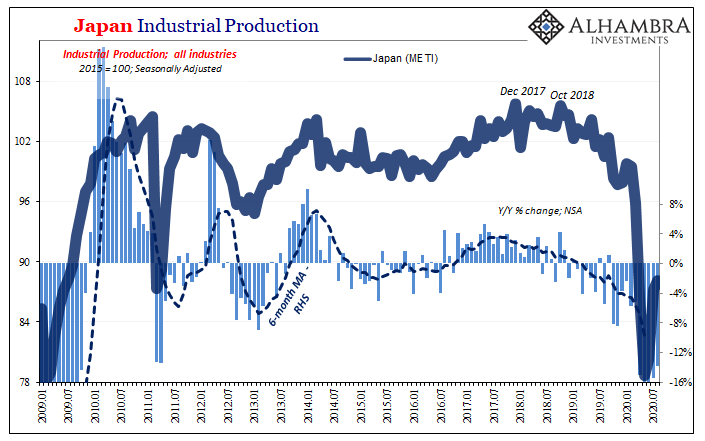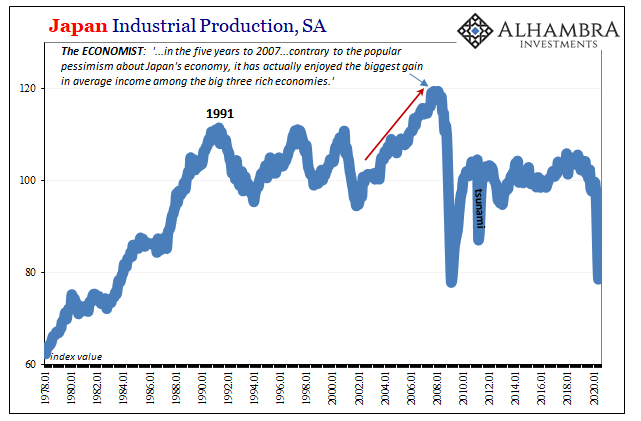 In other words, the shifting "V" toward hopes for (more) "stimulus" is at least consistent with how the original "V" hasn't lived up to its hype.

Again, it doesn't matter about COVID as much here on the other side inside this stubborn global recession not so easily dispatched. Like everywhere else, too, Japan had been stuck inside at least a downturn for several years before March 2020. Visibly sick in its economy, as the global economy, before people started catching this new disease.

Globally synchronized downturn was a thing a long, long time before the coronavirus was.

But why so the same in each location? If it isn't variations in disease and death rates, if lockdowns can't explain the economic differences, what can?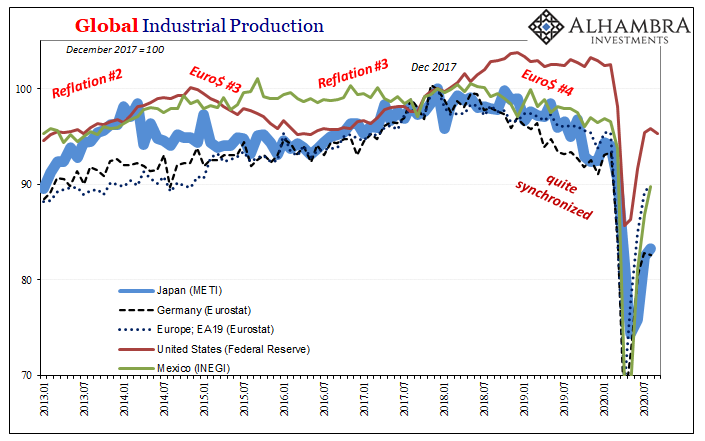 The Federal Reserve is not a central bank. The inflation hysteria which is taking shape right now, this new "V" buzz, it takes its cues from misunderstanding this one key principle.

This is the eurodollar's world. Even the Chinese still have to fake it.