If you remember 2018's economic "boom", you'll likely recall that year's second quarter. Set up by December 2017's Tax Cut and Jobs Act, when the BEA published GDP estimates for those three months that July, the unusual 4% growth rate seemed to have confirmed the positive effects of tax reform "stimulus" funded by a substantial increase in the fiscal deficit. While some pondered the possible downside of "too many" Treasuries, most preferred to see it the same way Jay Powell and Donald Trump did.

What makes a real boom, however, isn't a single quarter at 4%; it is the continuation of that trend, an accelerating one whereby one four is followed with a five or more for several quarters in a string lasting years, given just how long the economy had been languishing by then.

Instead, this "boom" deserved every bit of those scare quotes because Q2 2018, just as the (euro)dollar was beginning to wreck everything, it proved to be once again the lone exception. This singular quarter that, truth be told, wasn't even all that good; four percent used to be a downside number. It just looked awesome compared to the lack of growth which has otherwise populated the current, unbroken post-crisis climate.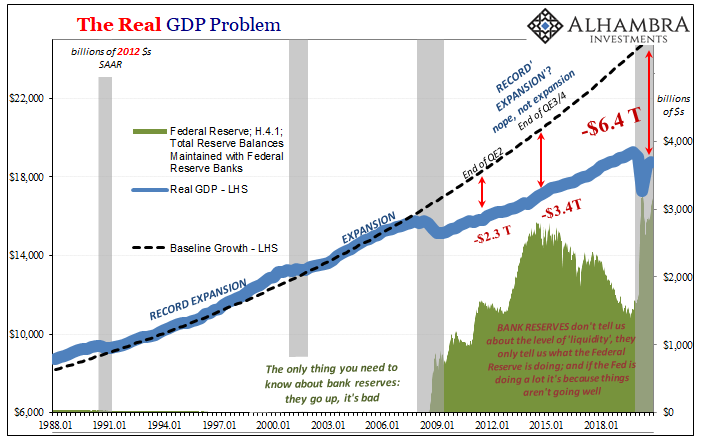 Pouring salt in the wound, the BEA eventually erased that 4% altogether; with two subsequent benchmark revisions since, right now the government says real GDP growth during the three months April to June 2018 amounted to just 2.66%. The best quarters actually are found the two immediately prior, more consistent with financial indications including the dollar's exchange value bottoming out and demarcating the best Reflation #3 would ever get.

Even now, neither of those topped 4%, either. So much for "globally synchronized growth." Credit to the BEA, they seemed to have eventually got both the timing right as well as have captured the unsatisfyingly low high-water mark for that specific epoch.

According to the latest estimates, real GDP expanded by 3.93% (annual rate) in Q4 2020 when compared to Q3. Not only did the rebound slow down, it slowed down so much last quarter easily compares to those of the previous lackluster period. It would have been among the better of them, but indistinguishable nonetheless. Given the necessary nature of a continuing strong rebound, this number indicates more than a simple deceleration.





This was, of course, no surprise. We know from any number of higher frequency data (especially jobs) that this had been the case: epic contraction, gigantic initial comeback, and then a material slowdown before it ever really got going. In terms of GDP, the economy is still looking way up at the prior peak set one year earlier in Q4 2019.

The primary drag continues to be consumers (again, jobs). Real Personal Consumption Expenditures (PCE) during the fourth quarter were 2.5% below what had been figured for the peak the year before. That may not sound like a whole lot, but this is an absolutely enormous gap.

For comparisons sake, top to bottom during the Great "Recession", an experience most consumers and workers remember harshly, and rightfully so, real PCE only ever declined 2.4% at its absolute worst. In other words, as of the latest data – not the bottom back during Q2, but two complete quarters, half a year, into the rebound! – and total consumer spending is worse off ending 2020 than what it had been ending the Great "Recession."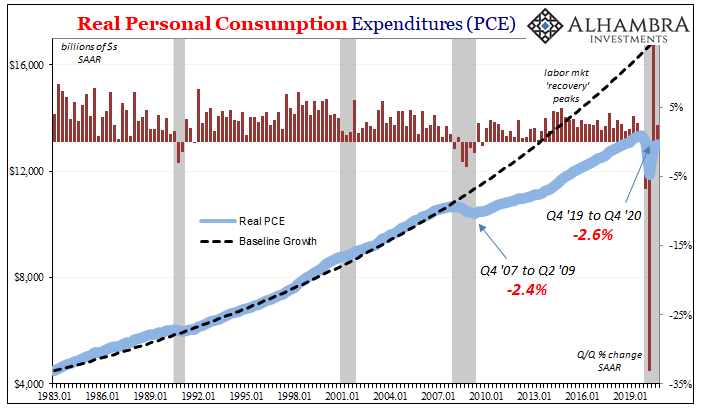 Did I mention jobs?

Business investment has fared comparably better, though this isn't to say it's been robust only that capex spending hasn't been held way down like employment. It has, still, been held down for a lot longer than COVID. While not representing a current downside, just yet, it does speak to the lack of a perceived upside toward normality moving forward.

The same holds true from an inventory perspective. After the huge decline, along with everything, inventory bottomed out in Q3 (though revisions now say it was ever-so-slightly higher than Q2) and picked up modestly during Q4. With consumer spending (and jobs) holding down where it is, restocking to any substantial degree represents a clear risk. Even this minor bump in inventory contributed more than a full point to Q4's headline growth rate; without it, GDP last quarter is under three.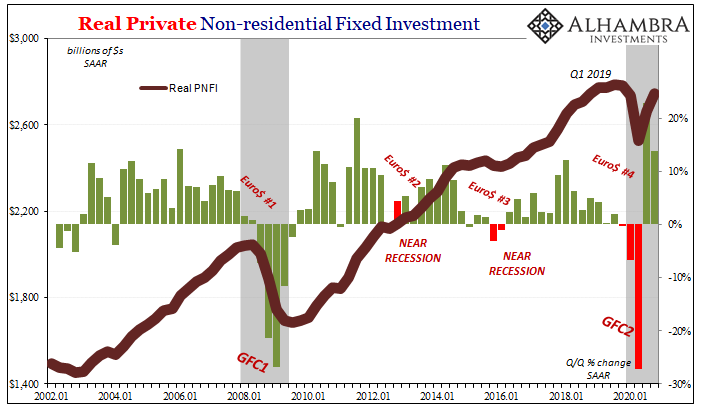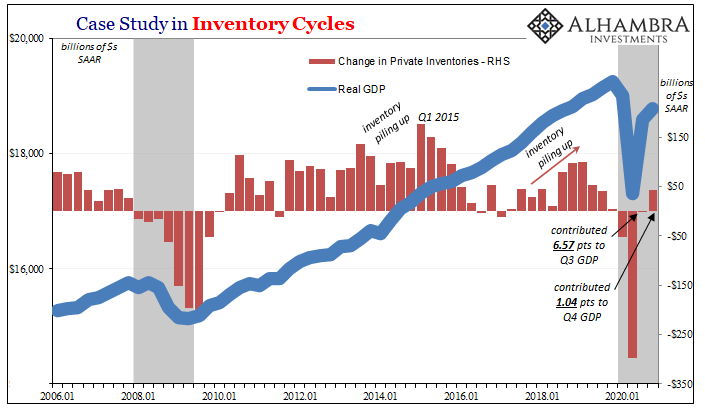 Like many things, it may be betting on the government to pay for what the dearth of jobs cannot. The BEA does not present completed GDI information when publishing the preliminary results of GDP, but so far it has figured the level of stipends paid out by the feds last quarter. About half the rate of Q3, $610 billion (annual rate) for Q4 was still at an historic level of intervention.

Thus, attempting to account for what the overall business side of GDP in GDI might look like absent Uncle Sam, as it has since April there's an obvious reason for the somewhat dead rebound in the labor market. Take away these enormous stipends and the private economy from the point of view of employers and employer profitability looks very different.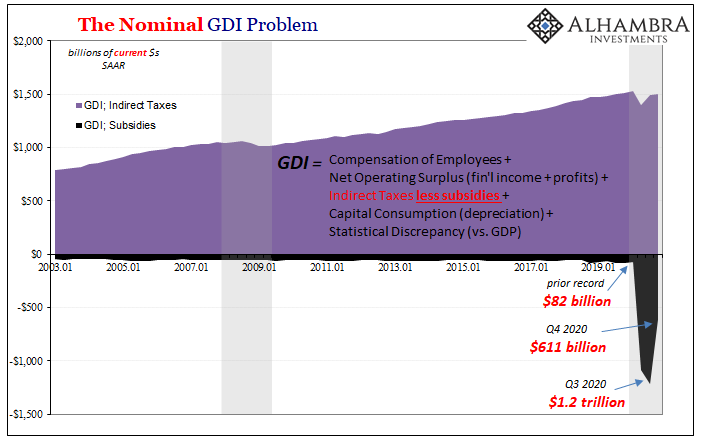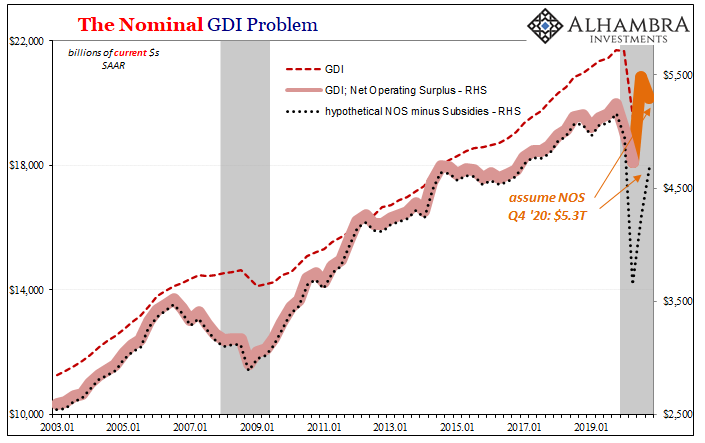 The annualized quarterly growth rates make it sound much better than it is; after three-quarters of a year, this recession is about comparable to the Great "Recession." For the entire year, the average annual rate of -3.5% beats out 2008-09 to place 2020 as our worst since modern GDP records have been kept. That's not unexpected nor much insightful.

It's Q4's less than four which is the most important piece here. As I wrote back in October (and throughout most of last year):
Q3 2020 wasn't the fairy tale upside bookend to Q2's monster decline. It was hugely positive, sure. Q4, however, begins the real deal, and, truthfully, most of the second and third order stuff we won't really know about until next year starts.
The PCE estimates, because they correspond to the jobs numbers, suggest that the "real deal" 2021 begins not where it was thought to be. And that already included wartime levels of fiscal interventions.

Can vaccines recharge the economy in Q1 2021, along with another big dose of the same Treasury stuff? Doubts realistically persist, bond yields and UST auction demand, because, already back in the same rut, the fourth quarter was no better than any other over the last thirteen years with everything supposedly going for it.