For the first time in a couple of months, only a couple of months, no one will be able to say that inflation rates are the highest in…a very long time. According to the BLS and its latest CPI estimates for the month of July 2021, consumer prices are still well higher than they had been during July 2020 but the rate of change seems to have changed (second derivative). The latest estimate decelerated, potentially suggesting the arrival of "transitory"; or, more accurately, quite possibly the beginning of its confirmation.

The non-seasonally adjusted full index increased 5.37% year-over-year last month. For June, the headline rate had been 5.39%. Big whup, rounding error, just 2 bps less one to the next.

Still, for one month, anyway, the rapid acceleration easily observable in the same index has at least paused. This though continued oversized, stout contributions from the narrowest parts of the consumer bucket still highly influencing its outcome: energy and autos. Of the latter, still huge numbers (41.7% y/y used car prices plus an almost 40-year high of 6.4% for new vehicles).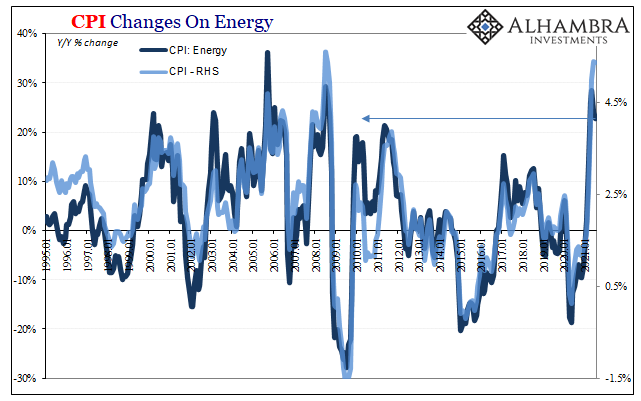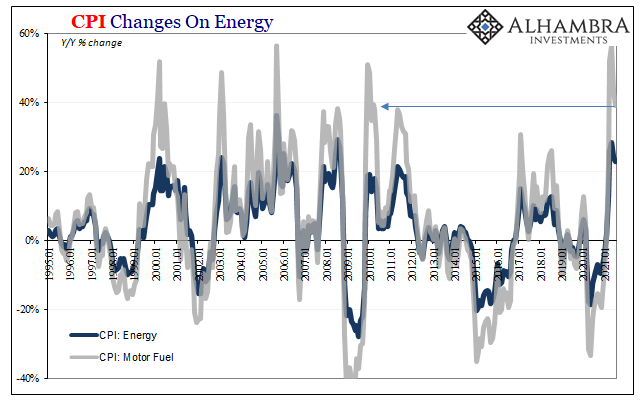 In terms of oil's reach, July's energy index was up 22.9% from last year, though down from 24.0% in June and a peak rate of 28.4% during May (large base effects somewhat wearing down). Motor fuel (gasoline) prices were likewise shockingly higher, 39.1% y/y, and also decelerating from a peak rate two months before (56.5% for May).

This slowing down of consumer price gains is far more prevalent the more you get away from these narrow if huge factors. The CPI's core rate slowed by twenty bps rather than two. The June index had gained 4.47% in a year's time, while for July 4.27%.

That still fails to illuminate the more complete picture of the second derivative, though. On a monthly, seasonally-adjusted basis, the increase in July over June (both 2021) was way down, back to 0.33% after three consecutive months of very large rises. Breaking those consecutives for July, anyway, cuts against the necessary inflation component "sustained."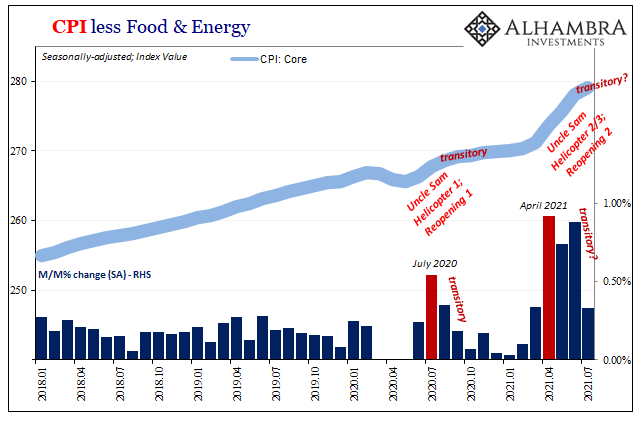 This certainly doesn't prove "transitory" by any stretch, but it is a significant enough sign on its own that this possibility may already have begun to show up in evidence.

Such evidence, however, is and has been already visible in other similar cases. The important CPI Services (excluding rent) bucket not only slowed yet again in July, this merely the continuation of the negative second derivative for the third month in a row.

Rising only 0.09% compared to June, this wasn't just the lowest single month increase since January, it was also one of the lowest single month increases period.

Unlike its other core counterpart, the full index stripped of food and energy, the services stripped of rent never did achieve the same lofty levels of decades-long comparisons. Again, this a very strong and compelling indication that consumer prices are being influenced by an exceedingly limited proportion of the overall basket.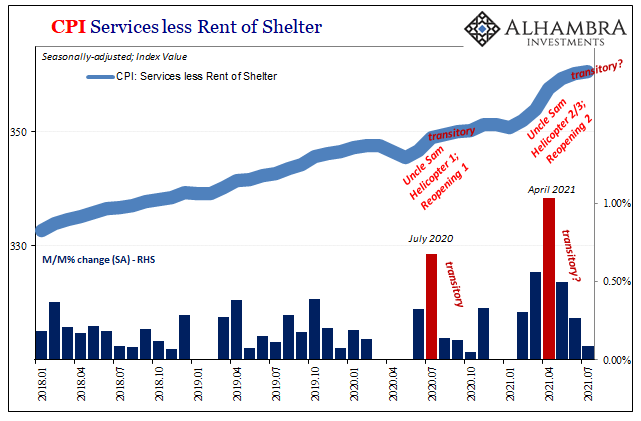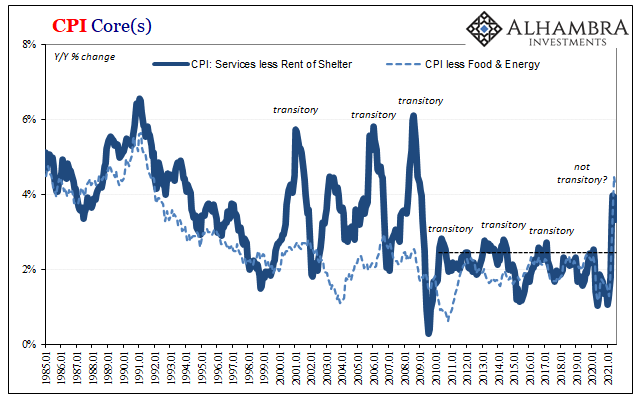 Combined with continued deceleration the farther out you get away from those effects, and you start to see the trend develop more and more: services less rent peaks in April; the core also April but breaks in July; and now the headline begins to break down from cumulative quickening, too. The monthly change for the seasonally-adjusted CPI (full) was down from 0.9% in June to 0.5% in July – the lowest since February.

While this will be dismissed as a single-month's anomaly, and that's certainly possible though not likely, instead further slowing from here which will be claimed as "unexpected" has been anything but.

In other words, should inflation rates continue to play out as they have, each simply the predictable results of, yes, transitory factors having their day and then fading away into ugly history. From supply problems to base effects and mostly Uncle Sam, these aren't permanent changes to the situation no matter how many times the last of those is called "stimulus."

Instead, easily foreseeable, once those recede sufficiently what's left is what was there underneath the entire time – and, as we keep finding in global evidence, the basis and basics behind the US economic rebound may not have been nearly as awesomely robust as (inflationary) advertised. On the contrary, all of that fluff (Warren Buffett's second shot at "red hot") mainly the product of those, yes, transitory artificial factors.
One month of the tiniest deceleration in the headline, yes, but several months of more entrenched slowing every bit consistent with a temporary price deviation based on equally temporary and rather easily-established causes. Their diminishment, not just in terms of CPI's and consumer prices, reveals the fundamental economic position, which is proving to be more like the rest of the world than the other way around.

Never depend on a single month of data, of course, and always remain aware of confirmation bias, but in looking ahead even from the top of earlier 2021's reflation BOND ROUT!!!! it wasn't too much of a stretch to have thought ahead about how "transitory" would play out in exactly, or nearly exactly, in the way it has.

Things could certainly change (not because of "infrastructure"), but the chances weren't high even before the other side of the pattern began to emerge from these parts of the CPI and inflation data.