See, this is backward. And while it may seem overly pedantic, getting it right is actually a crucial insight (lack thereof) into pretty much everything. Its purpose is to maintain a different sort of money illusion (the original relates to how workers focus on nominal rather than real levels of compensation). This other money illusion relates to the hidden nature of money itself.

We're told central bankers are it, therefore everything must be related to central bank monetary policy. If the dollar's falling, the Fed accommodated. If it's rising, Fed tightening. Rates go down because, everyone says, Jay Powell bought bonds. Yields go up because of rate hikes after the bond buying is over.

You go to the bathroom in the middle of the night, the FOMC must've voted for it.

It all goes back to before Greenspan, though it was the "maestro" who most clearly articulated the gross illiteracy and unsupported conceits behind much of Economics.
CHAIRMAN GREENSPAN. It's really quite important to make a judgment as to whether, in fact, yield spreads off riskless instruments—which is what we have essentially been talking about—are independent of the level of the riskless rates themselves. The answer, I'm certain, is that they are not independent.
Risky spreads are, according to this view, in a sense controllable from monetary policy even from only the short end. Why? Because all riskless rates, Greenspan also said, were nothing more than a "series of one-year forwards."

It was, in theory, all so easy and neat; the Fed from its single position could conduct all the instruments in the symphony as it wished, however and whenever wished. Thus, maestro.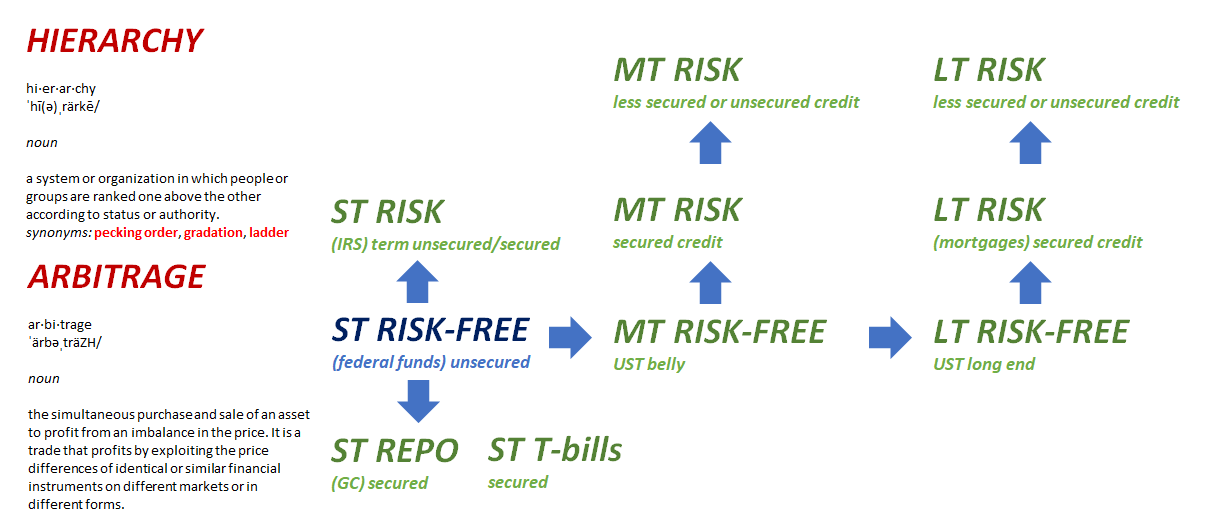 Why, then, all the constant "conundrums" and "inflation puzzles" ever since? Dear Alan said he was certain, and he's certainly been wrong.

The yield curve is no series of one-year forwards, nor are risky spreads utterly dependent upon hapless Economists at the Fed (see: swap spreads, as a start). Those at the Fed instead have repeatedly shown they have no idea how even short run interest rates work (see: SOFR) which means they can't be literate in money like economy.

What do they do?

Influence public opinion via financial media. To wit: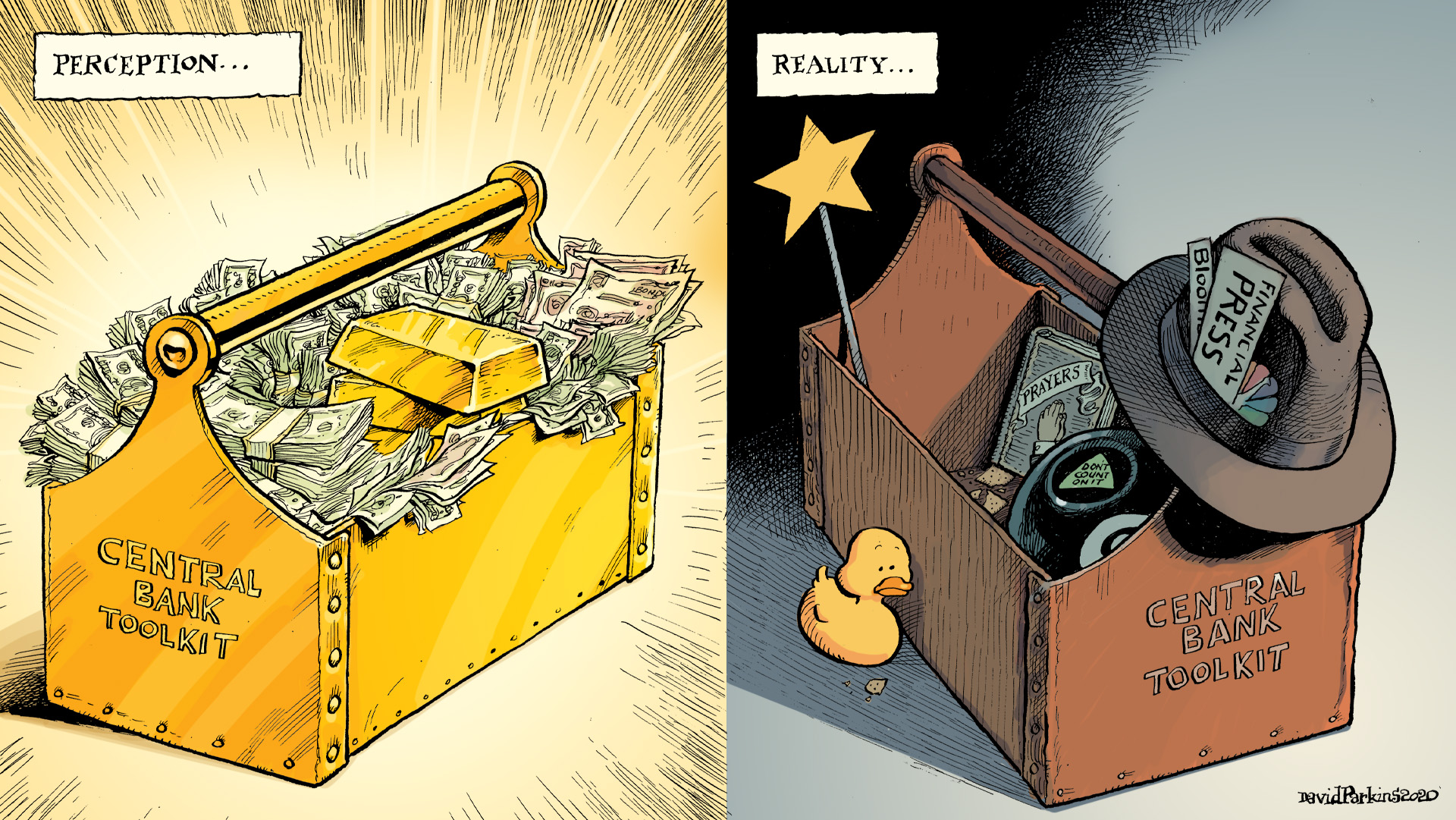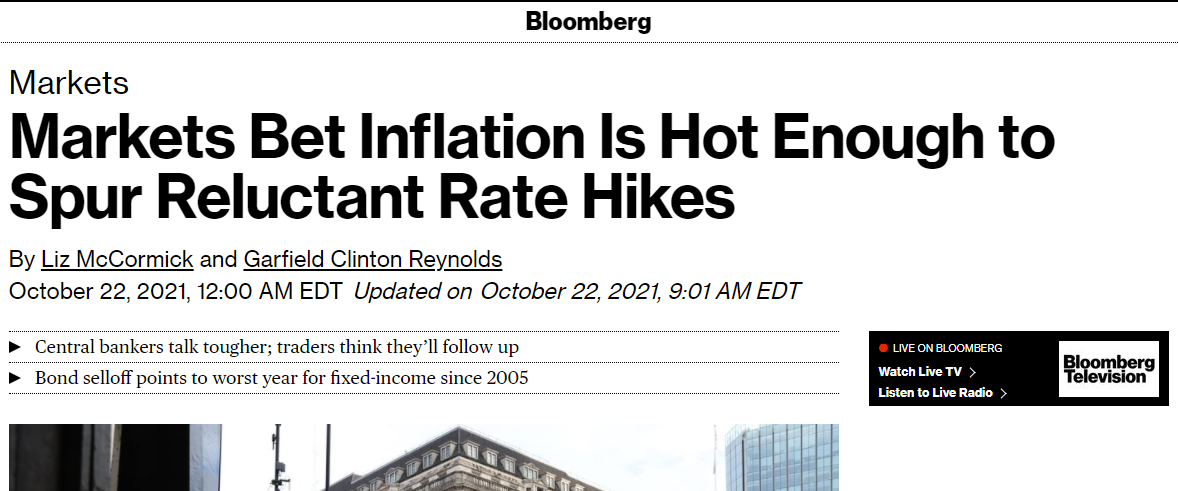 The unquestioned assumption embedded here is palpable anyway; nominal rates are rising ("worst year for fixed-income since 2005" BOND ROUT!!!!) because inflation is "hot enough." Reported like its some foregone conclusion, this inflation certainty dictated to the bond market via a suddenly hawkish Federal Reserve.

This is, at best, incomplete; most often, just plain backward. Thanks, Maestro. 

Had the yield curve behaved recently like it had earlier in this same year, this would be plausible. The yield curve, on the contrary, is performing very differently negating any chance for this to be the case.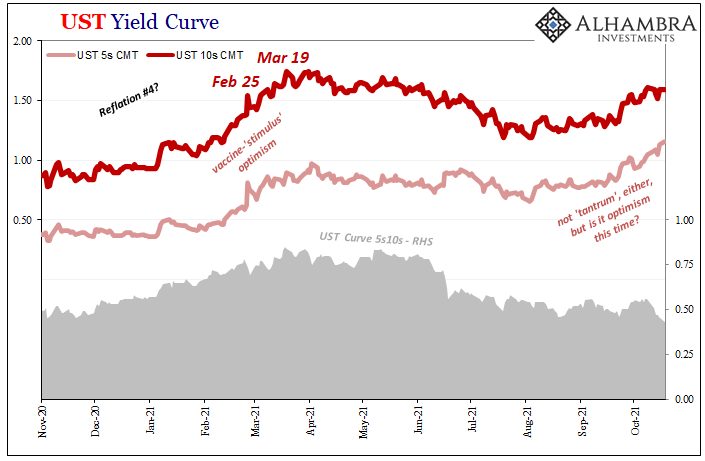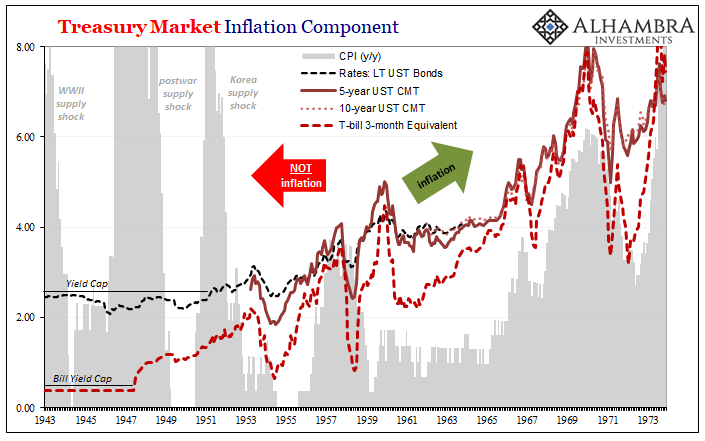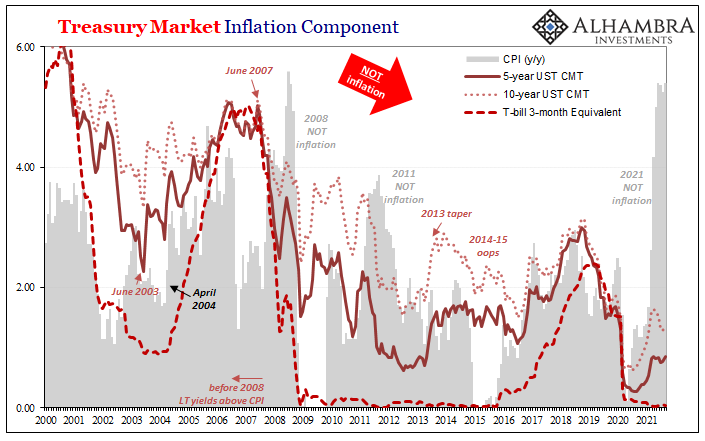 Bond yields aren't reacting to anything; they've helpfully sorted CPI's for us all along. As I wrote earlier today, the yield curve has expertly, consistently interpreted the money Economists and central bankers can't understand so as to accurately predict – for longer than a century – what is and will be inflation.

This often leads to conflict; central bankers say it's one thing and bonds declare another, often the opposite. This differing viewpoint not just a post-2007 development, either, also noted today, bonds vs. Economists has been a one-way contest going back before 1929.

Our current case, therefore, very much like previous cases.

A flattening yield curve, conspicuously so, is the bond market recognizing: 1. It isn't inflation, just transitory price factors, meaning lack of heat in the economy; 2. Policymakers repeatedly have shown they have no clue how or where to even begin figuring one way or the other; 3. Because they are clueless, they have likewise displayed a consistent tendency to make egregious forecast errors, such as 2018 or 2013; 4. Therefore, very much independent of the Fed, bond yields are instead disagreeing with Powell's mistake by pricing a scandalously flattening yield curve with nominal rates already contradictorily low (tight money).

Bonds – not the Fed – have already sorted the inflation question. The problem is, as usual, the answer isn't to the liking of mainstream Economics which can only interpret yields from the "certitude" of Greenspan. In that sense, inflation is a foregone conclusion. In the dream-world of media, the theme this year is solidly inflation. In monetary reality, unambiguously deflationary.

Just in time for Halloween, Jay Powell is back to seeing ghosts.