Anticipation for comparable year-over-year earnings growth is building…but not necessarily for the current earnings reporting season that is just beginning. The decline of approximately 6.7% in year-over-year EPS comparisons in the first quarter is expected to be the bottom of the four quarters of consecutive earnings declines for the S&P 500.  And, although earnings season for the second quarter has just kicked off, overall earnings are again projected to contract, but at a slower -5.3% to -5.6%, (depending on who you are reading) year-over-year pace. Since the stage appears set for the usual earnings beats, we can surmise that actual reported earnings for the index will best the estimates. Using historical averages, FactSet projects that reported earnings may be around 2.7% better than the current forecasts are calling for, still leaving us with a negative number.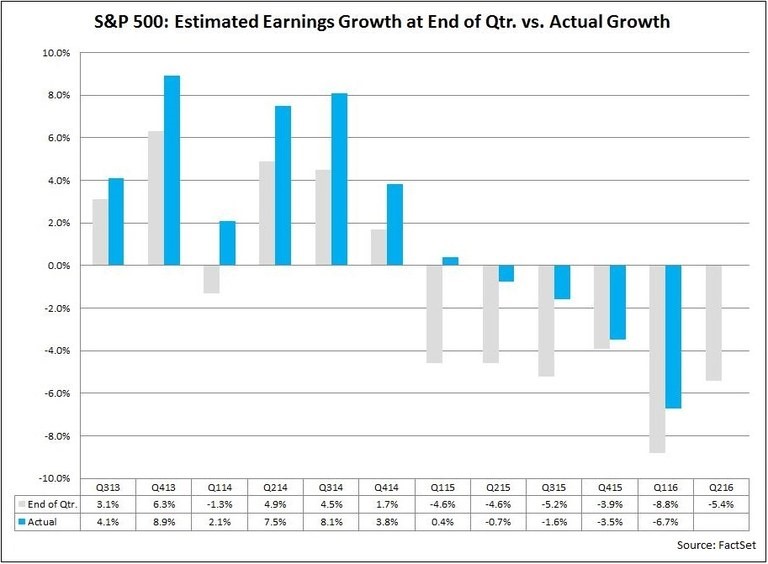 There are four (out of ten) economic sectors that consensus analysts' forecast to show operating EPS growth for the second quarter. Telecom should see an increase, (again) as the result of the consolidation of earnings arising from the acquisition of Direct TV by AT&T. The Consumer Discretionary sector appears to continue to benefit from housing, affiliated demand for durable goods, and auto sales. Consumer preference for shopping from home (or office) should show up in internet sales. However, as we have been seeing for the last few quarters that does not hold true across the board, and many retailers continue to struggle with slowing sales. The Swatch Group, an international producer of inexpensive and luxury watches warned, just this week, of slipping sales and profits.
Health Care appears poised to be a positive contributor to earnings growth, as do Utilities. While higher oil prices provided some limited benefit to the Energy sector, it is again expected to have the largest contraction in earnings, followed by the Materials space. Several of the large banks reported earnings this past week and although they beat (JPM, C) or matched expectations (WFC), earnings were still flat/lower on a year-to-year comparison. Financials, on the whole, are expected to report declining operating earnings. It seems likely, (to us) that the Industrials sector will be substantially mixed on a company-specific level in this environment, due to their varied industry composition (defense, services, conglomerates, etc.).
As we have seen in previous years, third and fourth quarter earnings and revenues are predicted to reflect a turnaround. With stock valuations already reflecting an improvement in future corporate results, concerns abound regarding limited upside for stock prices. But, as the saying goes, "markets climb a wall of worry" and as Joe Calhoun commented recently in his Bi-weekly Economic Review, economic indicators continue to be substantially mixed and "Confusion Reigns". With price-to-earnings ratios above the norm, we would like to see some genuine growth for a fundamental-based price multiple expansion. As earnings season progresses, corporate guidance should give us some indication whether executives anticipate improvement. We expect to see commentary concerning the effects of the rise in oil, the smallish decline in the U.S. dollar, Brexit, falling interest rates and slow to stagnant economic growth here and abroad. 
Margarita V. Fernandez
Vice President – Alhambra Investment Partners, LLC
"Wealth preservation and accumulation through thoughtful investing."
For information on Alhambra Investment Partners' money management services and global portfolio approach to capital preservation, Margie Fernandez can be reached at:
305-233-3774
mfernandez@4kb.d43.myftpupload.com