ADP Research Institute's National Employment Report has the reputation of being a solid proxy for the BLS's monthly payroll figures. In my view, that makes it superfluous unless there is some missing trading value for being two days earlier. But if we think of the government's statistics as of limited use themselves, then there is perhaps the same limited use for the ADP numbers insofar as they might corroborate whatever limited interpretation.
By that I mean that while the official unemployment rate is off in its own world, the rest of the payroll reports that once occupied that same distant plane have in time come back down toward, not full way to, earth. What is significant about the headline jobs number is that it has slowed by more than a little. It is debatable from what starting point that deceleration may have manifested, but for these purposes what matters is the current direction (second derivative).
It is here that ADP Report provides some use. Their figures which are narrower in scope than the BLS's but derived from wholly different data thus provide confirmation where the two data sets might agree. And right now they do agree; deceleration is indicated.
The latest estimate for October 2016 was just +146.9 thousand new jobs, down from +202k in September and the lowest since May. Further, as with the Establishment Survey, the data has been more volatile these past few years than before when acceleration was suggested (but arguable).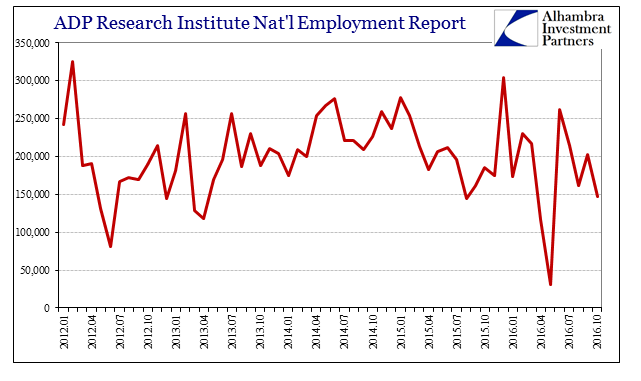 The 6-month average had been steady at around +230k to +245k from mid-2014 through early 2015. Part of its deceleration since then has been due to unusually weak months that, like GDP, the Chicago BB, and others, have suddenly become more frequent and noticeable. The 6-month average is now just +169.7k, an appreciable difference meaning that whatever the labor market actually was in 2014 it is not that any longer.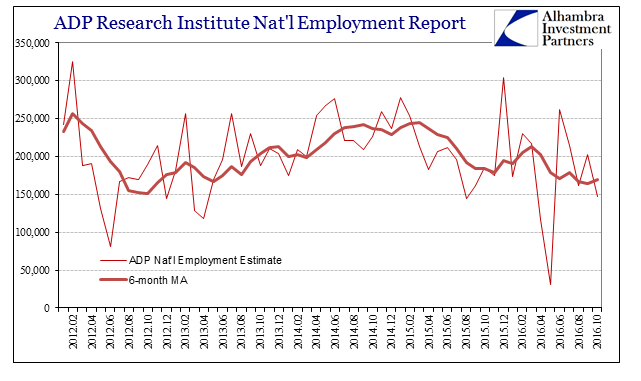 There is more agreement on that last point, further corroborated by, of all things, the stock market. As Jason Fraser of Ceredex pointed out to me several months ago, the stock prices of the major staffing firms look an awful lot like certain banks. The timing and the degree of changes in investor enthusiasm match up with all the events of the past few years you would expect by paying having paid attention the past few years.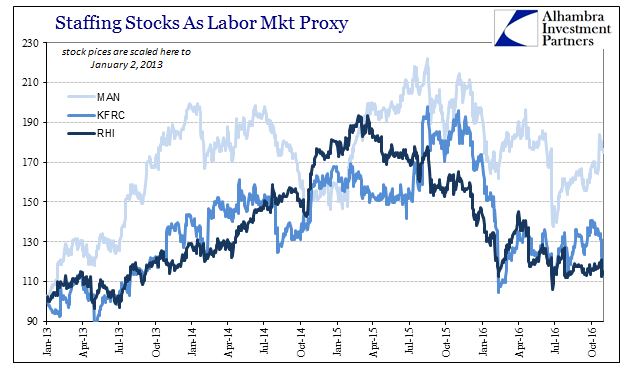 Largest among them is Robert Half, whose stock nearly doubled from the start of 2013, flowing upward with the overall market on the promises of QE3 (and 4) only to find them shattered by the "rising dollar." The stock is now back to almost where QE3 started. Last week, on the company's earnings call, RHI's CEO made some stark admissions that caught a lot of (deserved) attention:
Now, on the pace of deceleration, I'd say that July, we actually ended July stronger than we began it, we were encouraged by that. August wasn't bad. But then September, where we usually start getting a sequential lift in September, we didn't see the lift we typically get, instead, it was sequentially about flat. And then again, traditionally we get even more lift yet again in October and we didn't see that lift either. So it's essentially sequential flattening starting in July, rather than the lift we typically see in September and early October.
The other major staffing firms, such as Kforce (KFRC), have been busy trying to put as best a positive spin on their results as they can, constantly appealing to more "sequential improvement" where over time past "sequential improvement" doesn't really seem to have existed. On that company's Q3 earnings conference call yesterday, Joseph Liberatore, Kforce President, said:
Let me get into a bit more detail with each business. Tech Flex, our largest business unit, which accounts for 65% of total revenues, improved 0.4% sequentially and was down 2.7% on a year-over-year basis. We have seen improving sequential trends in mid-summer and early October, with notable improvements in our overall top-25 client portfolio.
Yet on their November 3, 2015, conference call for the same Q3 a year earlier, Mr. Liberatore said:
Tech Flex, our largest business unit, which accounts for 66% of total revenues, decelerated 6.6% year-over-year in the third quarter. Our key performance indicators such as job orders remain very strong, though slightly lower than the second quarter in a number of our larger clients.
Through all the happy talk of "strong" and "sequential improvements" the numbers show that in their bread and butter division revenues fell nearly 7% in 2015 and then almost 3% in the same quarter of 2016. In other words, continued deceleration if at best a variable degree. It was last year's Q3 earnings report that started the huge selloff in the stock from which it hasn't yet recovered – apparently with good reason.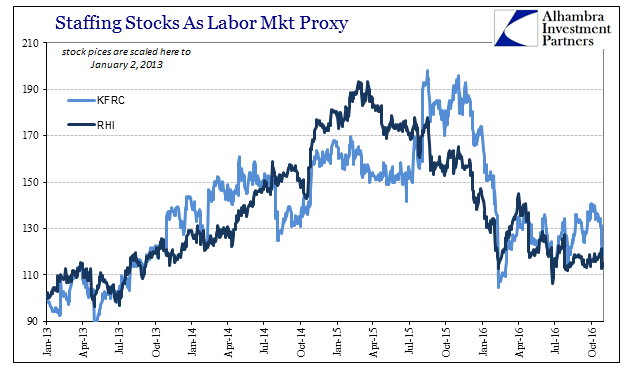 None of these indications affirm more than the idea that there has been a significant and sustained deceleration in the US labor market. It is that part that is the most important, meaning that it drives the final nail into the "transitory" coffin, which is itself no trivial matter. A lot of what had sustained prior perceptions was based on that assumption; that weakness was a temporary deviation that would not ultimately matter. It was not temporary, and it does matter.