Housing construction has cooled off again after a small rebound in activity late last year. Total permits filed in April 2017 was estimated to have been 1.23 million (SAAR), down from 1.26 million in March. Unadjusted, permits were flat year-over-year and remain on average in the low single digits for growth.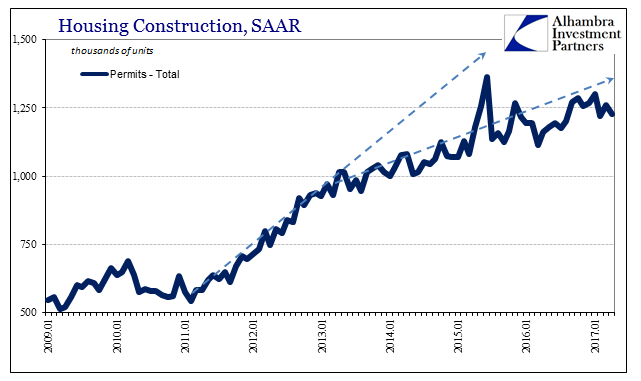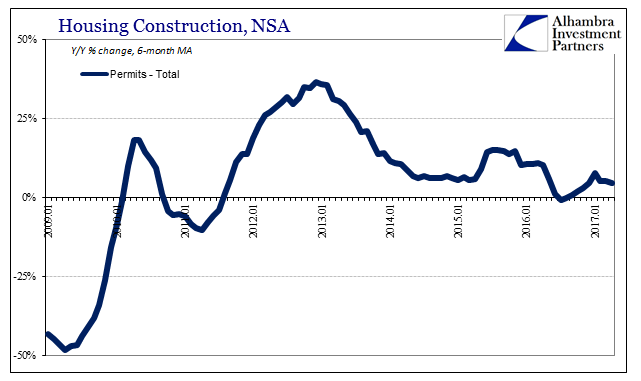 Despite a reported as well as estimated shortage of homes for sale (according to the NAR), there has been no boom in single family home construction to address what really should be tremendous opportunity. Home prices are rising, but mostly in the upper tiers of the real estate stock. It is a condition that builders do seem to be aware of:
Ask anyone house hunting this spring, and they'll tell you there are far too few homes for sale. But, really, it's the price tags of the homes for sale that are the issue.

It seems like a very simple fix. Not enough homes? Build more. Builders are doing that, but they're not building the right kind of homes.

Builders say they are now targeting the millennial buyer — launching new, slightly lower-priced brands and stripping down the models — but clearly, it's not enough.
Is it that builders have been constructing the "wrong kind" of houses, or that they were expecting different economic conditions by now, leaving them without the "right kind of homes"? There was a bump in permits and starts in the single-family segment starting around last October after about a year of little or no growth. In the last two months, however, that rise seems to have paused or abated altogether, perhaps reverting to the trend from 2013.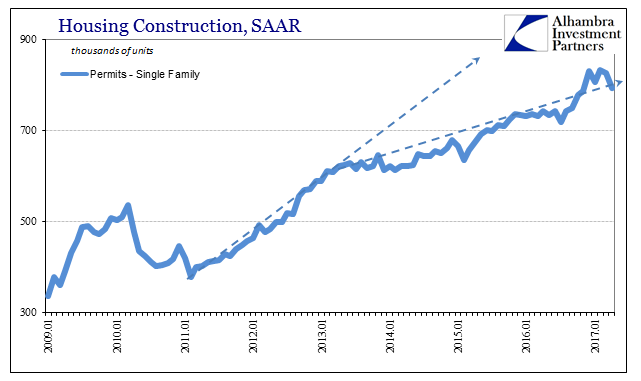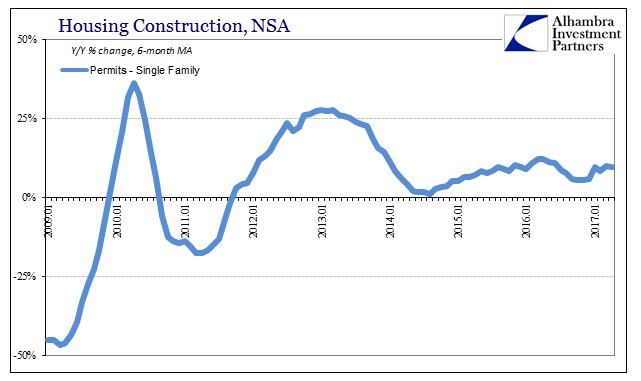 Builders are constructing more homes, but they don't appear to be in any rush to do so. This is not strictly an output issue, either, as any increase in construction activity, even a large one, isn't going to boost GDP by all that much. Instead, it is a derivative commentary on the state of US consumers, and even the more basic vitals about their status.
What is dragging down total construction is the multi-family segment. There was an enormous burst of activity from the bottom of the housing bust as builders surmised easy finance and some kind of recovery would lead to an increased demand for shelter. Given the state of home ownership and mortgage finance, it was a good bet that apartments would be the default method for meeting this recovery need.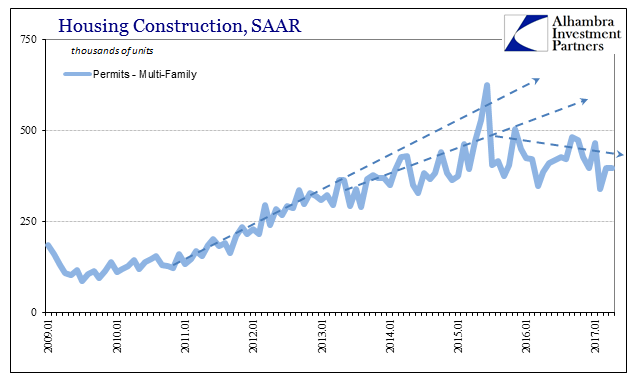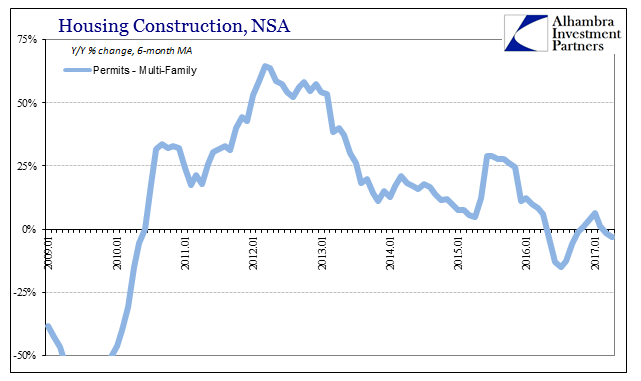 Since the "taper summer" of 2013, however, even multi-family construction has been downshifted. Now adding the effects and aftermath of the "rising dollar" period, the pace of proposed apartment supply is contracting.
If we scale these statistics by the level of population, using in this case the Civilian Non-Institutional Population as a proxy for prospective labor and therefore new households, it is clear that single family construction still lags behind population growth even though the housing bubble peak is today more than a decade in the past. In terms of meeting demographics, the housing boom wasn't all that far out of line historically (it was instead prices that represented much of the bubble).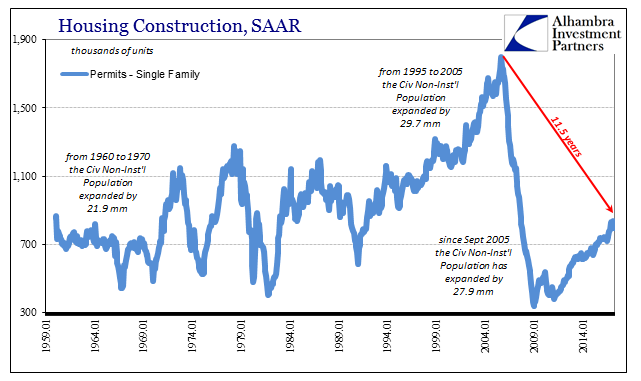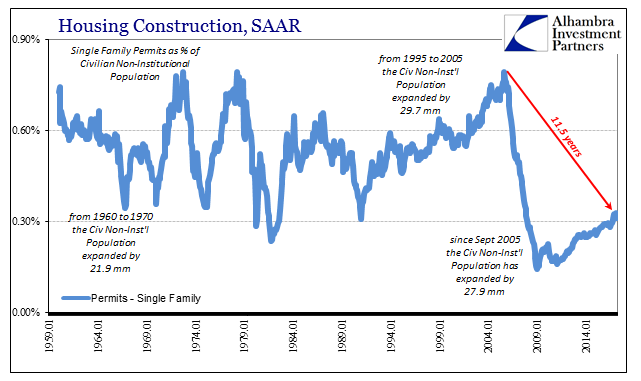 You might think, then, that multi-family construction after its rapid growth phase in 2012 and 2013 at least somewhat offset this sustained lack of new supply. In scaling total permits (or starts) to population, it is clear that nothing is.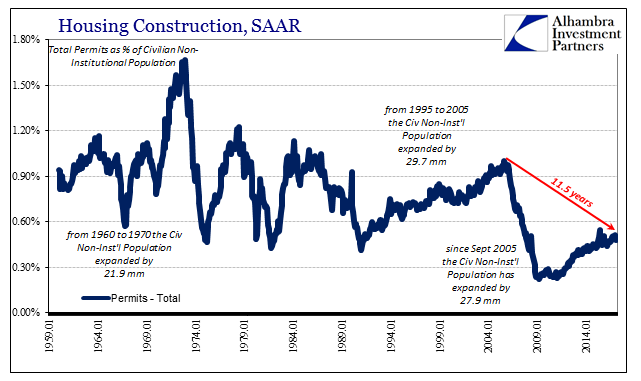 For this level of population growth, the rate of housing construction remains still at a historically low level. It could be considered an economic drag in that state, but more so it highlights what must be an imbalanced state on the consumer side. I don't think it all that difficult to figure out the reasons behind this extremely low supply rate.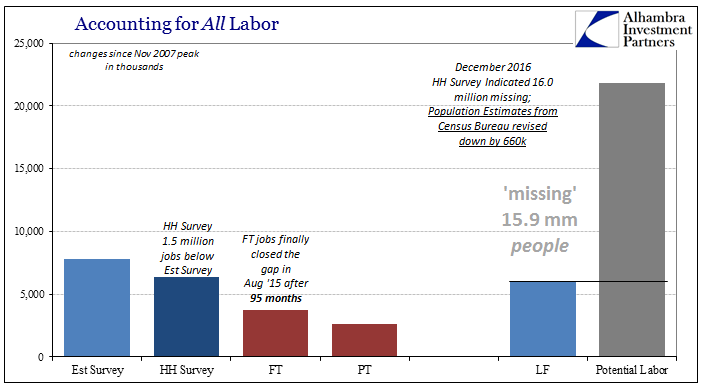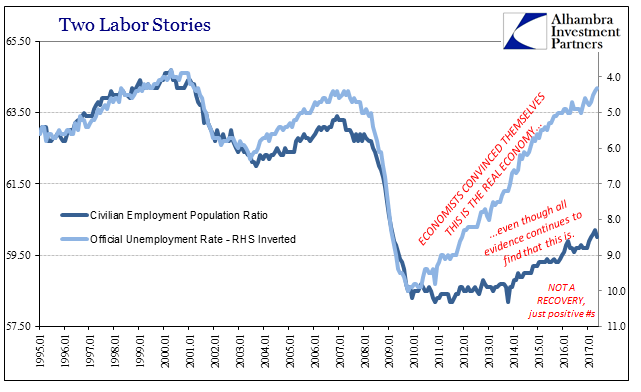 The US economy is producing fewer homes (proportionally) in whatever format because there are fewer workers (proportionally). Establishing the relationship between home construction and employment, the slower pace of construction in 2017 after only a small rebound in late 2016 is in all likelihood a feature of the same relationship over the short run.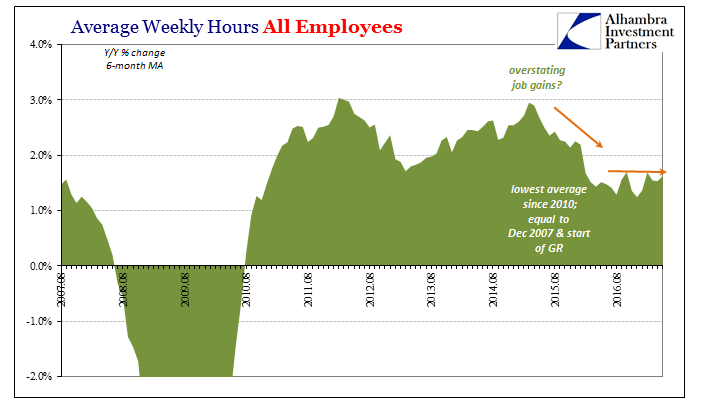 That probably accounts for the contracting in the multi-family segment since that is where most of the marginal housing supply has been coming from over the past six years or so. It may seem hard to make a case for overbuilding given the historically low level of activity, but that almost mini-bubble in apartment construction especially in 2012 and 2013 was accepted under radically different assumptions (as well as immediate conditions). It was expected then that the US economy would fully recover, even if it took a few years longer than might otherwise have been expected.
Now that there is no recovery, a possibility that the "rising dollar" forced into business considerations all over the world, there is perhaps less marginal supply needed even though total construction remains historically subdued.
UPDATED DATA FOR MAY 2017:
The newly released estimates for housing construction in May 2017 were ugly, further testing the negative implications of these larger economic questions. 
Total Starts 1.17 mm, down from 1.23 mm
Single Family 779k, down from 794k
Multi-family 358k, down from 398k