The National Association of Realtors (NAR) reported that sales of existing homes, or resales, declined sharply in December 2017. Falling 3.6% from November (revised lower), that merely suggests what other data has been pointing toward. The hurricanes that hit the South caused distortions in economic conditions, bunching up activity into especially October and November. The lower estimates for December appear to be little more than the (expected) dissipation of those storm disturbances.
For December, the NAR estimates 5.57 million (SAAR) homes were sold. That's more in line with sales levels from earlier in the year, before the housing market slid/cooled earlier last summer prior to Harvey's arrival.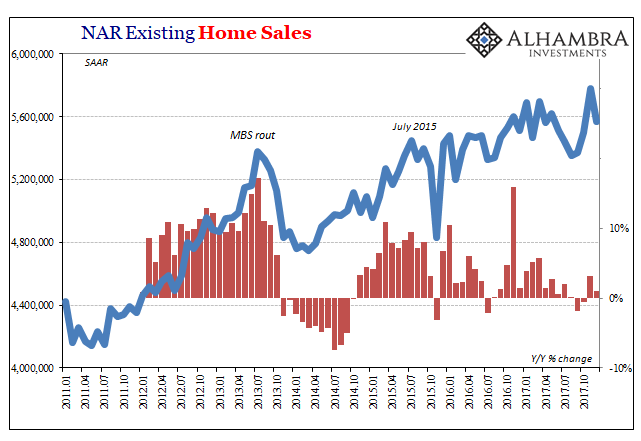 The 6-month average for resales, a less noisy comparison given the disruptions, show pretty clearly that the trend in real estate isn't all that positive. At 5.5 million, that's where it was to end 2016, right in line with the small year-over-year gain for the year as a whole (just 1.1%).
Because even the smallest increase from 2016 makes 2017 the highest sales in more than a decade, that's what will get reported as a headline. The NAR's press release puts it right in the first paragraph, noting that sales last year "ended up being the best year for sales in 11 years." They are technically correct, but the characterization remains ultimately meaningless.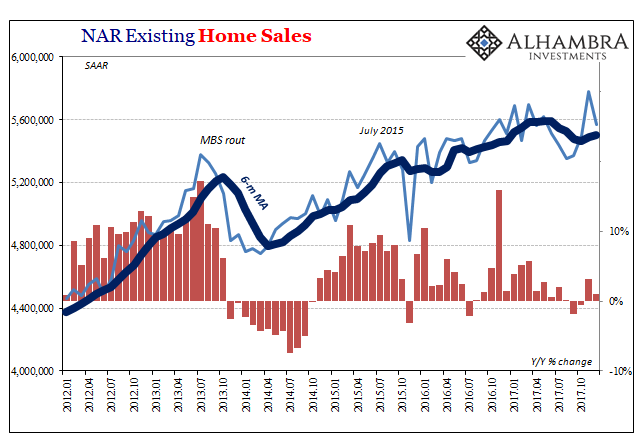 It's what's going on underneath the headline that really matters (as always). The reluctance of Americans to sell their houses has become such a contradiction to the attempt to paint the housing market, and therefore the overall economic condition, as healthy, even robust. Prices are rising, in some places quickly. Yet, inventory of available-for-sale homes continues to decline, sharply once again in December.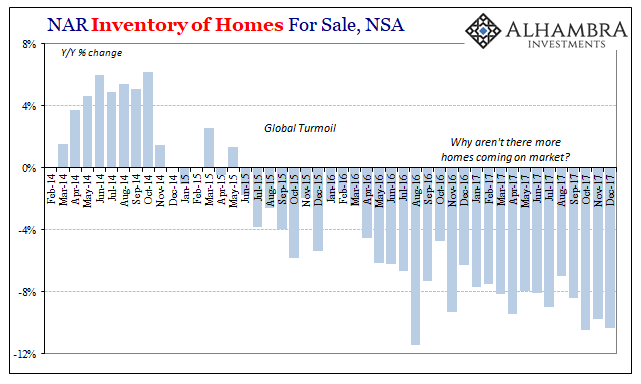 It's a glaring dichotomy that ever the NAR's Chief Economist, Larry Yun, has been forced to grudgingly address.
Existing sales concluded the year on a softer note, but they were guided higher these last 12 months by a multi-year streak of exceptional job growth, which ignited buyer demand. At the same time, market conditions were far from perfect. New listings struggled to keep up with what was sold very quickly, and buying became less affordable in a large swath of the country. These two factors ultimately muted what should have been a stronger sales pace.
It's the "exceptional job growth" premise that leads toward only confusion. It's one of those terms, like "globally synchronized growth" or "economic boom", that refers quite differently to only the mainstream depiction of the economy, the one that has been consistently overoptimistic about things for a decade. The actual data suggests an entirely separate set of circumstances, which is where all this misunderstanding comes in.
In truth, falling inventory is quite easily explained, and in a way that is perfectly consistent with labor market and national (labor) income statistics as they are. The BLS outside of the unemployment rate, which, for the nth time doesn't include Americans who would work if there was work, actually has been describing a consistently and persistently slowing labor market. The timing of where that started matches with where resale inventory began to contract.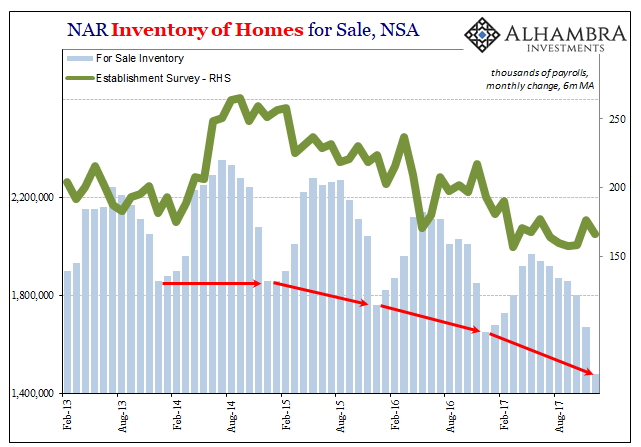 There is actually a big difference between an average payroll gain of 150k and 250k; the latter is barely minimal, while the former is what panicked the Fed into launching QE3 in 2012. Last year was by every reasonable measure not even close to a good one for American workers.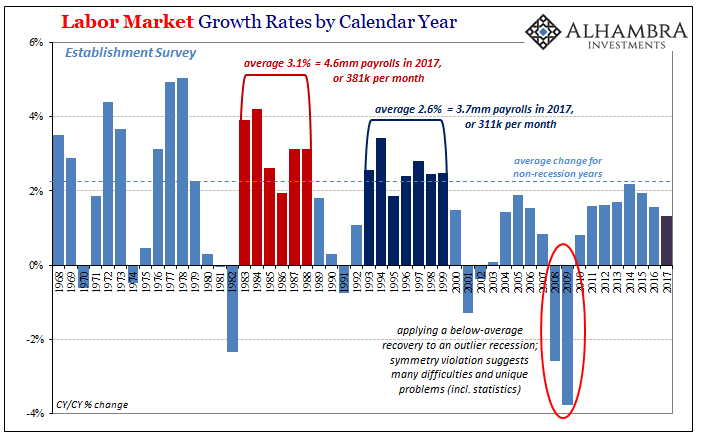 The primary effect of sluggish, constrained payroll expansion, along with parallel effects in other labor factors, is weakened aggregate income. Even people who are working start to become uncertain or even fearful when the jobs market as a whole slows down – and not just slows, but continues to decelerate year after year (after year). This trend will be starting its fourth year. At that length, workers and prospective workers become quite certain about their general uncertainty.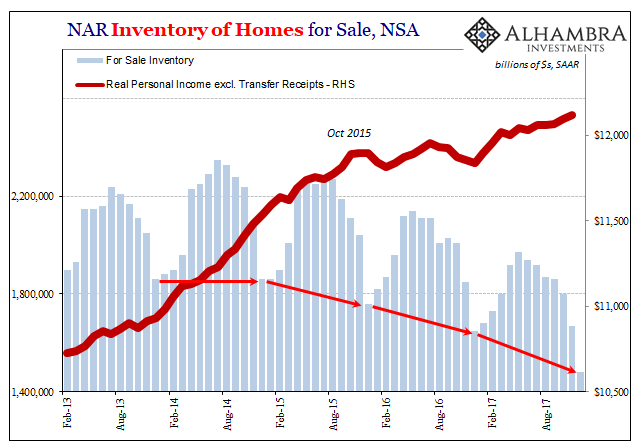 If your ground-level view of the jobs environment and therefore economy is far more unsteady and dour than exceptional, you are not going to be as sure about selling your existing home to move up, taking on a larger monthly payment in the process. The more people like you who pass on the opportunity to cash in on higher prices, the more that says this is a widespread view quite different from the narrative established in consumer sentiment surveys and what news outlets write about in their headlines.
The economy is what actually happens, not what people think other people think Economists say is happening. Talk isn't cheap, it's way overvalued.