German GDP was the smallest of positives in Q4 2018, according to figures released today by DeStatis. Following a -0.2% rate in Q3, no matter how slight the plus sign was written into every headline. Most of them followed along the same format, such as CNBC's Germany narrowly escapes recession after flat growth in the fourth quarter.
That's entirely premature. The technical definition, as it is so often described, means little or most often nothing. Though Germany may have avoided that nugget, this certainly doesn't mean it has escaped recession. Quite the contrary.
One Economist at ING tried really hard to look on the bright side:
The weak performance of the German economy in the second half of the year is the result of (too many) one-offs, surfacing structural weaknesses and external uncertainties. Just think of cars, low water levels in main rivers, the trade conflict between the US and China, Brexit or the lack of investment in digital and traditional infrastructure, delays of railways and airlines as well as hardly any significant new structural reforms in the last ten years. What a list!
If anything, the further lack of growth in Q4 actually confirms this very danger. The rough patch was supposed to have been temporary, automobile sector blowback from emissions regulations and environmental whatnot. If that was the case, Q4 should have resulted in a lot more than avoiding a minus. Extended weakness isn't something you just shrug off.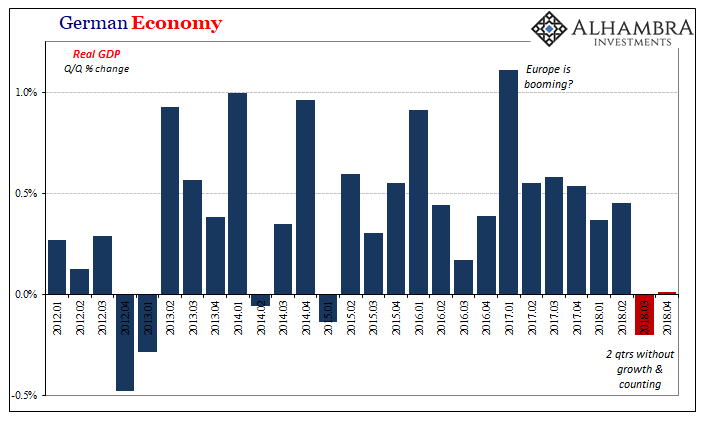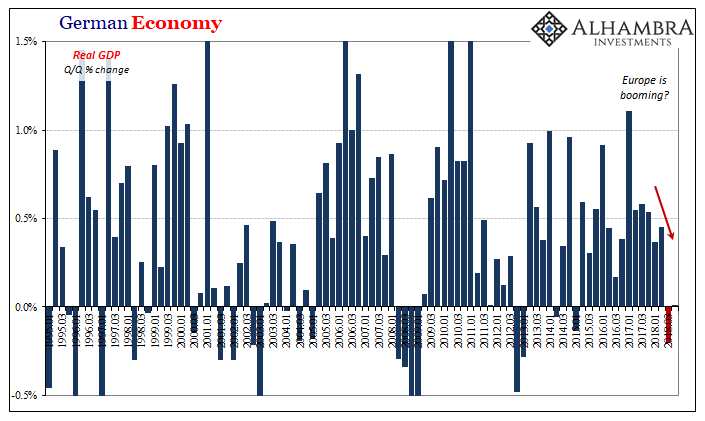 Every recession that has ever happened was the result of (too many) one-offs. Put another way, when you leave yourself so little room that your position is how there are so many negatives it must be positive, you are trying way too hard.
Instead, the German economy quite clearly has hit a slump, one that has lasted half a year already. The entire second half of 2018 was nothing like it was supposed to have been. It was everything that the rest of the world has been doing, though.
This doesn't propose a sigh of relief, rather, given what's going on here as well as the rough state of so many forward-looking indications, no growth seems more likely just the first step into a further negative, more protracted condition. The scenario German 10s are trading up for.
The German economy may have escaped technical recession at the same time moving itself right into a real one.