The biggest problem, among many, with 2017's globally synchronized growth narrative was that it was always missing China. This was an enormous contradiction because the Chinese were supposed to be at the center of the rebirth. So much of what was being counted on from this "global growth" was figured to come out of the one country.
And it was all a fiction. Chinese authorities had responded to the eruption of Euro$ #3 in early 2014 with (eventually) various forms of "stimulus." Economists primarily in the West extrapolated those measures into full-blown worldwide recovery. That's all 2017 really was; ridiculous straight-line forecasts.
It seems no one bothered to consult with China's Communist government. By October 2017, they had seen the progress from all their "stimulus." It wasn't nearly enough. It wasn't much at all. In some ways, it's hard to tell when, or if, Euro$ #3 actually ended. For a lot of China's economy, ever since the calendar turned 2014 and CNY began to drop it's been one unbroken, continuously awful period.
Perhaps the best example is the vast Chinese auto market. It is the largest in the world nowadays. To hear the Western description of it you would think it is the middle 2000's all over again. Instead, auto sales began to slump in early 2015 which forced Beijing in October that year to reduce the sales tax (from 10% to 5%) on small engine cars (1.6-liter engines and less), the type which account for about 70% of the overall market.
Sales didn't crash and even picked up the following year. However, by the end of 2016, the government knew the rebound wasn't what they were hoping. The tax cut was partly extended another year, reset to 7.5% for 2017.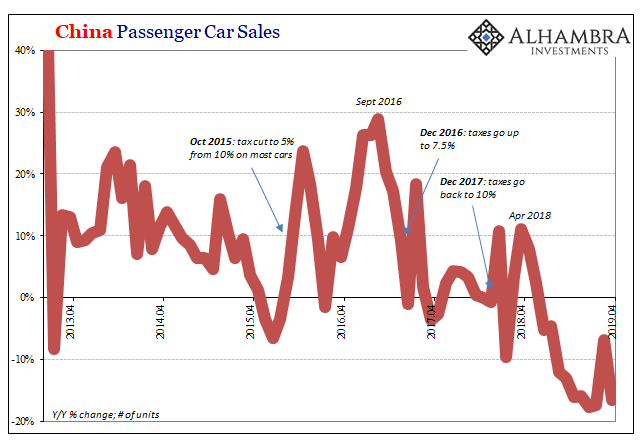 Car sales slumped in 2017. By the time the tax rate normalized for 2018, China's Communist authorities had already conducted their 19th Party Congress. At it, officials concluded what China really wanted was "quality" growth rather than quantity. The Chinese economy, the auto market a big signal for it, just wasn't coming back.
This isn't how stimulus is supposed to work. Tax cuts even monetary policy are temporary measures to fill in the gaps. They cannot be the sole source of growth, else it's not really growth. Thus, the character change in government economic narrative.
I wrote in October 2017:
I really don't think people quite understand just how much trouble China is in right now. That's no mystery because in the Western media the Chinese economy is almost always described as somewhere between awesome and magnificent (only slight hyperbole). Their government, on the other hand, is not fooled.

General Secretary Xi Jinping opened the Communist Party's 19th Congress with an amazing speech. It wasn't amazing in the respect of soaring rhetoric announcing some actual, concrete commitment to freedom and free markets; it was instead the opening bell for, I think, a very different world outlook.
What Xi had said was, putting his words in my own terms, Euro$ #2 had proven to be a permanent rupture. While many had hoped after 2011 there would be a way back to genuinely robust growth, 2014's interruption of Euro$ #3 and then the unmistakably small stimulus-driven bounce back in 2017 had conclusively demonstrated otherwise.
In many ways, what is now Euro$ #4 is little more than the rest of the world catching up to this reality.
Going back to last May, unsurprisingly, Chinese auto sales have crashed. The economy is being pressured constantly by monetary problems which have only increased since CNY plummeted again starting last April (CNY DOWN = BAD). For calendar year 2018, only half of which was plagued by minuses, overall the China's vehicle market contracted for the first time in modern Chinese history.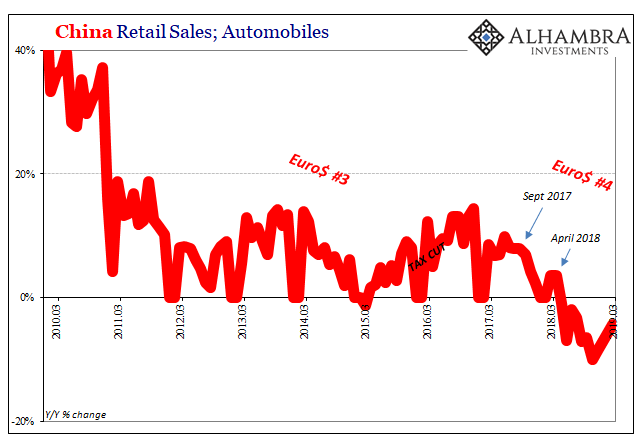 In October 2018, there were rumors of renewed "stimulus", whispers throughout Beijing that the government would surely intervene rather than allow this to continue. To start with, many saw another October 2015, halving the sales tax rate to 5% on most if not all passenger vehicles just as authorities had done three years prior.
Nope. Even now, eight months later, there are still just rumors about some sort of government rescue for autos and beyond. China's Passenger Car Association announced today that sales fell sharply again in April 2019. The number of units sold was down 16.6% from the same month last year. Still no concrete tax proposals.
Instead, on April 1 the VAT tax rate for most manufacturers, including those producing automobiles, was reduced from 16% to 13%. Many analysts are still hoping carmakers will pass along price cuts to help boost demand.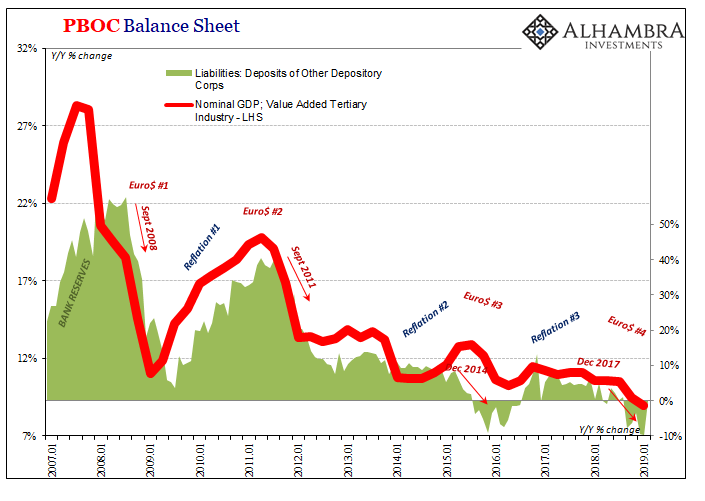 Maybe they will over the coming months. Whether they do or not, I doubt it will matter to any significant degree. Nor do I believe China's government thinks differently. This is the no-growth global economy the 19th Party Congress advertised.
It is the eurodollar's world, we just live in it. Even the Chinese.