Last year's landmine was a global affair. It wasn't just US markets and the US economy which were so negatively impacted by it. Since it originated in the eurodollar system, the landmine (its effects) spread pretty much to all corners of the globe.
Take Japan, for example. There really isn't any (other) reason why October 2018 should show up in data series after data series. Yet, it does.
Interpretations of Japanese economic figures have been clouded of late by the VAT tax hike which the Abe government finally got around to implementing (it was originally scheduled to take place in October…2015; I guess QQE wasn't all that convincing to Japan's government, either). Japanese retail sales surged by 9.2% year-over-year (unadjusted) in September 2019 as unusually price sensitive consumers stocked up in advance of it.
Sales then declined by 7% year-over-year in October, which some analysts and Economists took as a good sign, one of strength or resilience (that it wasn't worse) following a year of so much "unexpected" uncertainty ("they" never factor the dollar). But in the latest data from the Japanese Ministry of Economy, Trade, and Industry, released today, retail sales fell again in November.
Down 2.1% year-over-year last month, that only continues the prior trend interrupted by the tax change. Going back to last October, consumer spending has been increasingly under pressure and is now flat, on average, for the first time since 2016 (Euro$ #3).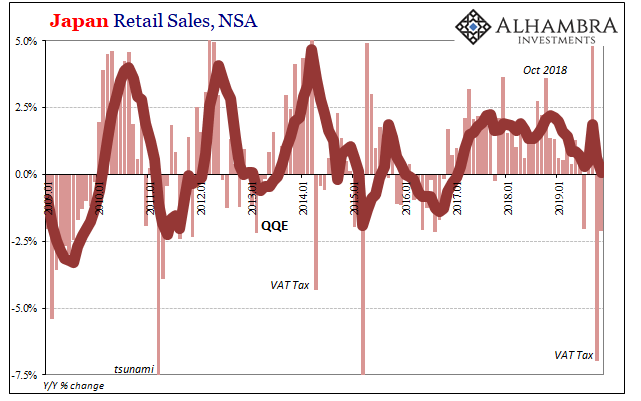 Consumer spending is merely following Japan Inc's overall direction. Japanese Industrial Production, just like in Germany, had peaked all the way back in December…of 2017. That shows the leading edge of this still-growing downturn was certainly (euro)dollar rather than trade wars.
And that would also be why, like retail sales, the negative trend for Japan's industrial sector accelerated sharply right at…October 2018, too.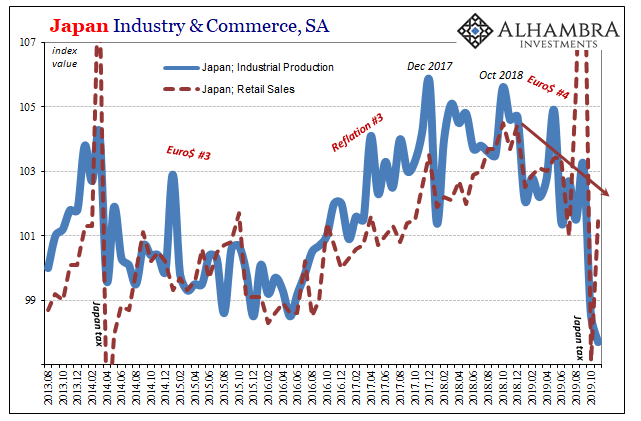 According to estimates also released today, while retail sales (seasonally-adjusted) managed to bounce somewhat higher in November when compared to October, Industrial Production last month was actually lower still than the prior one.
In fact, Japan's Ministry of Economy, Trade, and Industry puts the overall level of production at the lowest in more than six and a half years! The VAT tax certainly isn't responsible for that, nor the now two years lacking growth preceding it.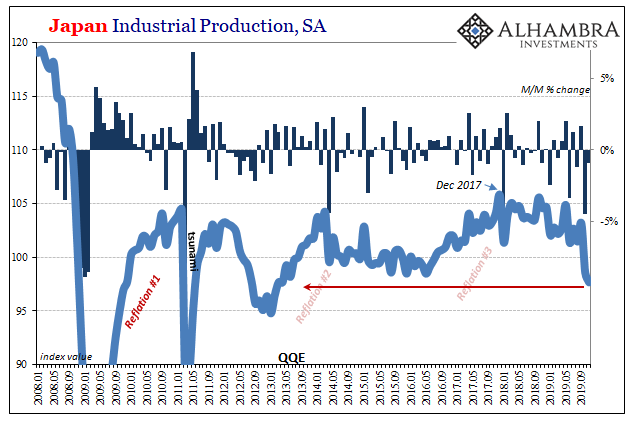 In unadjusted terms, production which had declined by (revised) 7.7% year-over-year in October, the worst month since early 2013, actually accelerated to the downside in November. At -8.1%, last month is now the worst month since early 2013.
Since Japanese industry is and has been the best indication of global conditions as determined by the eurodollar system, and since it is also clearly influencing marginal Japanese consumer tendencies regardless of the tax changes, the fact that last year's landmine is prominent in Japanese data is unsurprising.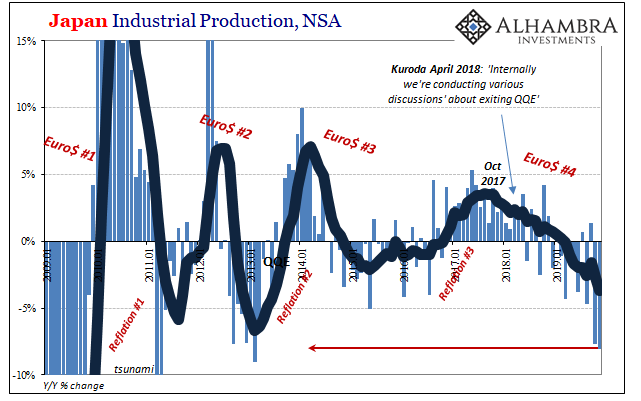 But what that means for 2020 is more important – and not good. If Japan's economy, being pushed around by monetary forces from outside of the islands, is continuing on its downward path even accelerating along it, then what are we to make of this now widespread idea that the global economy has been getting better since the end of summer?
It's yet more (consistent) evidence that like late 2017's globally synchronized growth late 2019's global economic rebirth is more illusion and slogan than reality. As far as Japan is concerned, the globally synchronized downturn continues to move steadily along the downturn side, maybe even tilting even further in that wrong direction.
And 2019, in terms of the data, is now almost completely in the books.