Ford Motor issued a stark warning last week when reporting second quarter earnings. On its conference call, CFO Bob Shanks used the word "plateau" in relation to the possible trajectory of Ford sales later in the year. The company remained committed to its profit targets despite what it says are now increased risks that extend beyond Ford-specific conditions.
Ford's results reflected some Ford-specific problems, like the Super Duty launch. But its warnings about U.S. sales could dampen the whole industry. Ford's Chief Financial Officer Bob Shanks said after an unprecedented growth streak, the U.S. market is starting to plateau. Pretax results in the region fell 5 percent to $2.7 billion.
Indeed, the word "plateau" apparently struck a chord with auto commentary. It has been used repeatedly this week as sales numbers for the month of July once again underwhelm. GM's total July sales were down nearly 2%; Toyota -1.4%; Ford -2.8%. Offsetting the new Big 3 were Honda, Hyundai, and Mercedes so that overall total unit sales were slightly positive year-over-year in July (+0.2%).
It isn't just the one month, however, as this extends a trend that has been building all year. As the Wall Street Journal notes:
Sales for the top three auto makers selling in the U.S. slipped in July as the strong growth rate that defined the past six years slows to a crawl, another indication the industry is entering its first sustained plateau since the decade leading to the financial crisis.
For the seven months year-to-date through and including the tepid pace in July, total auto units sold in 2016 were only 0.8% more than the first seven months of 2015. This is not just a problem for automakers, which suggests why the more benign-sounding "plateau" has been suddenly attached in widespread fashion.
The auto industry's recovery has been a bright spot for the U.S. economy, with high factory utilization spurring new jobs, investment in American facilities and wage growth for Detroit's auto workers. Car buyers spent $49 billion on light vehicles in July, according to TrueCar Inc., up 1% amid longer loan terms and a boom in subsidized auto leases—trends that keep monthly payments on par with a decade ago even as sticker prices go up.

Overall retail sales are a trouble spot as purchases made by individual customers in showrooms have stalled this year, down slightly for the first seven months, according to J.D. Power. Auto makers are betting sales to government agencies, rental-car firms and commercial fleets will continue to grow.
Fleet sales are far less profitable, but more importantly the narrative about the "strong consumer" can only be discarded if consumers have suddenly become less interested in auto purchases (mainly leases) in 2016. We must imagine, then, what effect the introduction of auto problems might have upon the already sustained manufacturing recession. In other words, until this year, manufacturing sales and factory orders have been regularly contracting even though auto sales, and production, remained robust as, WSJ points out, the lone "bright spot for the U.S. economy."
According to the Fed's industrial production estimates, through June motor vehicle assemblies, the IP proxy for domestic auto production regardless of manufacturer, have to this point been just slightly pushed off trend. So far, the slowdown in assemblies has been rather muted but still noticeable.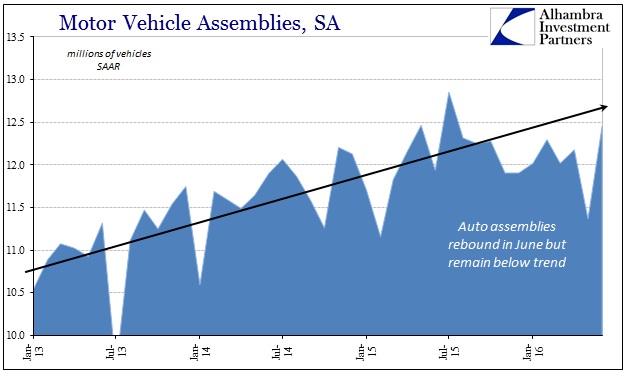 The Bureau of Economic Analysis' estimate for total vehicle sales fell sharply to 17.1 million in June mostly due to the unfolding disaster in heavy trucks (manufacturing recession simply means fewer goods moving around and fewer new trucks needed to move them). The "plateau" especially in retail, consumer-driven autos and perhaps light trucks suggest that this trend will only get worse.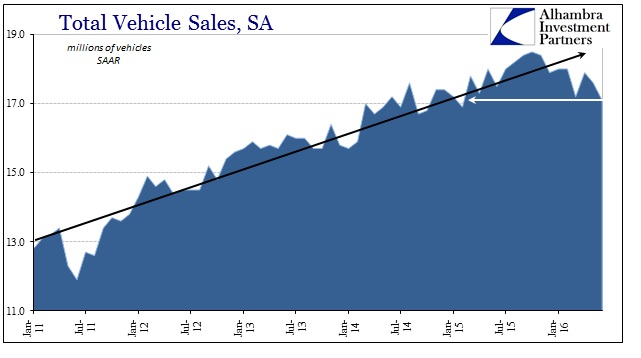 And this is all beginning to hit as last year's surge in especially wholesale inventory of autos (not in the retail, showroom stock) remains at levels only seen during the Great Recession.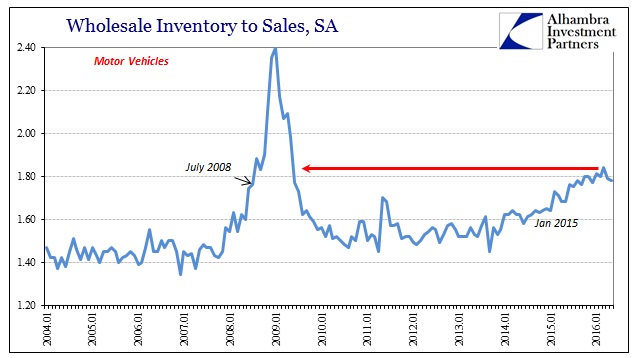 Because the current overall economic conditions are unique, economic data series require a greater level of scrutiny and thus corroboration in order to provide a basis for sound judgment and analysis. Unlike certain data points provided by government agencies that are more statistic than data, Ford, GM, and Toyota figures and outlooks are actual, physical results and dollars. If this "plateau" is actually materializing, and it does look that way, it adds greater weight and emphasis to those struggles (many times revealed by revision) we do find in the more statistical statistics.
In other words, the pile up of inventory is quite likely real and to the degree to which it is already suggested and due in some major part to sales not just hugely optimistic overproduction. In macroeconomic terms, it further erodes the mainstream idea of the "strong consumer" particular in comparison to last year which left the economy in a very precarious state despite then far more robust, actual consumer demand for autos (and, I should point out, auto financing). For future considerations, the "plateau" plus a real inventory problem would suggest further that the manufacturing recession may be about to get real.