Overseas turmoil continues in October. The Chinese government released its Purchasing Managers Indices (PMI) for both manufacturing and services. Each one came in at a multi-month low. The National Bureau of Statistics calculated that the manufacturing version was just 50.2 this month, the lowest level since July 2016. The Non-manufacturing PMI fell sharply to 53.9 from 54.9 in September. October's index was below 54 for the first time since July 2017.
The direction of China's economy is no longer in doubt. These sentiment estimates, regardless of their proximity to the 50 line, are consistent with recent economic accounts showing a downturn already underway. Given yesterday's GDP estimates for Europe, this isn't an economic development exclusive to China.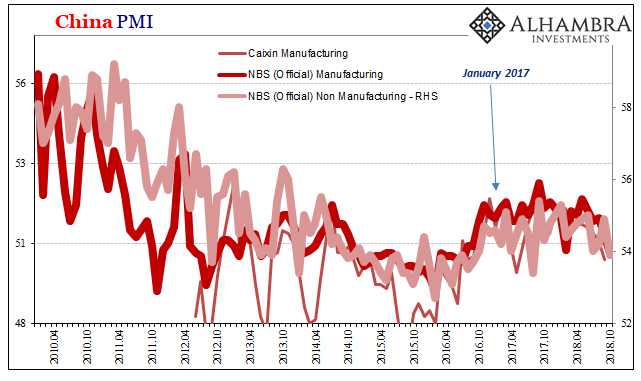 The question is why. The most mainstream commentary will offer is trade war stuff. On the surface, it seems plausible. Even in October's manufacturing PMI, new orders for the export of goods contracted. Below 50 for the fifth consecutive month, at 46.9 the latest reading is the worst export indication for China since the very dark days of January 2016.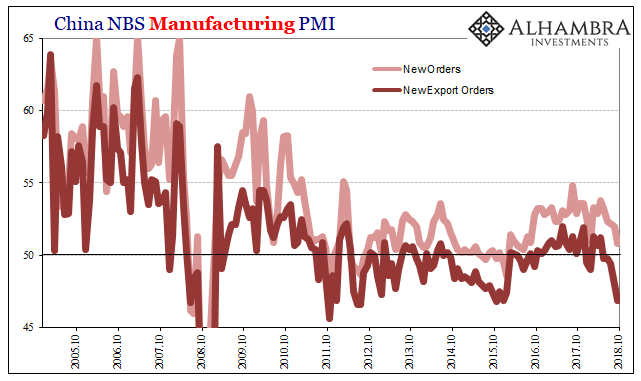 While that could be consistent with trade restrictions being imposed, it is at least consistent with already several times in the past when there were no such pains. China didn't require an American trade backlash in 2015 and 2016 to get to the same weak point, it merely reflected more fundamental prospects – another worldwide downturn triggered by monetary retrenchment ("rising dollar") in the actual global reserve currency (eurodollar, not dollar).
Likewise, late 2011 and early 2012. Back then, mainstream commentary had fixated on currency wars as out of the orthodox Economics textbook to try to explain that particular uniform global disruption. It was widely believed the US government with the aid of the Federal Reserve was intentionally attempting to weaken the dollar via QE; a beggar-thy-neighbor policy of taking from others for its own gain. When the opposite happened, there was no more talk of currency wars.
Global trade and the worldwide economy slowed sharply in early 2012 as another banking crisis erupted. This is the only consistent aspect between the now four global trade episodes. China's manufacturing PMI calculated that new export orders had started to decline in July 2008, too. It was the first instance in the series of global trade disruptions also consistent with CNY and the appearance of broad, worldwide eurodollar-driven deflation.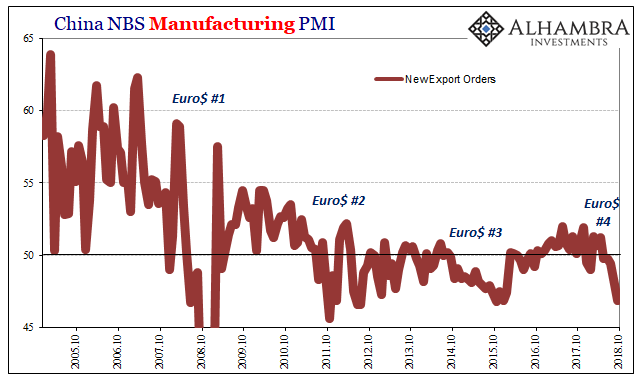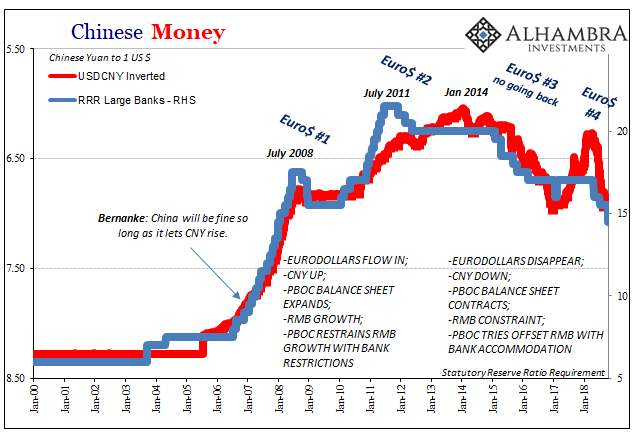 The problem of continuously misidentifying constant "overseas turmoil" is that there gets to be constant everywhere turmoil. There can be no economic recovery under these conditions. The illegitimate fears over currency wars in 2010 and 2011 perpetuated the myth of central banks as central, and therefore took away from some honest examination of what had just happened in the global banking system. The world, for once, began in 2009 to peer just a little bit into the shadows.
In 2014 and 2015, by contrast, there was no consistent explanation put forward at all. Economists especially in the West simply ignored what was a devastating global development. Janet Yellen declared it due to "transitory" factors and left them for everyone else to experience.
Even the big one, for the US and Europe, anyway, in 2008 was written down as subprime mortgages.
The same thing keeps happening time and again, we really are up to number four now, and each time there are enough distractions they can be uncritically accepted. Subprime mortgages, currency wars, non-specific transitory factors, and now trade wars. Those are all but symptoms of the real problem.
Globally synchronized growth and Reflation #3 are gone, dead and buried. That much was confirmed months ago. The latest figures from China suggest instead the global economy is well into the next phase. What's left now is for those low positive numbers to become negative again. In PMI terms, some already have.
A worldwide downturn isn't looming, it is right in front of us. All of us.