Perhaps ominously, there were overcast and hazy conditions in Beijing back on October 1 when China put on its largest display of military force in the nation's history. To celebrate the Communist's regime 70 years of that history, the country's Chairman Xi Jinping dressed up like he was its original founder Chairman Mao. Joined by his immediate two predecessors, Jiang Zemin and Hu Jintao, Xi like Mao was everywhere during the festivities.
There have been expressed speculative concerns by close observers that China's leadership was becoming fractured. Mainly on economic grounds, dissatisfaction over the direction of the economy for a while did seem quite serious.
Many said it had been for that reason why the 4th Plenary Session had been unusually delayed. Typically during the Communist Party's five-year cycle a fourth plenum would closely follow the third, which was held in March 2018 consistent with tradition. That would've meant sometime around September or October 2018 for the fourth putting in line with past rhythm.
Except, none was ever scheduled nor did the politburo bother to say why. The break with tradition fueled these rumors of a growing split, especially in light of what's been a rivalry between Li Keqiang, China's nominal number two, and Xi who has increasingly sidelined Li after allowing him the textbook Keynesian approach during the worst parts of Euro$ #3.
When that approach failed, just as Xi had been expecting, China's 19th Communist Party Congress held in October 2017 moved on to "rejuvenation" in the economy; a buzzword that meant China's leadership knew there was no real economic growth potential in the world and therefore for the Chinese system. The political side of that realization was "Xi Jinping Thought" being unusually elevated to the Chinese constitution alongside Mao.
If the Xi-heavy 70th anniversary parade and associated festivities didn't fully establish it, the 4th Plenary session finally held late last month did. There doesn't appear to be much opposition any longer. Whatever Li Keqiang might think, or might want to think, he doesn't have any room left to maneuver. The 4th was probably his best shot, maybe even to force a politburo member of his rumored faction onto the 7-man Standing Committee.
Again, this was widely believed to be the reason the session was delayed for so long – to deprive Li or anyone else of the opportunity to display any opposition to Xi. Sure enough, no one was elevated to that Standing Committee when the plenum was finally held in late October.
Instead, the session went along as did the military parade – a celebration of China wrapped within one of Xi Jinping. One of the central aspects of "Xi Jinping Thought" is "national rejuvenation" not just of economy but also of the Chinese government. Confusing to outsiders perhaps, the Party is not the government and the government is not the Party. The Communists control the government; and Xi's Communists haven't been thrilled with its performance.
Rejuvenation of the government means shifting more control over to the Party, to tighten the grip of central political authority (in Xi's hands) over the executive state's apparatus for conducting Chinese affairs. "Xi Jinping Thought" really means more direct capacity to carry out what Xi Jinping thinks.
And what he thinks is that it is a very dangerous time for China. The Communist Party's after-session communique seems eager to spell that out for everyone:
Guided by Xi Jinping's new era of socialism with Chinese characteristics, he fully implemented the spirit of the 19th and 19th Central Committees of the Party, accurately grasped the two major domestic and international situations, focused on two major developments and security issues, and strengthened strategic planning. Enhance strategic strength, adhere to the general tone of steady progress, continue to coordinate and promote the overall layout of the "five in one" and coordinate the promotion of the "four comprehensive" strategic layout, unite and lead the entire party and the people of all nationalities to overcome difficulties and difficulties.
Message received: go along, get along.
Especially now as the domestic and international situations continue to perplex and plague China's people more so than its leadership (thus, the desire to remove any sense of opposition in the latter before any real issues show up with regard to the former). To put it bluntly, there is no sign of bottom for the Chinese economy and I have to believe Xi Jinping knows this. That's really his whole point – just as we've been saying ever since the 19th Party Congress was convened.
Xi alone atop will have to face down record lows across most of the economic accounts which probably represent the best-case for where things stand. The veracity of Chinese data always under question, the numbers the government release are therefore only a place to begin investigation and analysis.
And they were not pretty in October 2019. While Western Economists and officials keep telling themselves that a second half rebound due to underlying global economic strength will materialize any minute now, the Chinese data pretty much puts an end to the nonsense – just as it did to the globally synchronized growth nonsense back in 2017 (if only anyone had been truly paying attention to either what Xi was really doing back then or at least the Chinese data that explained why he was doing what he was doing).
Where to begin with the latest figures? Industrial Production had slumped to an incredibly low 4.4% growth in August followed by a "rebound" to 5.8% in September. Rather than portend that mythical second half resurrection (as many rushed to claim) it was another month of mere statistical noise. In October, IP back down to 4.7% making it now an incredible three of the last four months below 5.
Five years ago, anything less than 8% was thought impossibly recessionary – exactly the motivation behind Li's losing gamble.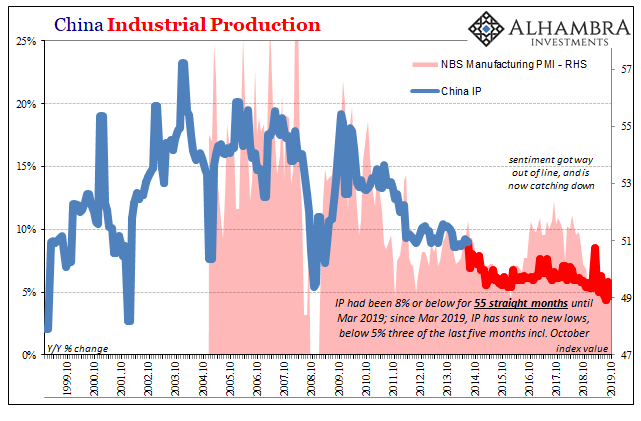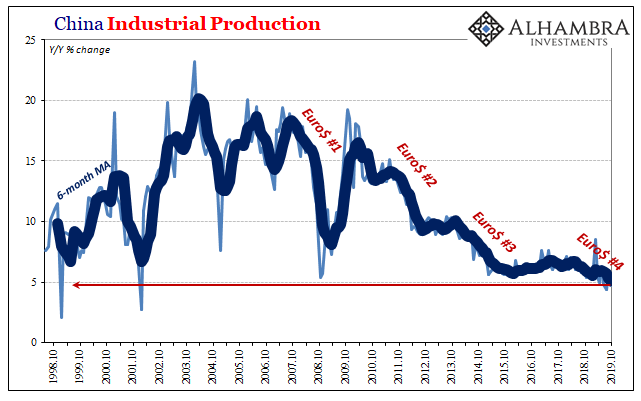 With October's sub-5% estimate, that brings the 6-month average down to 5.17% which, as you can see above, is a new record low.
In terms of China's consumers and the idea they could bail out the foundering manufacturing sector ("rebalancing"), retail sales growth was a meager 7.2% last month. Better than 7% many not sound meager, but in China that matches April's second lowest on record. Continued slowing here, too.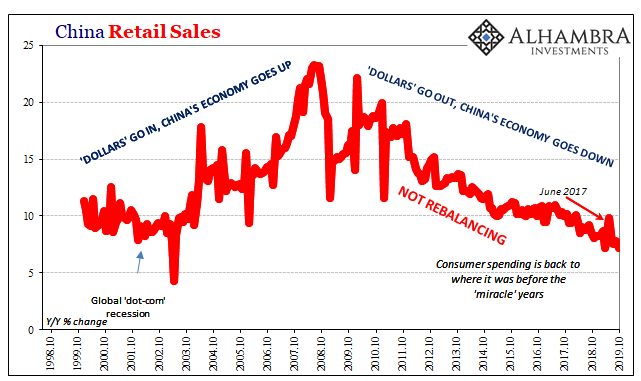 The big one, though, continues to be Fixed Asset Investment. FAI is where modern China was literally built, and where from time to time nervous Communists occasionally attempt to mitigate any downside potential. It is where Li Keqiang made what seems to have been his last stand – and China's last conventional economic program (conventional in the Keynesian sense).
The NBS reports that accumulated FAI (meaning for all of 2019 so far through October) grew by just 5.2%. That is, say it with me, the lowest on record.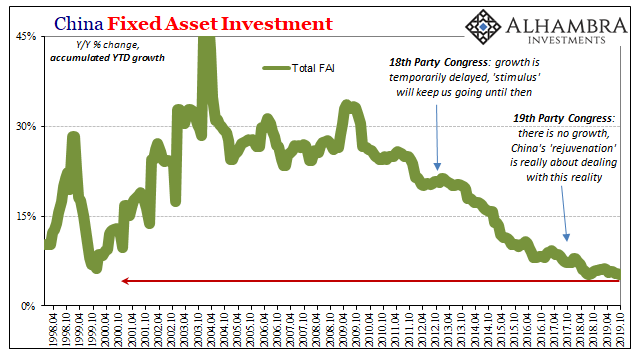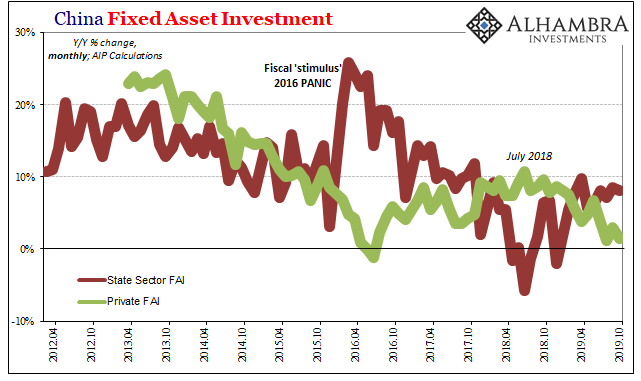 While the private sector is retrenching in the same way it had during the worst of Euro$ #3 in 2016, the public sector (state-owned enterprises) remains committed only to what I call "managed decline": just enough activity to (hopefully) keep the situation manageable, to keep the Chinese economy from getting completely out of hand.
If anyone had any objections to these sorts of statistics, the 4th Plenary Session would've been the opportunity to air them. And Xi Jinping knew that, as he did the nature of these ugly economic numbers. Rather than display opposition, it was dominated by his own "thought", a show of dominance in politics because of so much weakness in economics (and from Economics).
In this upside-down world, the authoritarian is the only pragmatist around.
It seems likely, therefore, that he went ahead with the fourth anyway because he has either convinced his rivals of the gravity of the situation, and therefore they've come around to agreeing with his way of conducting the Party's affairs, letting the economy go where it will and focusing on the political survival of the regime in light of what that means, or he has consolidated his own position sufficiently that it doesn't matter if he does convince them.
China's course appears to be set either way, though what that ultimately means is not. As we've been saying since October 2017, there is no growth and China's political situation perhaps better than any other non-financial indicator best depicts the global dollar negatives. They're still talking about strong economies and second half rebounds over here in the West while in China strongman Xi appears to have successfully absorbed or removed all effective opposition to his position predicated on there never being one.