For the month of June 2014, Chinese industrial production rose to 9.2%, which was the highest rate of 2014 to that point. As with the US (as if the US and Chinese economies are related), the Chinese economy in early 2014 seemed to be suffering a bit of a slow patch though there wasn't the Polar Vortex to divide opinion. So when a slew of PMI data began to rise as did IP, economists and mainstream commentary were assured of the durability of such good signals.
As Reuters put it then:
China's vast factory sector probably registered its best performance this year in June as growth quickened to a six-month high, further signaling that its economy is regaining strength after an unsteady start to 2014.
Extrapolations being what they are (PMI's for that matter), it was no wonder that the 9.2% IP growth for June ended up being the high point for the entire year. Instead of "signaling that its economy is regaining strength" that "surge" (as any minor upward variation is being called these days, and even a few that aren't even in the upward direction) in IP proved horribly temporary. By August, China's IP rate was down to an unthinkable 5-year low of just 6.9%, meaning factory activity nosedived almost from the moment Reuters, based on some economists somewhere, published those words.
Not to be deterred, however, there was another bounce with which to reassure. PMI's leading the way, China's IP rose from that August depth back up to 8% in September 2014. That "surge" was greeted yet again by all the same interpretations.
A Chinese manufacturing gauge unexpectedly increased this month, suggesting export demand is helping the economy withstand a property slump…

"We thought the weakness would continue, but there is a slight pickup, so this is definitely positive for the market," said Lu Ting, Bank of America Corp.'s head of Greater China economics in Hong Kong…

"I'm optimistic on the Chinese economy, despite the correction underway in the residential sector," said Jim Chronis, chief economist at Ausbil Investment Management Ltd. in Sydney, one of three analysts with a 50.5 estimate. Fiscal stimulus, targeted monetary easing and export demand will help sustain growth, Chronis said in an e-mail.
Industrial production, predictably actually, remained below 8% for the remainder of 2014 before sinking to all the way to just 5.6% in March – comparable to the worst days of the Great Recession.
Still not to be dissuaded despite all of that, economists have taken IP in April and now May 2015 as the same signal it wasn't the last two times. Now in May, after a two-month "surge", Chinese IP stands at all of 6.1%; which is cause for still more universal "the worst is behind us."
A slew of data from China, including retail sales and industrial production, matched analysts' expectations, offering some indication the worst of the mainland's economic slowdown may be over.

"The figures are suggesting that perhaps the economic momentum has bottomed out," Loius Kuijs, a China economist at RBS, said. "But they're still not very strong and they don't suggest any swift recovery in growth. This is especially true with regard to investment, which was actually a little disappointing."
Retail sales, following almost the exact same trajectory as IP, moved up from a decade-low of 10% in April, surging all the way to 10.1% in May.
If those weren't the weakest of foundations upon which to build a case for renewed economic robustness in China, Fixed Asset Investment continues to sink, and sink fast, which calls into immediate question any assessments that see an end to the downdraft. Estimates for Private FAI are even worse in terms of momentum. In other words, it seems far more likely that China continues on its way toward new depths and that any pause in IP or retail sales is just normal variation contained within that overarching trend.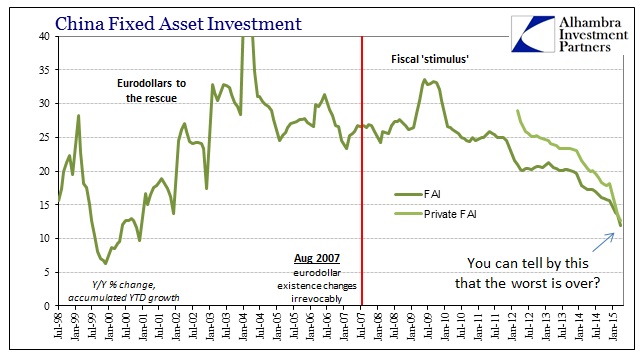 As with retail sales in the US, there is so much desperation in these misplaced sentiments. Economists in particular just cannot fathom a negative economic environment, particularly when monetary policy is ubiquitous globally. This dissonance is especially strong with China, where the PBOC is viewed as having "stimulated" but at the same time never enough. With China central to the "global growth" case, it is again profoundly unsettling to orthodox expectations that China could be in such trouble in terms of what should be the final recovery in the US and Europe; thus every minor upward variation is taken as the final word on the end of the descent.
The PBOC has had it with asset bubbles and blanket "stimulus" because they do nothing but "buy time" waiting for global recovery that clearly is never going to arrive. That view and the reform agenda it is contained within, and not the Western mainline view of every little positive bounce, actually makes consistent sense with the trends in Chinese economic (mis)fortunes. The PBOC made it clear almost two years ago that it was going to trade economic growth for at least an attempt at financial stability, and they have assuredly done so. That China is still within the depths more than suggests they aren't done yet.